If You're Waiting On the Lord, You're In Position For THIS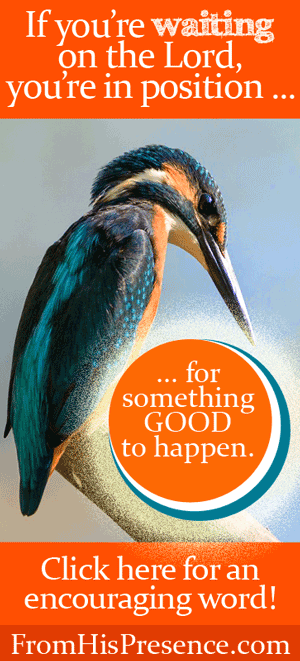 Are you waiting on the Lord? Have you been praying and praying, waiting for something specific–something good–to happen? If so, I have good news for you today:
If you're waiting on the Lord, you're in position for something good to happen.
Why do I say that? Because Lamentations 3:25 tells us this:
The Lord is good to those who wait for Him, to the soul who seeks Him."
As I taught in Kingdom Authority 101, one of the guiding principles of studying Scripture is that whenever the Lord says, "I am    (anything)    ," you should pay attention. The same is true for when Scripture says, "The Lord is     (anything)     ."
Why does this matter? Because when God says, "I AM _____," He's revealing an aspect of His very nature to you. He's unveiling the fibre of His very Being; He's showing you one of the infinite characteristics of who He is.
And once you learn who He is, you are free to draw on that aspect of His nature anytime.
That means:
Once you know Him as God who heals you (Exodus 15:26), you can draw on Him as Healer anytime.
Once you know Him as the Bread of Life (John 6:35), you can expect Him to feed your body, soul, and spirit anytime. Never again do you have to be worn out and exhausted. You can always be well-fed and well-watered.
After you know Him as your Shield and your Exceedingly Great Reward (Genesis 15:1), you can call on Him to cover, protect, and reward you anytime.
And in Lamentations 3:25, the Lord reveals Himself as The Lord Who Is Good To Those Who Wait For Him.
You could also phrase it a different way, by saying God is revealing Himself as "I AM the Lord Who Is Good To Those Who Wait For Me."
And precious reader, that means that if you are waiting on the Lord (for something specific or just waiting on Him altogether, with no particular goal in mind), you have positioned yourself to receive from His nature. He IS, by His very nature, God who is good to those who wait on Him.
Listen to: I AM: 365 Names of God(affiliate link) music CD by John Paul Jackson. It contains John Paul Jackson reading each of 365 names of God, such as "I AM God Who Comforts You," set to beautiful soaking music. I play this CD often in my car, and have often used it to set the atmosphere in my house. Learning the names of God will help you know Him and draw on Him as everything He IS!
So by waiting on the Lord, you have positioned yourself for Him to be good to you.
I don't know about you, but I like the sound of that … because God's goodness is amazing. God's goodness is unstoppable. God's good ideas exceed, outweigh, and outrank the best I could come up with any day of the week.
So friend, it's time to draw on His goodness.
Go to Him and ask Him to shower you with His goodness, because that's who He is. Pray this short prayer with me:
"Heavenly Father, I come to You in Jesus' name. Thank You for loving me and taking care of me. Thank You for seeing every part of me and every aspect of my life. Thank You for guarding and protecting me and sheltering me under the shadow of Your wings.

Lord, You know I've been waiting for You. I've been waiting for You in    (insert your situation here)   . Daddy God, I know that You see me waiting. Your timing is perfect, and I trust You. I know You have only the best in mind for me because You are a good, good Father.

But Daddy God, Your Word says that You are good to those who wait for you. So Lord, I come before You in Jesus' name today and I claim this promise in particular. Because of Your Word, Father, I ask You to be good to me today and bless me in amazing, unexpected ways. Help me to keep waiting on You, and while I wait, please shower Your goodness and blessings on me today.

Lord, I know I can draw on You for this because You ARE good to those who wait for you. It's who You are, and You cannot be anything else. So thank You for Your goodness. Thank You for Your kindness. Thank You for Your favor and blessings–things I don't deserve, but which You have given me as a free gift in Christ Jesus.

Father, thank You. I love You so much. Please help me to receive everything You have for me. Help me to recognize it and thank You for it, and I'll give You all the glory.

In Jesus' name. Amen."
Does this message speak to your heart today? If so, please leave a comment below. I'd love to hear from you!
Any Amazon links above are my affiliate links. This means that, if you purchase a resource on Amazon, Amazon will pay me a small commission (at no additional cost to you of course). If you dig that, so do I (and so does my cat, who likes to be kept fed and happy). So purchase much and purchase often–always through my link of course–and thank you. 😉 Oh, and if you suffer from insomnia, you may benefit from reading my disclosure policy here.