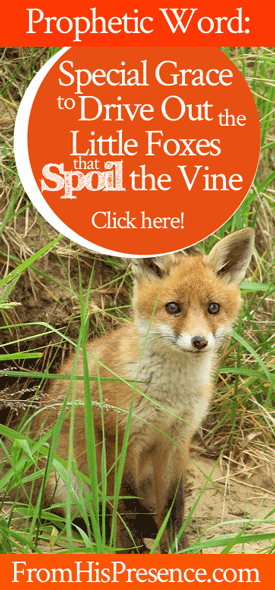 Beloveds, I felt like the Lord wanted me to tell you today that He is giving special grace in this season to help you make life-changing decisions.
Note that I didn't say "huge decisions"; I said life-changing decisions. They might be huge; but, often, those are actually little decisions that chase the little foxes out of your vineyard.
Song of Solomon 2:15 says:
Catch us the foxes, the little foxes that spoil the vines, for our vines have tender grapes.
Right now, there is special grace for making decisions that change everything–especially decisions that drive out those little foxes that spoil the vine.
You probably already know what God is helping you do right now. I suspect you've also been feeling Him pour out His grace; for what He does in one life, He does in another.
Two keys that will help during this process:
1) Let the process be enjoyable. Allow yourself grace to start small and grow.
2) Keep things in the silence for awhile regarding the decisions you're making. Doing so will preserve the grace and anointing you sense on those decisions.
That is all!
Does this word speak to your heart and confirm something you've already been sensing? If so, please share it so others can be encouraged too!
You'll get an email when new content is posted. I'll also send you exclusive prophetic words, teaching material, and more. You'll even receive my free, printable blessing cards and my ebook–The Presence Seeker's Creed–for free when you confirm!
Partner update: 65 down; 935 to go. I need 1,000 partners to share in this Gospel work in the amount of $8 per month. If you feel called to help, click here to read the details.