What To Do When You Have a Bad Dream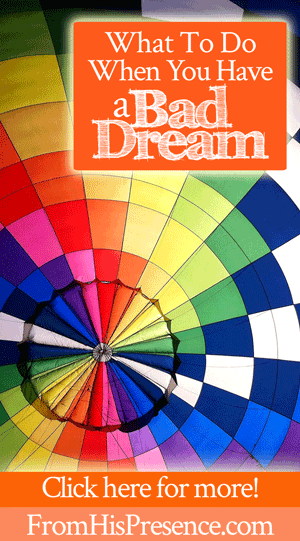 Have you ever woken up from a deep sleep with your heart pounding, eyes wide open, terrified because you just had a really bad dream? If so, it's important to know what to do if you have a dream like that.
First, recognize that GOD is not the author of fear.
He does not give fear at all. Fear is a spirit, not an emotion; and if you feel afraid after having a dream, one of two things has happened. Either:
The dream was actually from the enemy; or
The enemy is trying to tell you an incorrect interpretation (a fearful interpretation) of the dream, so that you'll miss what God is actually saying.
So as soon as you wake up and remember that you had a bad dream, you need to identify the source of the dream.
To identify the source of the dream, pray and ask the Holy Spirit if the dream was from Him. (Check out the vlog I posted earlier this week, 10 Key Elements of Dreams and Visions, for more info on how to discern holy dreams from God versus dreams from the enemy, or from your soul.) And always compare the dream to God's Word, the Bible.
Then, if you know for sure that a dream is from the enemy, rebuke it in the name of Jesus! Just say something like this:
"In the name of Jesus Christ, I rebuke that dream and every demonic spirit that inspired it, and I command those spirits and all results of that dream to leave me. Spirit of fear, leave me. God has not given me a spirit of fear, but of power, love, and a sound mind. I belong to Jesus Christ, and no weapon formed against me can prosper."
If the enemy has attacked you in a dream, both the demonic source of the dream and the fear brought on by that dream have to leave when you tell them to go in the name of Jesus.
But there is a difference between a dream from the enemy–a true nightmare–and a dream that simply has negative elements in it.
I've had people come to me with dreams that really scared them. Sometimes the dreams have involved snakes, or being naked, or even simply seeing something happen in the dream that shouldn't happen.
In those situations, every time, the person was scared but shouldn't have been. The dreams each had multiple signs that they were from the Lord (full color; prophetic symbolism; and encouraging messages). However, each dreamer simply hadn't understood the dream correctly. As soon as we talked about the meaning of the dreams based on Biblical symbolism, they were greatly relieved and even encouraged.
Remember that God does not give or cause a spirit of fear. Second Timothy 1:7 says:
For God has not given us a spirit of fear, but of power and of love and of a sound mind."
So fear is NEVER from the Lord. If you have a bad dream and it makes you afraid, then that dream is not from the Lord–or you are not yet understanding it correctly.
But why would God ever give you a dream with negative elements in it at all? Why aren't dreams always about dancing through fields of daisies and singing yodeling songs? 🙂 Ahhh, therein lies the key to many things!
Here's one of the most important things you can learn about dreams:
One of the big reasons God gives you dreams is to expose the enemy's strategy.
When I was going through a lot of inner healing and deliverance, shortly after I gave my life to Jesus, I used to have a lot of strange dreams. Some of them were wonderfully strange in a good way. I prayed to see Jesus and angels in dreams, and He gave me several dreams like that. They were awesome!
But other dreams were strange because they had really negative symbols in them. For example, I dreamed about snakes a lot. I hated snakes! Yet, in these dreams, I would see snakes individually or even whole nests of snakes. Yuck!
At the time, I did not understand my own dreams. However, with the help of some godly mentors who taught me about dreams, I came to understand that the dreams were not nightmares at all. Instead, God was showing me how the enemy was tricking me. He was exposing the strategies of the enemy so that I could get free from them.
For example, snakes represent lies in dreams. All those dreams I had about snakes were actually God showing me the lies I had been believing. (And believe me–I was believing a lot of them. I was a very messed-up individual, and I had a ton of baggage to unload!)
But when God showed me those lies, He exposed the tricks and plans of the enemy.
And after He exposed those things to me, then I had both motivation and power to overcome those things in the name of Jesus. I was able to kick the lies of the enemy out of my life and replace those lies with the truth of God's Word.
But none of that would have happened like it did if God had not exposed the tricks of the enemy in my dreams.
Some of you may have also had bad dreams, and you've been scared by them.
But don't be! If those bad dreams were nightmares, then they were not from God. They were from the enemy, and you can automatically know that not a single thing in them is true. Rebuke those dreams in the name of Jesus!
And if the bad dreams you've had were bad simply because they contained some negative elements, look for the Biblical interpretation! God is showing you how the enemy is trying to mess up your life. Remember John 10:10, which says:
The thief does not come except to steal, and to kill, and to destroy. I have come that they may have life, and that they may have it more abundantly."
So when God exposes the enemy's strategies, He is giving you the inside knowledge you need to defeat that enemy!
If God shows you a lie that the devil is trying to get you to believe, you can counter it by fully embracing God's truth (from His Word) in that area!
If God shows you something the enemy wants you to be afraid of, you can know for sure that God Himself is offering you the opposite of that fear–and you can embrace the good thing!
And if God exposes some sort of hidden trick against you in any other way, you'll know to be on watch for it–and you won't fall for it when the thing comes to light in real life!
God speaks continually in dreams and visions.
Dreams and visions are one of His primary languages. Huge portions of the Bible are made up of nothing but recorded dreams and visions! (Think of the books of Revelation and Ezekiel, for example.) 🙂 Therefore, understanding what He is saying when He speaks to us in this manner is crucial.
Later this week, I'll be releasing some MP3 teachings about how to understand specific symbols in dreams, within a Biblical context. Stay tuned for that!
But until then, I'm trying to teach as much additional information as I can about this subject. So, if you have questions about dreams and visions, would you leave them below? I'll try to answer as many as I can!
(Note: Please do not leave descriptions of individual dreams and ask for interpretations. Interpreting dreams can take me hours of study per dream, and I am not able to discuss the interpretations of specific dreams in this forum. God wants you to study out your own dreams! However, if you have questions about nightmares, bad vs. good dreams, and the general technique of understanding dreams Biblically, I can try to help with those. Thanks for understanding!)
Would you help me with my work of reaching people for Jesus as a domestic missionary? I need you; we are in this together! This blog, and all of the Kingdom work we do in this community together, are made possible through your partnerships, donations, and product purchases.
If you'd like to help, please check out the partnership details and products available for sale here. And, thank you in advance for helping make this blog and everything we do together for the Kingdom possible!