10 Key Elements of Dreams and Visions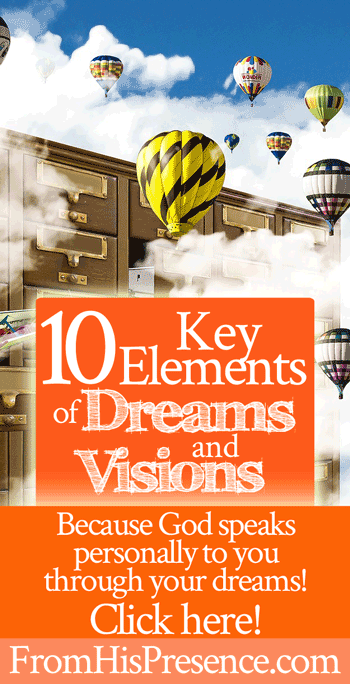 Do you occasionally have dreams and visions–or even strange things that happen to you–and you just know that God is speaking … but you have no idea what He's saying?
Understanding dreams and visions is a hot topic because God truly does speak using dreams, visions, pictures of many kinds, and strange events. A huge portion of the Bible is made up strictly of the writers recording the dreams and visions God gave them!
So how can you understand dreams and visions?
Two ways–and both are necessary:
With the help of the Holy Spirit. Dream interpretations belong to God!
By studying the Biblical meanings of symbols and dreams.
God is the only one who can help you understand what He is saying. The good news is: He's eager to do so! If you're eager to learn, He wants nothing more than for you to understand the personal love letters He sends you in your dreams and visions.
So if you want to understand dreams and visions, where do you start?
Other than prayer, which is the first step, you start with the basic elements. Here's the first thing:
Whenever you have a dream, the most important thing is to write it down as soon as you wake up.
Don't think you'll remember it later; you usually won't. So grab a notebook and write down everything you can remember. In particular, there are 10 key elements that are VERY IMPORTANT, and you'll need to keep careful record of those elements.
I listed the 10 key elements of dreams and visions below briefly. However, I was inspired to do a more in-depth teaching on it this morning, so I also recorded a video for you!
The video is below (YouTube version). It contains lots more information than I am able to write down below, so watch the vlog for details. (It's only about 14 minutes long.) (You can also watch the video on Facebook here.)
And here is a brief listing and explanation of each of the 10 key elements of dreams and visions:
(Remember, write these things down when you're recording your dream!)
1. If this dream, vision, or event were a movie, what would you title it?
The title helps us figure out the main point or direction of the dream for you.
2. Is the dream in color or black and white?
Dreams in color vs. black and white have different applications.
3. Any colors you see in the dream.
All the colors have meanings. They have one meaning if the color is used in a positive context and another meaning if the color is used in a negative context. Colors are a huge key to the meanings of dreams.
4. Numbers.
God speaks using numbers all the time. When you see specific numbers in a dream, it's often a huge sign about what season of life you're in (or what new thing you're about to experience).
5. Things that happen (or that you have) on your left vs. right side.
Left means one thing and right means another. Left vs. right often show us whether something is currently happening or about to happen.
6. Body parts.
Each of the body parts has a different symbolic meaning. They can describe relationships, skills, talents, personality characteristics, and more.
7. Names.
Names have meanings. When you see someone in a dream whose name you know, but you don't know that person in real life, it's often because the meaning of their name is important in your dream. The name can be important if you do know the person, too.
8. Relationships (acquaintance, stranger, mother, etc).
A dream about your mother might not necessarily be about your mother. Sometimes the meaning is symbolic.
9. Did you see a character's face, or not?
Sometimes this helps us tell if the dream is about an actual person or situation, as opposed to being symbolic.
10. Is the house/place you saw in the dream the same as it is in real life? If not, how is it different?
This is a big key because it often tells us if a dream is symbolic or literal. It also can sometimes tell us if you're about to transition into something new in your life.
God speaks to His people using dreams and visions.
And if we learn to understand His voice when He speaks in this way, we open a treasure trove of communication with the One who knows us best and loves us most!
Did this vlog help you or pique your curiosity? Leave a comment below! I'd love to hear from you!
Would you help me with my work of reaching people for Jesus as a domestic missionary? I need you; we are in this together! This blog, and all of the Kingdom work we do in this community together, are made possible through your partnerships, donations, and product purchases.
If you'd like to help, please check out the partnership details and products available for sale here. And, thank you in advance for helping make this blog and everything we do together for the Kingdom possible!