How To Make Your Giving Work Like You Want It To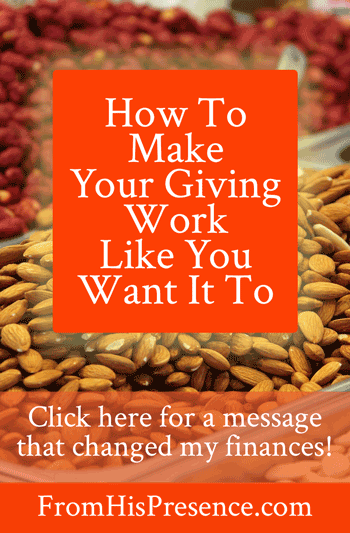 Awhile back, my husband and I heard a message that absolutely transformed our finances. Why? Because this one message taught us what God's Word says about how to make our giving WORK like God says it should.
The message is from Pastor Jesse Duplantis, a man of God that I GREATLY respect.
I love Pastor Jesse's teaching, and my husband and I support his ministry. He teaches the Word of God with full faith and no apology, and he's blessed because he believes what God said. I want that kind of blessing and faith too, don't you?
So the basic principles he taught in this message–a message that changed my life and our finances forever–went something like this:
The Bible says there are 4 types of giving: tithing, firstfruits, alms, and seed.
Each type of giving is motivated by a particular thing, and it carries a particular result promised in the Bible.
The problem comes when we get the types of giving and their results mixed up.
For example, tithing produces particular blessings.
It will always produce those blessings. However, it does not produce the same blessings as seed–or even as firstfruits. When we need the blessing of seed but we expect it to come from the tithe, it won't work.
Another example:
Maybe you need the blessing of the seed. But you don't know what makes seed different from alms, so you give alms–praying for the results promised by seed. It won't work, because alms produces alms-blessings and seed produces seed-blessings. But you have no seed in the ground; you only have alms.
AVAILABLE IN EBOOK OR PAPERBACK FORMAT!
Over Not Under: Financial Prosperity God's Way
Do you want God to empower you to get wealth, as He promised in Deuteronomy 8:18? Then this book is for you!
Over Not Under will help you gain deep insight about God's financial principles—and about how to activate His provision, blessing, and abundance in your life!
So the long and the short is:
Tithing produces tithing blessings. Seed, alms, and firstfruits all produce their different kinds of blessings too.
But they're all different. So, in order to be blessed like you want to be, you have to figure out what kind of blessing you need. Do you need the reward of seed? The reward of alms? …
And then do the type of giving required to get that blessing.
Make sense?
This is an essential message that we all need to understand if we want to be blessed in our finances.
Your assignment, should you choose to accept it is to make sure you know which type of giving goes with what reward.
Go!
Would you help me with my work of reaching people for Jesus as a domestic missionary? I need you; we are in this together! This blog, and all of the Kingdom work we do in this community together, are made possible through your partnerships, donations, and product purchases.
If you'd like to help, please check out the partnership details and products available for sale here. And, thank you in advance for helping make this blog and everything we do together for the Kingdom possible!