Ministry Update and Testimonies for April and May 2017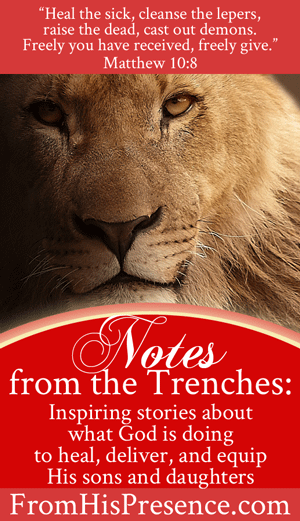 Beloved friends and fellow Presence-seekers,
I'm so excited to write to you today. I have wonderful testimonies to share from the last month and a half of ministry.
The last ministry update I published was about 6 weeks ago. As you know, I've been sick (but am on the upswing!–thank you for your prayers), and I haven't been able to publish another update since then. But writing one now gets us back on track for the calendar month, so it all works out in the end. 🙂
So anyway, I want you to know how we (God + you + me) have been able to reach people for Jesus over the last few weeks.
And before I do, I want to express my heartfelt thanks for your prayers, support, encouragement, product purchases, partnerships, donations, social media shares, and so much more. I could never reach people without you. My photo may be on the blog, but it's not me–and I'm under no illusions that it is. It's US. God is using this whole community to reach more and more people for Jesus, and He's doing it for His own glory.
So, thank you. Thank you for co-laboring with me together for our King Jesus.
Here are the main things to know about this ministry since our last update on April 18–and then I'll share testimonies. 🙂
In April, this blog saw 90,904 pageviews. That's 90,904 times we encouraged people with Jesus' love.
In May, we saw 96,930 pageviews. Thank You, Lord!
In April and May 2017, we reached people in 201 territories/countries. (Some of these are island territories that have their own flag for data analytics purposes, but actually are under the government of another country. That's why the number of "countries" Google reports is 6 countries higher than the 196 actual countries in the world for political purposes.)
I was able to preach at two different churches in April/May, thanks to the support of our community. I'll share more about what God did there, below.
We planned and launched registration for our first CONFERENCE! This is so exciting for us. I'll share more about that below, too.
We were able to help two worship leaders and three Gospel writers with the business aspects of their ministries.
I was able to complete a radio interview on Box 2 Radio in May, in which we got to encourage radio listeners in Kentucky and Indiana about how to pray in their land inheritances, pray in spiritual mantles from previous generations, and redig old wells of revival. (I'm trying to get a recording of that; I'll send it to you later if I can find one.)
That's in addition to some massive teaching emails I sent out via email to our free, Presence Seekers University crowd–over 5,600 strong. 🙂 If you didn't read those emails yet (about how to win in spiritual warfare and how to contend with God for justice), please be sure you read them.
So here are some testimonies:
This community's financial support made it possible for me to preach two different places in April/May. At those events, I preached about every individual's call to disciple nations.
Both times, we saw Holy Spirit move in power through not only the sermons, but also through prophetic ministry and impartation after each sermon.
For example:
God used us to give a word of knowledge to a young man who had just been saved–a word that was confirming something about his call; something we could not possibly have known without Papa's help.
We saw pastors and missions leaders encouraged and re-fired to keep chasing their call–and to dream bigger.
We saw Holy Spirit minister in power to a missionary who had been scared of one particular thing–and that one particular thing had really held her back from going further afield. God spoke to her in the ministry time about that thing. She testified that it brought great healing to her heart.
We saw multiple physical healings happen at one church when God began to give us words of knowledge about specific things He wanted to heal.
We saw person after person surrender to God's call to both short- and long-term missions.
Both of these ministry events were incredible. Holy Spirit moved in such power. When He's moving like that, I get awestruck. You can actually see Him work, and it's so powerful that you can sense Him and smell Him and watch Him just as if He were visible … because He manifests Himself that strongly.
It's incredible. I'm wrecked for Him.
And here's an update on the "Inheritance: Claiming the Blessings that Belong to You" conference: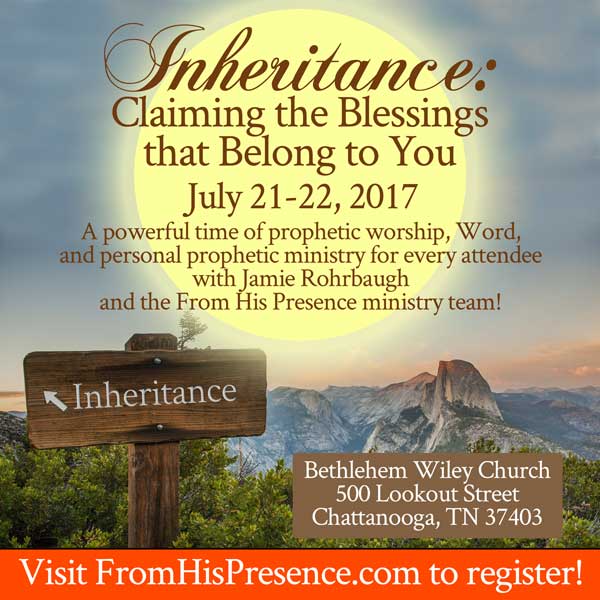 We have the registrants we need to cover our initial expenses!
(!!!) 🙂 🙂 🙂
Isn't that amazing? Dozens of you have signed up! I haven't counted the registration log lately, so I don't have an exact number, but we have over 50 people attending now!
Praise God! Isn't that amazing?
If you want to attend, it's not too late–and I would LOVE to see you there! It's going to be SO powerful!
Here are the conference details at a glance:
What: "Inheritance: Claiming the Blessings that Belong to You" conference with Jamie Rohrbaugh and the From His Presence ministry team.

I'll be preaching about the specific blessings God gave Abraham–blessings that are YOUR inheritance to receive as well.
Personal prophetic ministry for every attendee
Live prophetic worship by Kara Green and our worship band
Special guest ministers including Pastor Madaline McFarland and Pastor Angie McGregor (and others in the works also!)

When: Friday night and Saturday, July 21-22, 2017
Where: Bethlehem Wiley United Methodist Church, 500 Lookout Street, Chattanooga, Tennessee 37403
Check-in and meet-and-greet for conference registrants begins at 3:00 PM on Friday, July 21.
Service times:

Friday night 5:30 PM – 8:00 PM
Saturday morning 10 AM – noon
Saturday afternoon 1:30 – 3:30 PM
Saturday evening 5:30 – 8:00 PM
All times are Eastern Daylight Time

Handicapped accessibility: The sanctuary IS handicapped-accessible via a wheelchair ramp from the outside. HOWEVER, the restrooms are not. The restrooms are located downstairs in this building, so you have to go down a set of stairs in order to access the restroom (and back up to return to the sanctuary).

I do hope you all come to the conference! (Yes, all 5,000 of you! Ha! We'd have to move to a parking lot.) 😉 Seriously, though, we have room for several hundred more, and I really believe God has a divine appointment for everyone there. I can't wait to meet you in person and see what God does as we just host Him!
Here are some of my favorite testimonies from blog readers recently:
In response to the article about the sixfold blessing of the tithe:
"Thank you Jamie for this teaching! It really opened my eyes and helped me understand tithing. It's something I never fully understood and after reading this God opened my eyes to a lot of lies I have believed around tithing. Thank you for shining a light on what's TRUTH! Now I need to only find a local church, I have been praying for God to show me where I belong in His local kingdom, but have yet to find my home. Can You ask you to help pray for me to find my church home? Where God wants me and can use me? Thank you again Jamie! God Bless You!!"
"I want to thank you so much for this article on Tithing. It opened up my spiritual eyes. I never thought about praying about my self esteem issues because I tithe. I will be praying for you and the ones who leave comments. I need encouragement from others. This is the place for me. I found a place that I can make new friends."
"Before reading your article, I did not understand how important and what it meant to tithe and to put God first in our day. Now I do. I believe God put you here to teach us and open our eyes and you are doing a very wonderful and important thing. I am so glad I found your website. We need to understand the Bible and with you teaching us it has become interesting and beautiful. Thank you."
In response to the prophetic word about coming out of the wilderness:
"This is it. This prophetic word is for me. I have been on a 7 days fasting and today is the 5th day. I have been praying against giants keeping me in the wilderness and preventing me from walking into my promised and fruitful . Sometimes, I really want to give up but someway , somehow, he shows up with a word for me. Thank you Lord. You are indeed the God who answereth by fire. The Lord who never fails. He still reigns. Thank you."
"Tears of joy. Because this Word is right on time. Praise God for you and your obedience."
"Glory to God. I could not contain my tears from flowing, it's right on time speaks directly to me. It was so touching reading it as I read it aloud. God is good all the time, he's never late never early but always on time with what he wants us his children to hear. Thank you Lord. Thank you Jamie. God bless."
"I wept as I read that's how deeply I felt the Lord speaking to me.I'm so humbled by His love and care. I'm at a loss for words."
"Thank you so much Jamie, you don't know what day I was having , I kept trying to keep it all together, the enemy kept telling me that God wasn't gonna rescue me..I cry as I write this … thank you so much Jamie … tears of joy…"
Beloved, God is using this community to reach real people, who have real struggles, real heartaches, and real problems … but to reach them with His real comfort.
With real hope.
Real joy.
Real wisdom from the Word.
Real solutions for real problems from that Word.
And real love … the love of Jesus that surpasses all understanding.
You help make it possible:
Your support makes it possible for this blog to stay online. The overhead costs for the blog increase nearly every month as our readership grows (email fees get more expensive, etc).
Your support redeems my time to makes it possible for me to even write this blog, and to try to keep up (even though I'm perpetually behind) with the demands that come from ministering to tens of thousands of people every month.
Your support extends to others and creates jobs and income for other Gospel workers whom I pay to help me minister when we go places.
Your support makes it possible for us to pay webinar software fees, so we can teach hundreds of people in that forum every month–usually for free.
Your support makes it possible for me to mentor young local ministers–and even some in distant states–who are also surrendering to the call to write and preach.
Your support helped sponsor a missionary last month and a pastor's education this month.
And even more:
Your support even makes it possible for me to preach, even when I'm not paid. (I have actually lost hundreds of dollars at surface appearance when I preach sometimes, because not every church can afford to pay an honorarium–but I pay my worship leader, etc.) But God uses your support to make up the difference. He always provides our needs.
Your support is helping pay the expenses of our conference next month. The registration fees don't pay all expenses; the difference is provided by this blog.
And on, and on, and on.
Beloved, you matter. This ministry is a team effort, and I am so grateful for you.
I just wanted you to know that.
Thank you.
Love, Jamie
Would you help me with my work of reaching people for Jesus as a domestic missionary? I need you; we are in this together! This blog, and all of the Kingdom work we do in this community together, are made possible through your partnerships, donations, and product purchases.
If you'd like to help, please check out the partnership details and products available for sale here. And, thank you in advance for helping make this blog and everything we do together for the Kingdom possible!