How To Heal From Rejection and Abandonment, Step One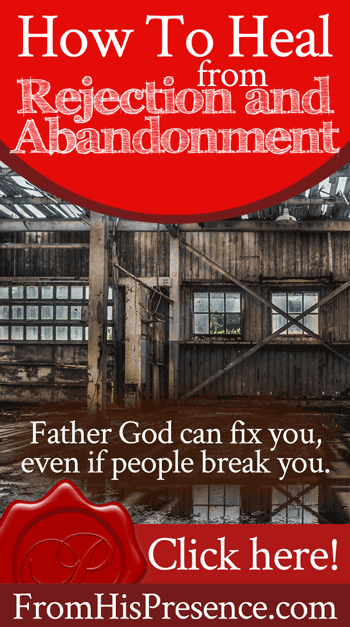 In our series about how to heal from rejection and abandonment, we already talked about how demonic spirits work together to build a stronghold of rejection in your mind. We also talked about 4 signs you have a stronghold of rejection.
Today, we're going to talk about the actual, physical process of how to heal from rejection.
The first step is identifying the weak spots in the stronghold of abandonment and rejection.
If you were in the military and you were charged with invading a city, you would send someone to check the city out first. You would identify the best places to invade, and you'd learn what holds the city together so you'd know the best place to begin.
The same thing works with spiritual warfare.
The key to getting healed from rejection and abandonment is tearing down the devil's stronghold in your mind. And to tear down that house of wrong thinking, you have to know what holds it together.
The thing that holds the stronghold of rejection together is unforgiveness.
So, the first key to tearing down this particular stronghold is forgiveness.
True story. It really is that simple.
There's definitely a process, and you have to be informed about how it works in order to navigate it successfully; but it really is that simple.
As we discussed in the first post, the enemy began to nest in your mind through one or more actual events that happened to you–actual experiences in which someone abandoned you. The unhealed wounds from those events were the original access points for the devil's minions to access your mind.
But if we go back and heal those wounds, we knock the foundation out from under the stronghold, and the whole thing collapses. It's like God says in Proverbs 26:2:
Like a flitting sparrow, like a flying swallow, so a curse without cause shall not alight."
The enemy cannot access your life without an open door. When you close those open doors, you kick the enemy out.
Imagine an open-sided pole barn. (A pole barn is a barn that is held up, not by walls, but rather by poles. There's a large post every few feet holding up the roof, and nothing else.)
When you have a stronghold of abandonment and rejection, it's like a pole barn. Every experience you've had in your life in which you've been either abandoned or rejected is another pole.
Did your dad walk out on your family? That's a pole.
Has your spouse left you or cheated on you? Another pole.
Did your childhood best friend turn on you in elementary school, and start making fun of you instead of being loyal to you? That's another pole.
And throughout the course of life, we collect these poles. Every one of these situations, left unhealed, contributes to the stronghold. The demonic voices are the roof, and these unhealed situations are holding them up–and trapping you inside this house of evil, twisted, influenced-by-the-enemy thinking.
Then imagine that this open-sided pole barn, from which you SHOULD be able to see the outside world clearly, is wrapped on all sides in red plastic wrap.
You're standing in the middle of the barn, looking out. You can see people come and go. They can even talk to you. You see animals, cars, the sun and clouds, birds flying, and more. You can see everything just fine, because the sides are open. You can still see the world.
Except … you see it red.
Therein lies the problem. You can see just fine, but your vision is distorted and you don't even know it. Absolutely EVERYTHING about your world is colored red. You view everything outside through a red-tinted lens, and the saran wrap even turns all the light that gets inside the pole barn into …
… you guessed it …
… red light.
And since we're talking about the stronghold of rejection, you can see the illustration.
When you have a stronghold of abandonment and rejection, you see the entire world through the lens of rejection.
Sigh. It's an ugly thing–a painful paradigm that JESUS never meant for you to have. The stronghold of rejection and abandonment–along with fear and all the other nasty things that go with it–are the work of the enemy, pure and simple.
And you don't have to put up with that bondage anymore.
How do you get free from rejection? Here's step two:
It's simple. You forgive all the people who have ever abandoned you or rejected you, in your whole life, one at a time. Forgive, forgive, forgive.
This is a systematic thing, not a blanket "yeah, I forgive them all" thing. You make a list of every person who has ever abandoned you or rejected you in your whole life. Then, you work your way systematically through your whole list, forgiving people one at a time. Verbally. Out loud.
And every time you forgive someone who has abandoned or rejected you, you knock a pole down.
As you work your way through the list, you notice that you can see a little better from where you're standing. The view isn't quite as obstructed. You can see the outside world a little more clearly, with fewer poles standing in your way.
As you keep moving through the list, you suddenly notice that a whole corner of the roof of that barn has fallen in. Pretty quickly, the hole in the roof has spread.
You're kicking down poles left and right, and the building is now open to the light. 30%, 40%. Then 50% of the poles are gone, and you're still in the barn, but it's falling down around you.
60%, 70%, 80%, 90%, 99% … and things are looking pretty good …
… But 99% is not good enough. 99% of the way through your list leaves a hook from the enemy in you.
You've got to work your way through the entire list. 100%.
And after 100% forgiveness–after you forgive every single person who has ever abandoned you physically, emotionally, or spiritually in your whole life–that barn is totally down, and you will be free.
(Just to make sure you forgive everybody, I encourage you to ask Holy Spirit throughout the process if there's anyone else whose name you need to add to the list. If anyone comes to mind, write down their name, even if it feels silly or like a non-issue. Holy Spirit will show you why each person matters.)
When you are finished with your list, chances are that you'll notice the difference, too.
I've never prayed with anyone to forgive who has not experienced a difference.
Even if you don't feel the difference until the next morning, you will feel the difference. The light will shine all around you. You won't be trapped in the shadowlands anymore. You'll feel lighter, freer, and more at peace than you've ever been.
It's all about forgiveness. This stuff works, beloved. I've seen it work time and time again. Over and over.
Because the Gospel is simple: He whom the Son sets free is free indeed.
But there IS a third step to healing from rejection and abandonment: RECEIVING.
We're going to talk about receiving tomorrow. And TOMORROW, I have an amazing surprise for you that is going to help you through this process! So stay tuned, and I'll see you tomorrow right here!
In the meantime, is Holy Spirit speaking to you about your life through this post? If so, please leave a comment below. I'd love to hear from you!
Would you help me with my work of reaching people for Jesus as a domestic missionary? This blog, and all of my mission work in person, are made possible through your partnerships, donations, and product purchases.

If you'd like to help me, please check out the partnership details and products available for sale here. And, thank you in advance for helping make this blog and everything we do together for the Kingdom possible!