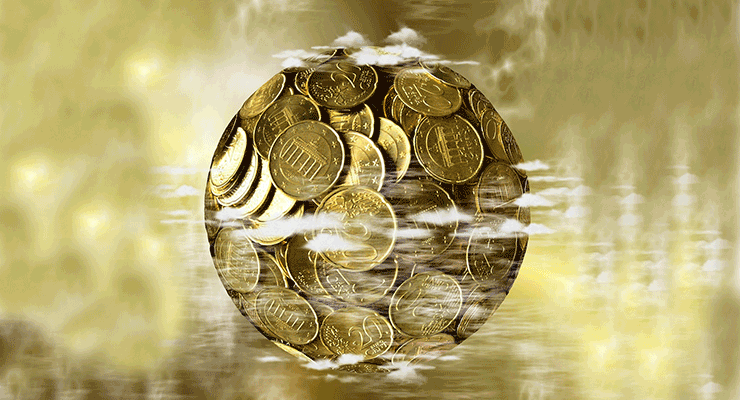 Dear brothers and sisters in Christ,
Enough is enough. Poverty and lack have had their day, and their day is over. It is time for mass financial breakthrough in the Body of Christ. I am writing today to ask if you would join me in a global, corporate fast for financial breakthrough, good stewardship, and prosperity in the Body of Christ.
I believe the next six months—from July through December—are a kairos time in the Body.
I believe we have already crossed over a seasonal threshold into a season where unusual financial breakthroughs are happening left and right. However, we need to enter the fullness of God's promises more deeply than that. We need to enter a season in which we are seeing the manifestation of God's abundance every day, as a normal, de rigueur thing.
Seeing God provide for our needs richly should not be considered unusual.
Beloved, God's promises far exceed how we are actually living in the Body of Christ. We get excited when we see Him provide for our needs richly, and we should. We should always maintain a sense of wonder and a grateful heart. After all, the God of the universe has stooped down to make us His own through the blood of Jesus!
Nevertheless, we preach blessing but often live like we are cursed.
We live FAR below God's promises. God's Word says:
that the wealth of the wicked is laid up for the righteous (Proverbs 13:22);
that we are to lend to many nations—but never borrow (Deuteronomy 28:12);
that we'd be blessed in the city and blessed in the field (Deuteronomy 28:3);
that He would bless ALL the work of our hands (Deuteronomy 28:12);
that He gives us power to get wealth (Deuteronomy 8:18); and
that, when we tithe and offer, He will pour out so much blessing that His provision overflows our need (Malachi 3:10).
Seeing these promises manifest day in and day out should be the NORM in the Body of Christ … but it is not.
We have been living beneath our privilege. We are sons and daughters of the Most High. He owns everything; the very universe was created by the word of His power. His Spirit even lives within us!
When considering these things, we have been living poor lives indeed.
When a deficiency is recognized in the Body of Christ, something must be done about it.
This is not just a matter of one friend saying to another friend, "Pray for me! I need financial breakthrough." No; this is a dearth in the entire Christian experience for most people. It's a lack of revelation and manifestation across the Bride of Christ at large.
We have not been seeing the forest of lack around the world because we've been busy looking at the trees of lack in our own front yards. But, systemic lack in the Body is not to be tolerated any longer.
As part of the restoration of all things, God has systematically been renewing massive revelation AND experience in His Body for centuries.
For example:
He used Martin Luther to restore the revelation of salvation by grace through faith.
He used saints such as Wycliffe to restore access to His Word to the common man.
He has used many others to restore the apostolic, the prophetic, the teaching ministry, etc. to His Bride.
Now is the time for Him to restore prosperity to His Body.
But first, a heart check.
How can we pursue the prosperity God promises without making money an idol?
We can only contend for this level of prosperity when we do so from God's point of view. If we seek prosperity for its own sake, we will find ourselves looking for the gifts, not the Giver. However, if we recognize the Biblical position on money–that we are stewards, living on earth to care for what belongs to God and God alone–then our perspective will be entirely different.
As it says in 1 Chronicles 29:10-13:
Therefore David blessed the Lord before all the assembly; and David said:

'Blessed are You, Lord God of Israel, our Father, forever and ever.

Yours, O Lord, is the greatness, the power and the glory, the victory and the majesty; for all that is in heaven and in earth is Yours;

Yours is the kingdom, O Lord, and You are exalted as head over all.

Both riches and honor come from You, and You reign over all. In Your hand is power and might; in Your hand it is to make great and to give strength to all. Now therefore, our God, we thank You and praise Your glorious name'" (1 Chronicles 29:10-13).
This is where stewardship comes in.
Everything in Heaven and earth belongs to God … but we Christians often do not acknowledge this. If we acknowledged this truth and lived it out in our daily lives, we would obey God's financial principles and would therefore experience His blessings:
Christians would be good stewards (1 Corinthians 4:2).
We would tithe and offer (Malachi 3:8-12).
We would avoid debt (Romans 13:8).
We would never co-sign (Proverbs 6:1-5).
We would give, and it would be given to us; good measure, pressed down, shaken together, and running over would be put into our bosom (Luke 6:38).
But, all too often, we do not do these things … and we do not do them because Jesus is not yet Lord of our finances.
It's time to fix what's wrong with our finances in every Christian's life around the world.
Joel chapter 2 says that, when we blow the trumpet in Zion and consecrate a corporate fast, the Lord will be zealous for His land and pity His people. Joel 2:19 goes on to say that, as a result of that fast, He will send so much grain, new wine, and oil that we will be satisfied by them.
This is a corporate issue, and we have to address it corporately.
I believe that poverty and lack are one of the most insidious tricks of the enemy preventing the return of Christ. Consider these things:
How many missionaries, pastors, worship leaders, etc. would love to work in God's harvest field full-time–but can't because of finanical lack?
How many churches would love to impact their communities in greater ways, but are shackled to large mortgage payments instead?
How many generous Christians would love to give more, but cannot because of their tight budgets?
How many Christians' lives are being ravaged by the devourer because they do not or will not tithe?
How many lost sinners scoff at our poor witness as we live beneath our privilege?
Remember that the Jews sought Jesus because they ate of His abundance and were filled (John 6:26)! Living in abundance is KEY to bringing souls into the Kingdom … and Jesus cannot return until the Gospel has been preached to the whole world (Matthew 24:14).
But the Gospel is not being preached as it should be because of financial lack.
Churches and pastors are enslaved to debt payments. Families are prevented from giving, living, and leaving a legacy the way the Bible teaches. The devourer is having his heyday among Christians because those Christians refuse to tithe … and the world looks on in scorn.
My brethren, these things ought not to be so.
Poverty is a curse in the Bible, but Jesus became a curse for us."Cursed is the man who hangs on a tree" (Galatians 3:13-14). When Jesus hung on Calvary's cross, He took every curse upon Himself so that we could be blessed.
Friends, the enemy has tricked us even more than we realize.
Not only has he stolen, murdered, and destroyed, but he has also convinced us that poverty is a little thing … but it's not a little thing. It is a huge thing. It is one of THE biggest tools in the devil's toolbox.
I believe the time has come for us to cry "foul" around the globe, AS ONE VOICE and with one accord, and refuse to accept poverty any longer.
I believe that now is a kairos time—an urgent, crucial time—for us to repent for accepting the enemy's lies; repent for settling for less than our royal inheritance; and call our Father out onto the carpet, lifting His Word up to Him and insisting that He perform the many blessings He has promised us therein as we begin walking in obedience.
We must not be complacent any longer.
We cannot afford to continue settling for less than the full manifestation of the promises. We must obey God, get in line with His financial principles, and give Him no rest until He performs His Word and makes His name a praise on the earth.
I am asking you to join me on a six-month Global Stewardship Fast for these things.
I felt led to call the world to a six-month corporate fast for the revelation and manifestation of stewardship and prosperity in the Body of Christ. I'm calling it the Global Stewardship Fast, and here are the details:
If you are joining us, please sign up for the fast by listing your name, city, state, and country in the comments on this post.
Please consider gathering 3-5 people who will commit to this fast with you in your city. (If you do not find such friends, then tune in online as we pray together via Facebook Live and other forums.)
I encourage you to and meet with your fasting partners at least once per month for the next six months.
Please intercede for the prayer points below.
18 things we should pray for on this fast:
For every person to educate themselves about God's financial principles;
For every person to make Jesus the Lord over their money, believing and obeying His financial principles in every area;
For corporate repentance for every way we have handled money that has been out of God's will;
For a mass return to tithing;
For a mass return to giving generous offerings to the Lord;
For every family to experience miraculous financial breakthroughs;
For income to come to the Body of Christ;
For the anointing of entrepreneurship to come upon the Body (Proverbs 31);
For the birthing of new, viable, profitable businesses;
For God's people to be above reproach in their business dealings;
For Christians to make wise investments and be delivered from bad investments;
For investments already made to mature;
For fallow seed offerings to resurrect and yield a harvest;
For every believer to recognize and obey Holy Spirit's small promptings that are leading us into the paths of prosperity;
For every Christian to become debt-free;
For every church to become debt-free;
For every leader and layperson to have wisdom regarding how to handle money on a daily basis; and
For the wealth of the wicked to be transferred into the hands of the righteous en masse and in a godly way.
Beloved, I believe this Global Stewardship Fast can change everything.
Decades ago, Azusa Street, the Latter Rain movement, the healing revivals, and even Billy Graham's ministry all broke out as a result of prolonged fasting and prayer in the Body. Can God not do the same thing again if we will all join together–this time freeing us from enslavement to poverty and lack? Of course He can.
Will you join me?
If you choose to participate in this fast, please leave a comment below with your name, city, state, and country included.