Pray "WISDOM" for Guidance In Every Decision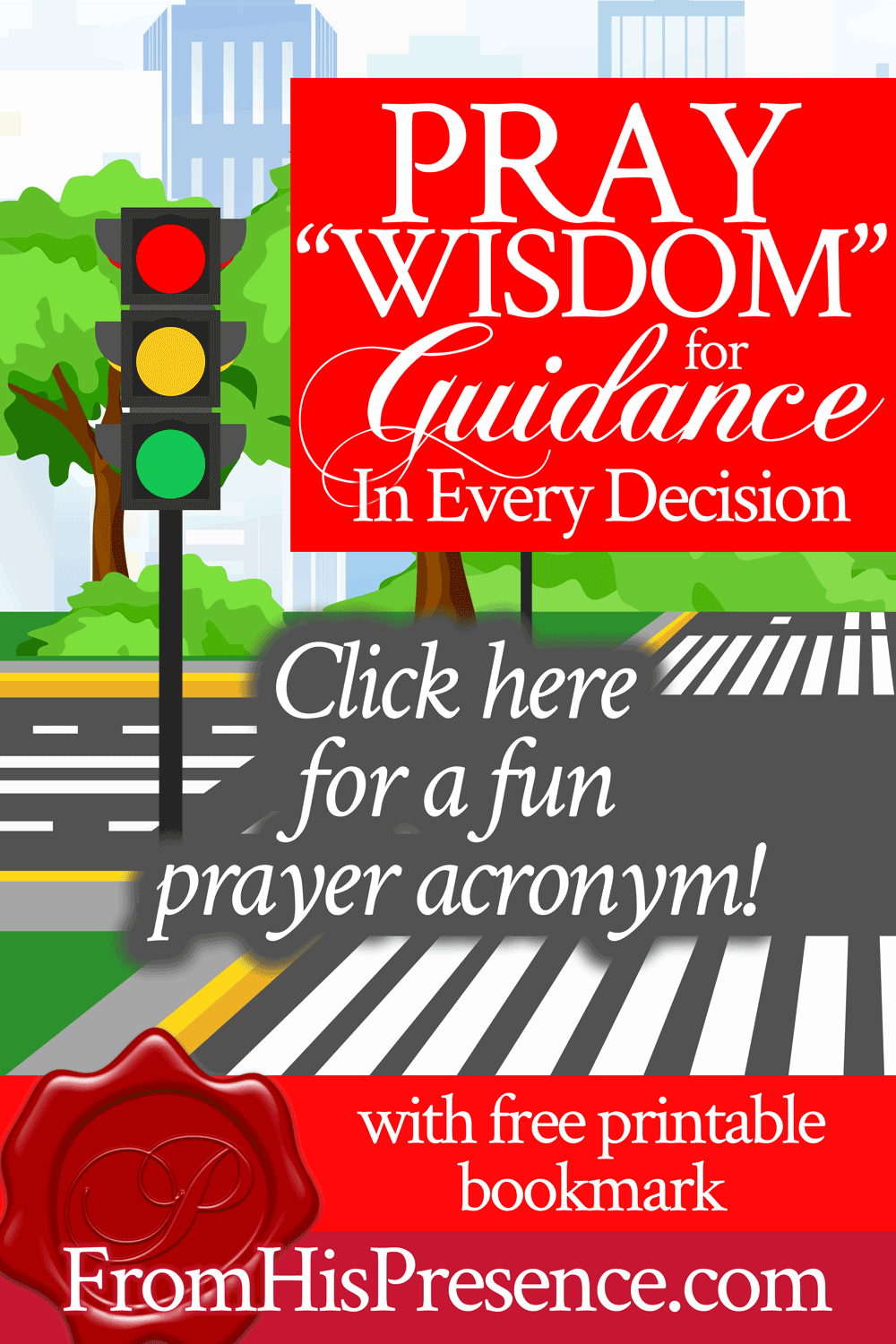 Are you making a big decision? Perhaps you're deciding whom to marry, what job offer to accept, whether or not you should sell your house, or even whether you should move from city to city? No matter what is happening in your life, praying through the fun prayer acronym "WISDOM" will help you petition the Lord for His guidance in every decision!
I love prayer acronyms because they're easy to remember.
When you face a complex situation, every aspect and facet of the situation needs to be covered in prayer. However, if you're emotionally involved (and who isn't!) in your big decision, it can be hard to remember what to pray about.
If you feel frozen, like you don't know how to pray, you can always simply pray the Word or pray in your prayer language (speaking in tongues). However, you can also use handy prayer guides, like this "WISDOM" prayer acronym, to help you remember how to pray and not miss anything.
I placed a handy, printable bookmark at the end of this article for you to save. Also, you can save the images for each part of the acronym to your phone or device. You could easily make a special album for them and keep them as a prayer guide to reference anytime!
Without further ado, here is what the prayer acronym "WISDOM" means: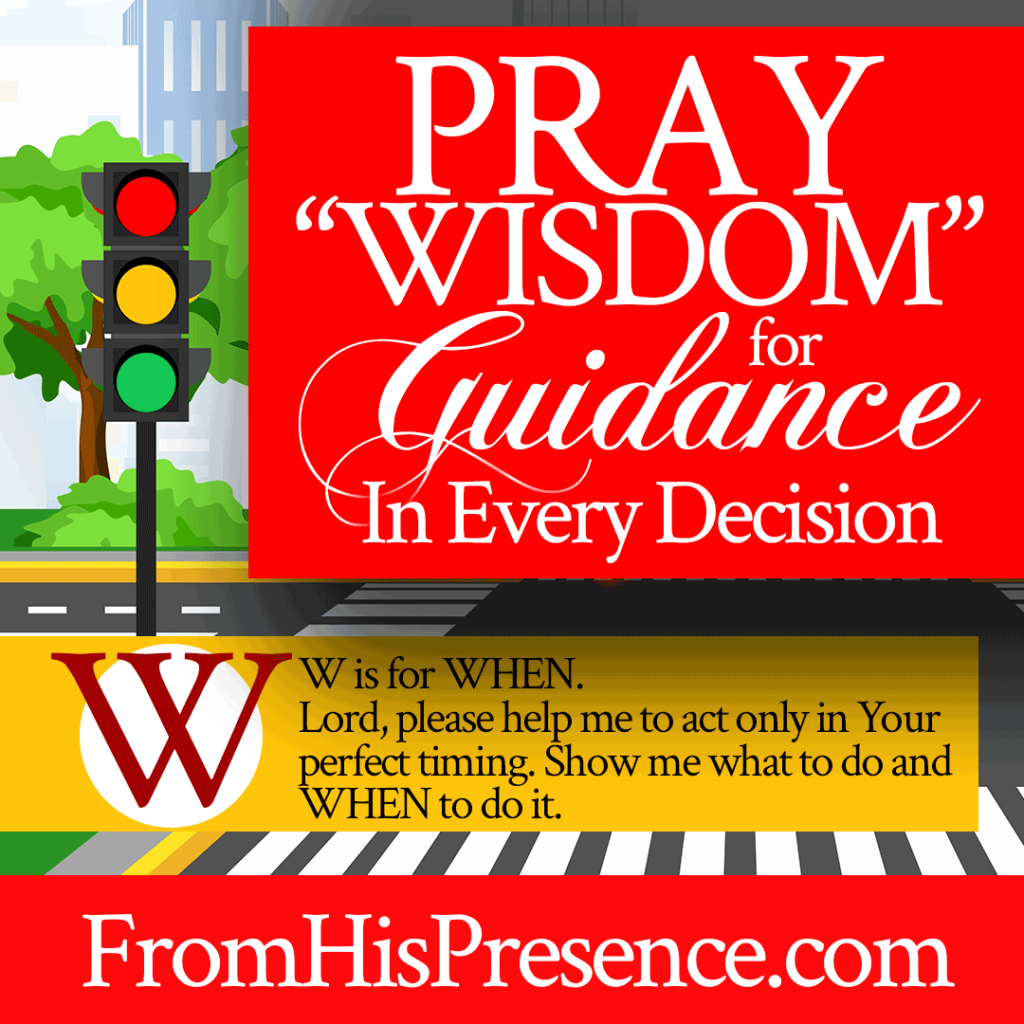 "W" is for WHEN.
We always need wisdom–another "W"–to know God's timing. And for every big decision, there is a right time and a wrong time, as well as a right decision and a wrong decision (another "W"!).
So let's look at a few Scriptures we'll claim as we pray about God's wisdom and timing. First:
"Wisdom is the principal thing; therefore get wisdom. And in all your getting, get understanding" (Proverbs 4:7 NKJV).
So wisdom is the first thing we want from the Lord, but He will also show us all the particulars–such as His timing. As He said in Psalm 32:8-9:
"I will instruct you and teach you in the way you should go; I will guide you with My eye. Do not be like the horse or like the mule, which have no understanding, which must be harnessed with bit and bridle, else they will not come near you" (Psalm 32:8-9 NKJV).
And in case the Lord wants you to wait, we definitely want to pray through this Scripture from Psalm 27:
"Wait on the Lord; be of good courage, and He shall strengthen your heart; wait, I say, on the Lord!" (Psalm 27:14 NKJV).
But also, in case He wants you to go NOW, also pray that you will have the courage to get up and go.
As He commanded Joshua and the Israelites in Joshua 1:2-3:
"Moses My servant is dead. Now therefore, arise, go over this Jordan, you and all this people, to the land which I am giving to them—the children of Israel. Every place that the sole of your foot will tread upon I have given you, as I said to Moses" (Joshua 1:2-3 NKJV).
So let's sum up the prayer for God's perfect timing by praying this:
"Dear Heavenly Father, thank You for Your faithfulness to me. You and You alone know exactly what You want me to do, and how You want me to do it.
Please give me wisdom, Lord, and help me to act in Your perfect timing. Show me what to do and when to do it. Thank You, Father, in Jesus' name."
And the next part of the acronym is …
"I" is for "IF."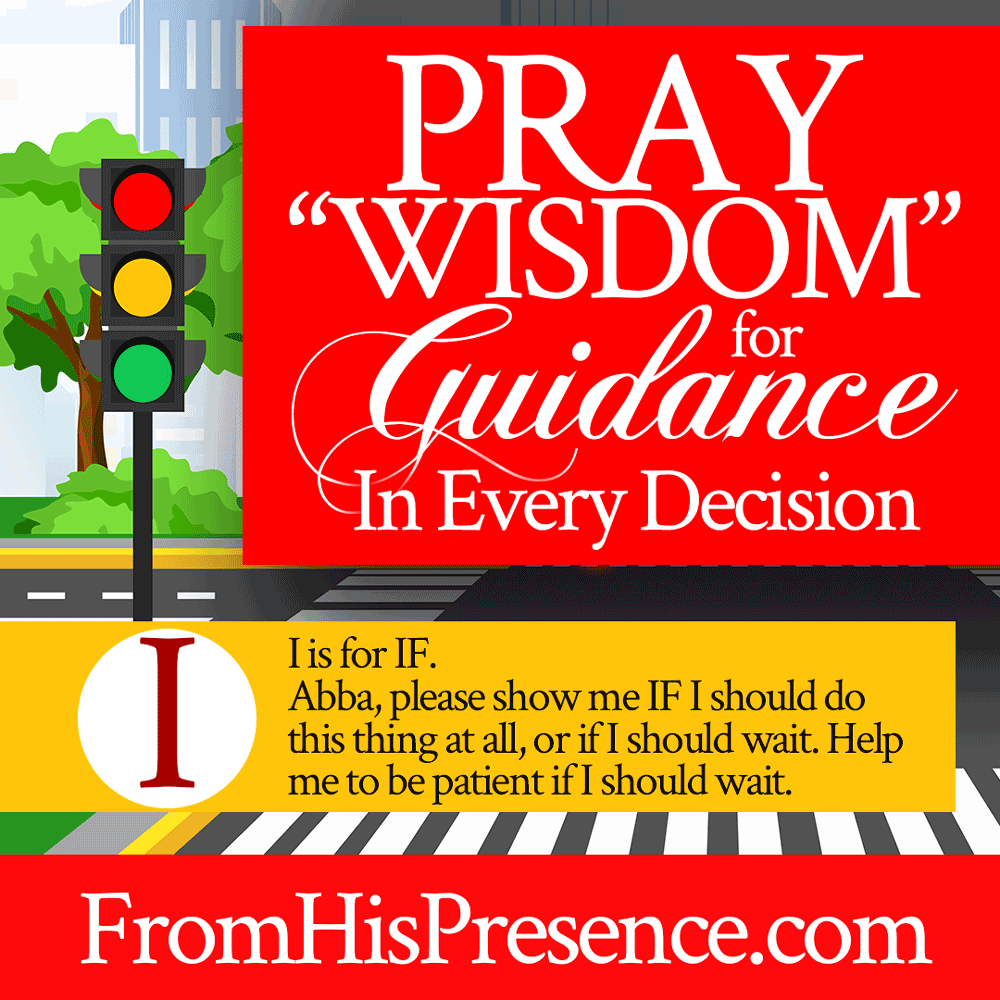 Using the same Scriptures we read above, we can see that the Lord will teach us in the way we should go. Sometimes that way is exactly what we thought and hoped it would be. However, at other times, He puts the brakes on for us.
It can be hard when God closes a door.
Related: An Encounter with the Great Door-Closer
But, it would be harder on us if we tried to walk through a dangerous door that was not His will for our lives.
Remember that God is both the Great Door-Opener and the Great Door-Closer.
As it says in Revelation 3:7:
"And to the angel of the church in Philadelphia write, "These things says He who is holy, He who is true, 'He who has the key of David, He who opens and no one shuts, and shuts and no one opens'" (Revelation 3:7 NKJV).
So while we pray over our decisions, remember that God may say "no" to something. Nevertheless, if He says no, it's only because He has a better thing He hasn't shown you yet. A closed door doesn't mean "no" to your dream. It simply means this particular step wouldn't have been the right thing at this time.
So in the acronym WISDOM, let's pray the "I"–for "IF" like this:
"Dear Heavenly Father, please show me IF I should make this decision at all right now, or if I should wait. Help me to be patient if I should wait. Put the brakes on for me, and close the door, if I'm trying to do anything outside of Your timing or Your will. Thank You, Abba. In Jesus' name."
And then, moving on to the "S":
"S" stands for "SENSITIVE."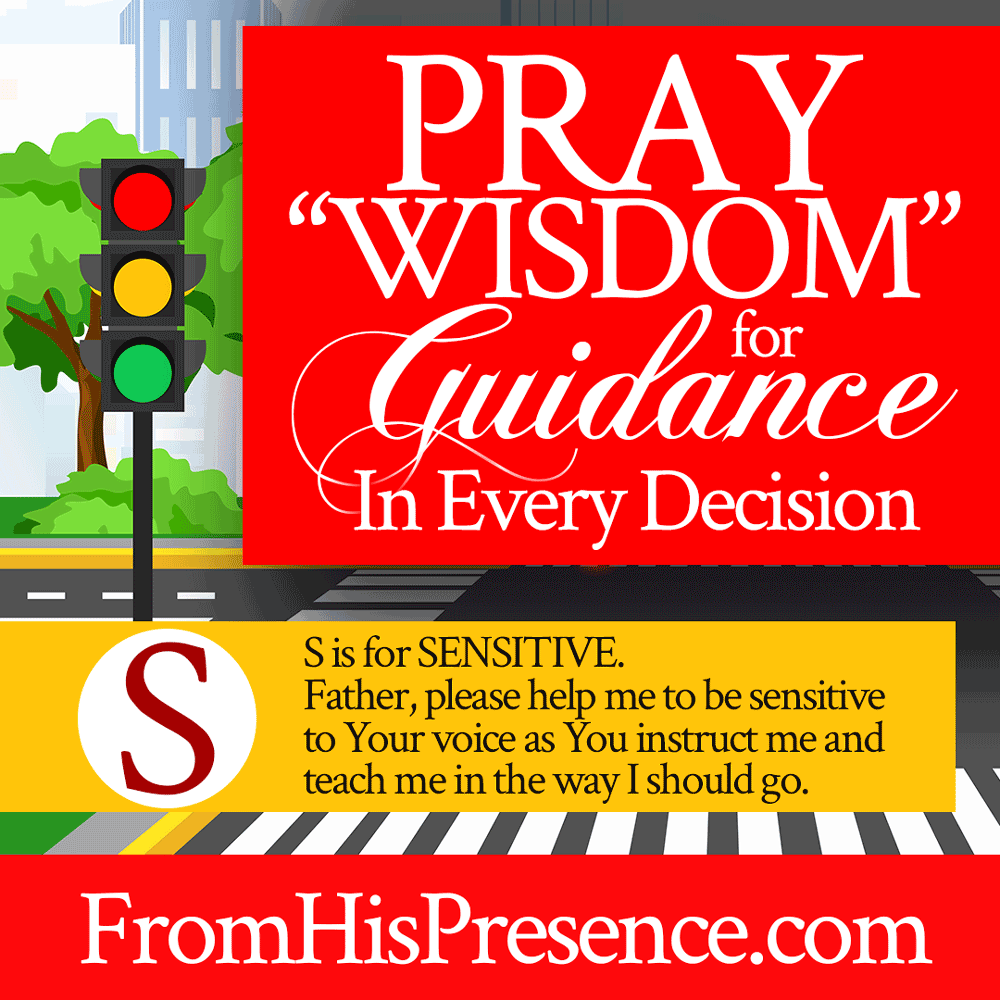 We should always ask the Lord to make us sensitive to His voice–to give us ears to hear Him and eyes to see Him.
Asking God for make us sensitive to His voice will help with every aspect of life and godliness, not just with big decisions. But, it is crucial for every big decision. 🙂
One of my favorite Scriptures about this, and about hearing the voice of God in general, is found in Isaiah chapter 30:
"Your ears shall hear a word behind you, saying, 'This is the way, walk in it,' whenever you turn to the right hand or whenever you turn to the left" (Isaiah 30:21 NKJV).
And then, we have the words of Jesus in John chapter 10:
"Most assuredly, I say to you, he who does not enter the sheepfold by the door, but climbs up some other way, the same is a thief and a robber. But he who enters by the door is the shepherd of the sheep. To him the doorkeeper opens, and the sheep hear his voice; and he calls his own sheep by name and leads them out. 
And when he brings out his own sheep, he goes before them; and the sheep follow him, for they know his voice. Yet they will by no means follow a stranger, but will flee from him, for they do not know the voice of strangers" (John 10:1-5 NKJV, emphasis mine).
A few verses later, Jesus also said:
"My sheep hear My voice, and I know them, and they follow Me. And I give them eternal life, and they shall never perish; neither shall anyone snatch them out of My hand" (John 10:27-28 NKJV, emphases mine).
If you look at those three Scripture passages together, you can see clearly that Jesus has promised you that you DO hear His voice.
A lot of people aren't confident in their ability to hear the Lord speak to them. They think that they need Him to speak to someone else on their behalf.
However, Jesus was clear that every one of His sheep can hear Him speak for themselves. That doesn't mean checks and balances aren't necessary, but you DO have ears to hear Him!
You don't have to be afraid of making big decisions. God will help you make the right one.
Our Father helps you hear His voice every day. And if you should go astray, He is well able to correct you and convict you.
Yes: You DO hear His voice behind you, saying, "This is the way; walk in it." If you turn to the right or the left, He will speak to you. If you stray, you will have no peace in your conscience or in your heart until you come back into His path.
However, if you are truly seeking God with all your heart, it is unlikely that you will even stray.
You have the choice to do so, of course, since you have a free will. But, His grace empowers you, as a saint of God saved by the blood of Christ, to live a holy life without sinning–if you obey Him that diligently.
Therefore, the odds are that you won't stray, as long as you are seeking God and listening to His voice as confirmed by His Word. (Jesus' sheep hear His voice and will not follow another.)
Let's pray as follows:
"Dear Heavenly Father, thank You that Your Word says that Your sheep hear Your voice. I am one of Your sheep, Jesus, so please help me to be sensitive to Your voice.
Help me to discern Your voice from all the other voices around me. Help me to clearly distinguish Your will, and Your instructions, from everybody else's opinion–and even from my own opinion. Thank You, Father. In Jesus' name, amen."
And the next part of the acronym "WISDOM" is …
"D" stands for "DO." We need the boldness to actually do what God has asked us to do.
You might be in the middle of making a decision that could require you to step out in BIG faith. If so, don't be alarmed. The Lord does that sometimes. After all, according to Romans 14:23, whatever is not of faith is sin:
"… for whatever is not from faith is sin" (Romans 14:23b).
The Lord commanded His people to be bold and step out in faith throughout Scripture.
For example, look at Joshua 1:9:
"Have I not commanded you? Be strong and of good courage; do not be afraid, nor be dismayed, for the Lord your God is with you wherever you go" (Joshua 1:9 NKJV).
And although that specific command was to the Israelites as they crossed the Jordan and took over the Promised Land, the same principles still apply to your big decision today:
But, you don't have to step out all by yourself.
Abba Father will help you want to do the right thing and make the right decision. Philippians 2:13 says:
"for it is God who works in you both to will and to do for His good pleasure" (Philippians 2:13 NKJV).
And there's no need to fear; God loves you perfectly. His perfect love casts out fear. If you focus on His love, you can be completely delivered from fear and step out for the unknown, boldly walking in His love.
VICTORY IN THE CAMP OF THE LORD, VOLUME 1:
Healing from Fear
Struggling with fear? God wants to heal you.
In this book, Jamie shares how to heal from fear, intimidation, panic attacks, and even a physical inability to breathe! Download Victory in the Camp of the Lord Volume 1: Healing from Fear today and learn how to beat the spirits of fear, python, and intimidation in the name of Jesus.
So let's pray like this:
"Father God, thank You for making me bold in Your Spirit. Please give me boldness and strength to actually DO what You want me to do. Fill me with Your perfect love, which casts out fear. Help me to be hyper-aware of Your love right now, and help me move forward in faith wherever You lead me. Thank You, Abba. In Jesus' name."
And then, we move on to praying about those open doors!
"O" is for "ORDER."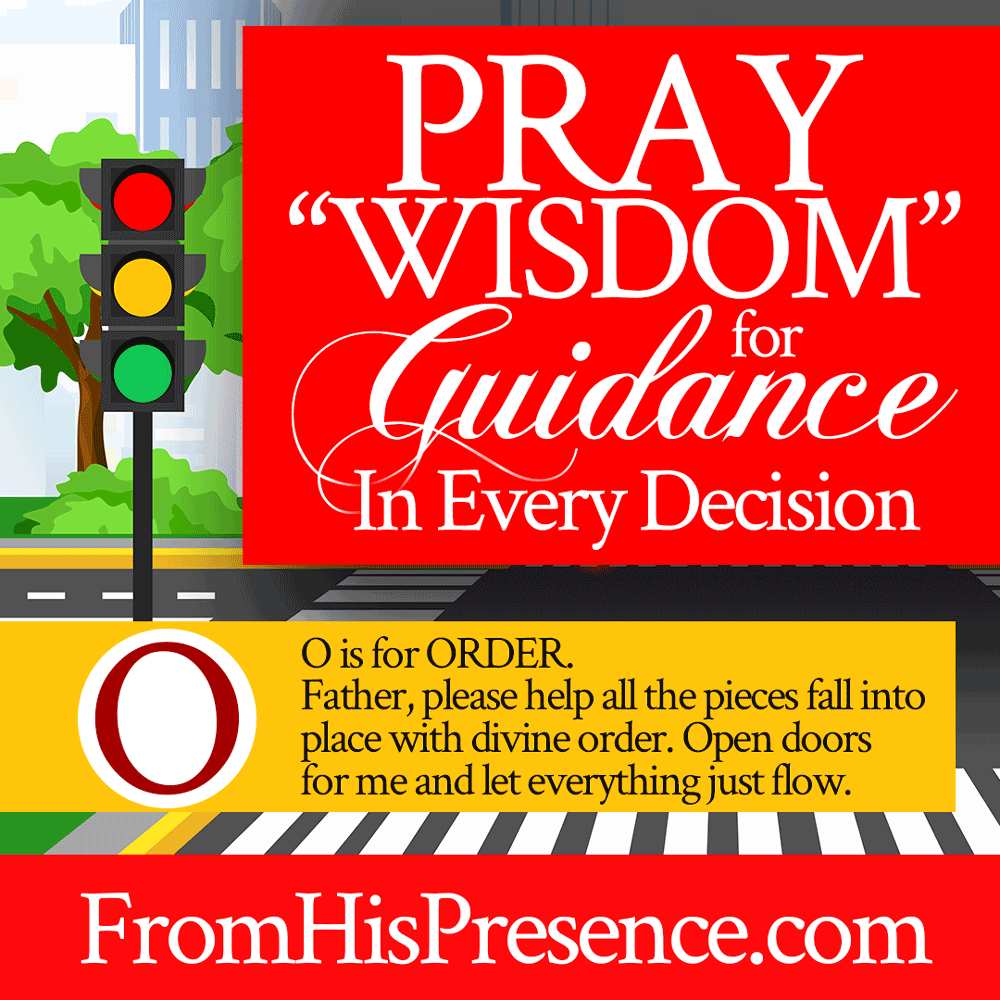 We will always have struggles in this life. However, when God is in a thing, He will help you push through the struggle.
Pushing through often means you have to kick doors down.
God may put a dream in your heart. He might give you a specific command to make a big decision. He may tell you to start a business, find a new church, or try to find your first family home. No matter what He leads you to do, however, you're going to have to put in some effort.
Potentially a lot of effort.
Whenever the Lord has done something big for me, for my family, and for this ministry, it has always required us to kick doors down.
Sometimes we've only had to kick down one or two doors. Sometimes we've kicked at doors, but they have not opened at all. Other times, we have had to kick and kick and kick and kick at dozens of doors before one finally opened.
But you can tell God is in a thing when He opens the doors that you kick.
Don't expect God to do your part. Your part is to ask, seek, and knock–sometimes for a long period of time. But when you ask, seek, and knock in faith and with persistence, He will bring the open doors into place. He will make everything flow–even if you feel like the river is being forced to flow uphill. 🙂
So if you're ready to pray for divine order and (some degree of) holy ease, pray this with me:
"Heavenly Father, please help all the pieces of this decision fall into place with divine order. Help me to kick down any doors You need me to kick down. Don't let me give up; fill me with Your holy zeal.
Lord, as I ask, seek, and knock, I pray that You would open doors for me and let everything just flow. Send the right people into my path, but deliver me from the wrong people. Let Your grace be a tangible force in my life right now. Show Yourself to me as my Helper, Advocate, and Attorney. Thank You, Abba Father. In Jesus' name."
And finally …
"M" is for "METHOD."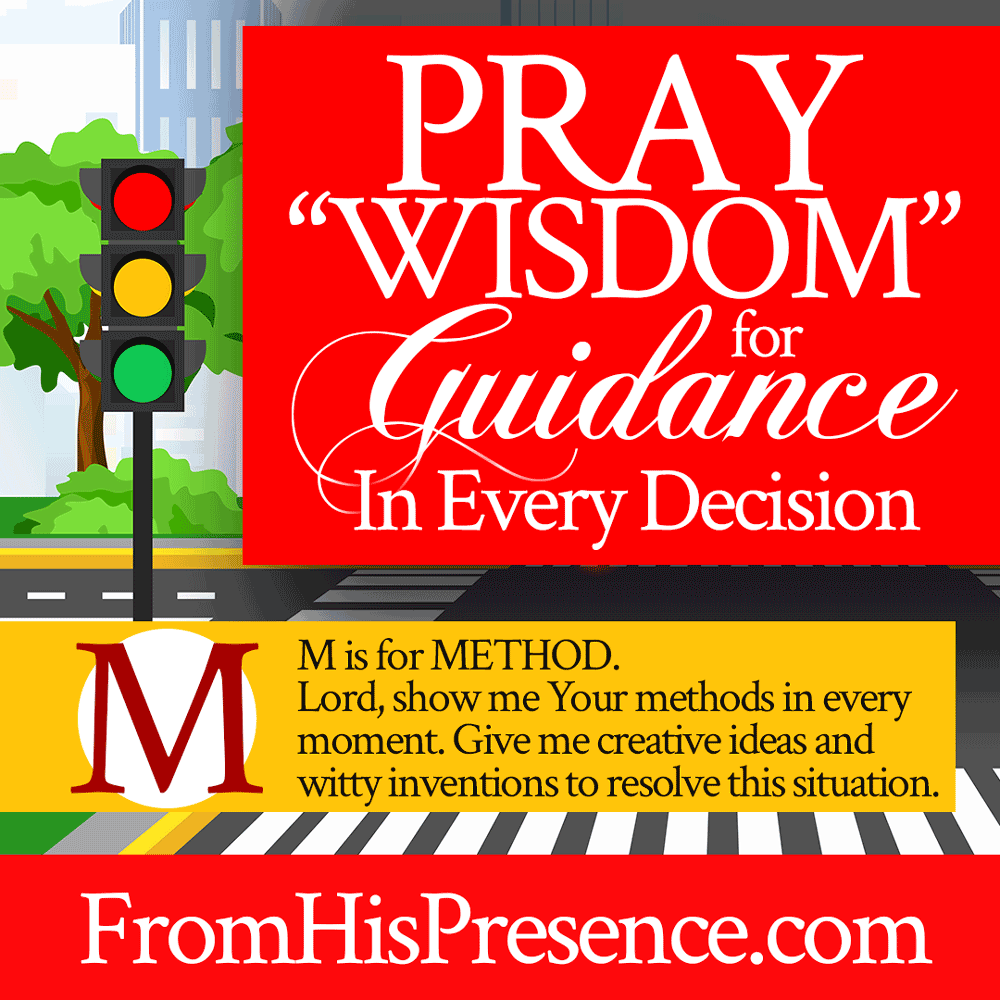 When you're making a big decision, you often find out in real-time that God's ways are not our ways, and His thoughts are not our thoughts.
We think we know what God will do. We know that we know what we want God to do. 🙂 And yet, many times, God does something completely different.
It's like we read about in Isaiah 55:
"For My thoughts are not your thoughts, nor are your ways My ways," says the Lord. For as the heavens are higher than the earth, so are My ways higher than your ways, and My thoughts than your thoughts" (Isaiah 55:8-9 NKJV).
Also, we often want God to lay out the whole plan before us before we take a step. But, He doesn't work that way.
His Word is a lamp to our feet and a light to our path (Psalm 119:105). Our flesh, however, isn't always onboard with simple lamps and lights. We want a searchlight! We want our night to be lit up like the noonday! We want stadium lighting that illuminates every step we need to take for the next five years before we want to take the first step.
Why? Because we want to depend upon our own natural flesh, natural skills, natural methods and understanding …
… And we forget that, without Him, we can do nothing.
Remember Jesus' words in John 15:5:
"I am the vine, you are the branches. He who abides in Me, and I in him, bears much fruit; for without Me you can do nothing" (John 15:5 NKJV).
We cannot do anything without Him. This is why we need Him to show us HIS ways and His methods.
Whenever you make a big decision, you probably have a plan of some kind. However, I encourage you to surrender your plans, your dreams and schemes, your methods, and your ways to His ways.
Let Holy Spirit teach you HIS methods for the situation you're facing, and it will work out better every time. He will show you His creative ideas and witty inventions for your life. You won't have any peace until and unless you yield to Him in this.
Let's pray over your methods for your big decision as follows:
"Dear Heavenly Father, thank You for helping me make this decision. Please show me Your methods in every moment. Give me creative ideas and witty inventions to resolve this situation. Thank You, Abba. In Jesus' name, amen."
So here is your summary infographic for how to pray "WISDOM" for guidance in every decision: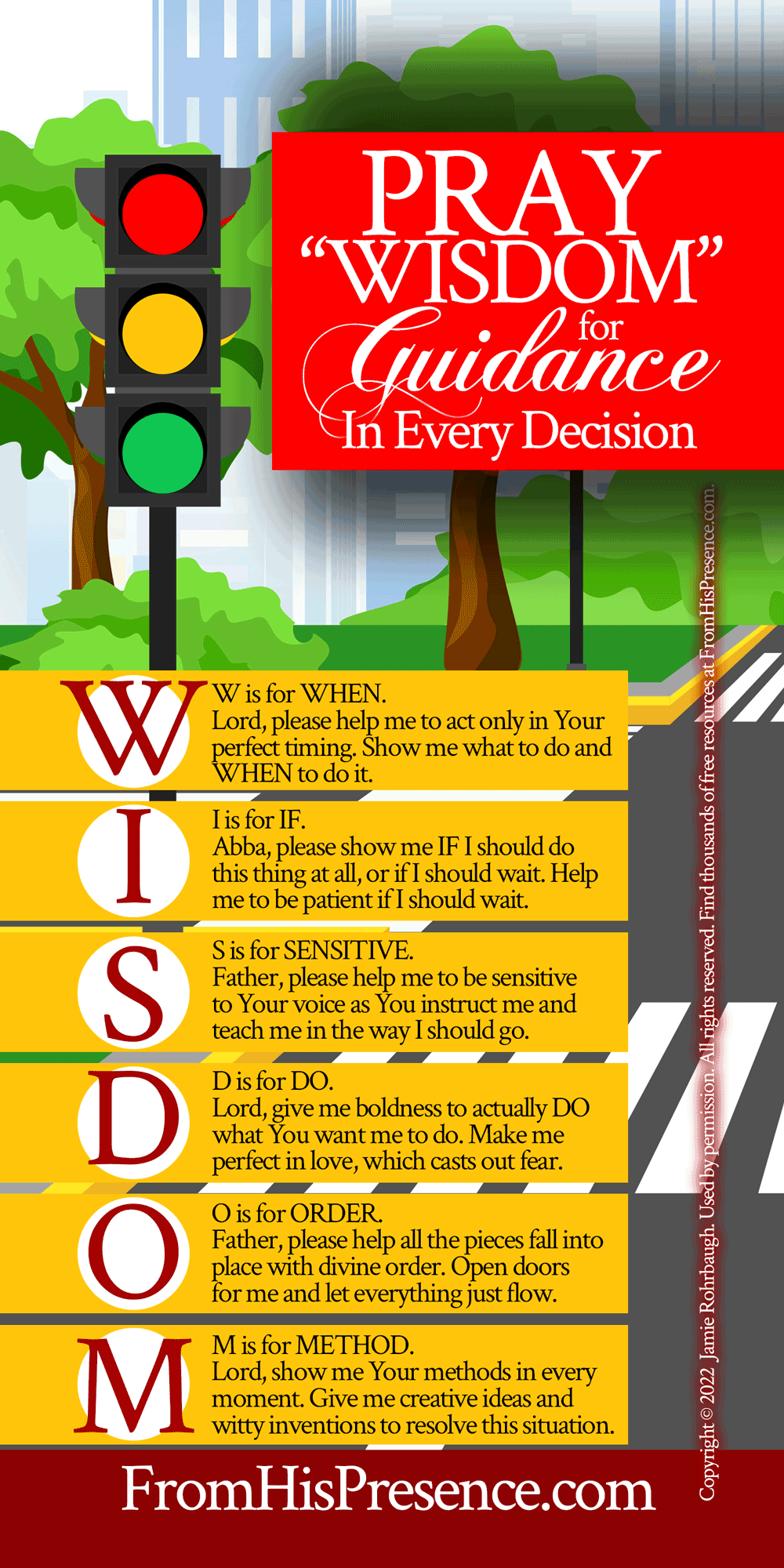 Beloved, did you pray through these simple prayers for WISDOM in every decision?
If so, the Lord will help you. Seek Him and cling closely to Him. He will walk you through everything you're facing, and He will bring you out on top, on time, and in the right place.
Did you enjoy this special prayer guide? If so, leave a comment below–and share this resource with your friends!