Encouraging Word about Reward
Hello, dear readers! I have just returned from a Christmas vacation & writing retreat, and I'm so excited about the things the Lord has given me to share with you in the new year. We have one more week until 2016 is reality, and this week I'll be counting down with great anticipation!
Today, I have an encouraging word to share with you.
Encouraging word about reward:
I feel the Holy Spirit welling up within me to share these Scriptures:
Revelation 22:12: "And behold, I am coming quickly, and My reward is with Me, to give to every one according to his work."
and
Isaiah 40:10: "Behold, the Lord God shall come with a strong hand, and His arm shall rule for Him; behold, His reward is with Him, and His work before Him."
I hear the Lord saying:
"I want to talk to My people about reward. It's good and right that I should reward you. Expect Me to move when you least expect it. I am on the warpath against My enemies. All those who rise against you shall flee before you. Look for this. Expect to see My hand in your situation. Look for demonstrations of My strength and power on your behalf.
I love you with an everlasting love. I AM good, and it's a GOOD thing to be rewarded. Allow Me to shower you with blessings untold. Allow your life to demonstrate My goodness. I Am He who gives you all things to enjoy."
Does this word speak to you? Will you wait in expectation for the Lord to show off His goodness in your life? If so, please leave a comment below!
*********************************
The Supernatural Favor & Intimacy with God Superpack ($36.99 this week):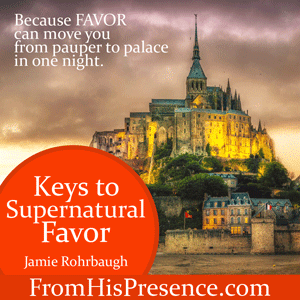 This power-packed bundle contains it all. When you purchase the Superpack, you'll receive:
1. The audio MP3s from all four teaching sessions from my live Keys to Supernatural Favor workshop ($20 value):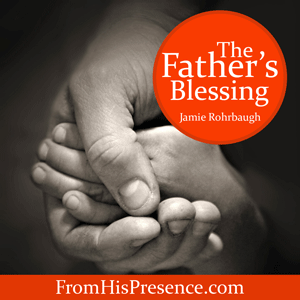 Session 1: Understanding the Force of Favor (46 minutes)
Session 2: Harnessing the Flow of Favor (38 minutes)
Session 3: Becoming a Funnel of Favor (39 minutes)
Session 4: The Favor of Intimacy with God (36 minutes)
2. PLUS my never-before-released Father's Blessing MP3, an 11-minute recording in which I prophetically speak the Father's blessing over you, accompanied by soft solo piano. This goes along with session 2 of the workshop ($3 value);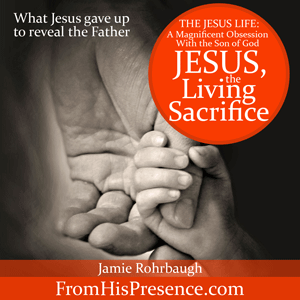 3. PLUS my never-before-released teaching on "Jesus, the Living Sacrifice" (29.5 minutes about the mission of Jesus to reveal God as Father)($4 value). This message is from my newest sermon series (also not yet released), entitled THE JESUS LIFE: A Magnificent Obsession with the Son of God.
4. PLUS a downloadable, PDF copy of my brand-new Bible study, "Ruth: A Study of Favor, Redemption, and Restoration." This practical, engaging study focuses on how God used the honor-favor-blessing cycle in the book of Ruth to redeem and restore His children–and how He'll redeem your story too ($15 value);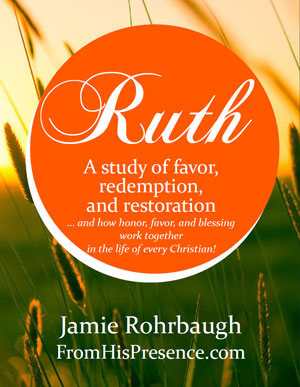 5. PLUS two bonus MP3 tracks of model prayers set to music that you can play and lift up to God in agreement for yourself. I haven't released my Heart of David model prayer project yet, so this resource pack is the only place you can get these. One prayer is for intimacy with God and the other is for your relationships with other people ($2 value);
6. PLUS three bonus clips of worship and prayer from the workshop (see note below), which are available for a limited time only;
7. PLUS, to top it all off, I'm including my 3-session MP3 set of my series "The Ministry of the Intercessor" in this set ($12 value):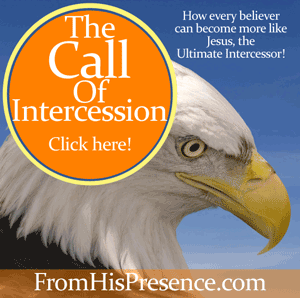 Session 1: The Call of Intercession
Session 2: The Challenge of Intercession
Session 3: The Cost and Crown of Intercession
I am including the intercession workshop with this bundle because you'll never be closer to God than when you're interceding for someone else. EVERY believer is called to intercede, and these teachings will give you the tools you need to either start interceding or take your intercession to the next level.
This radical pack of resources is valued at $56, but I'm offering it for this week for only $36.99.
The teaching MP3s from Supernatural Favor contain the teaching and some of the ministry/prophetic words from each session. Worship and MP3s from sessions 1-3 (over 29 minutes of worship combined) are broken out into separate MP3s, but are also included with all three bundles as bonus tracks. Note: We had some sound issues with the bass ranges during some of the worship, so all of the worship is not included; and the clips I have included here may not always be available. But I included it here because the worship is still beautiful, and you can still feel the raw power of the worship and prayer before each session.**