21 Days to the Manifest Presence of God: Day 15 (Giving Thanks)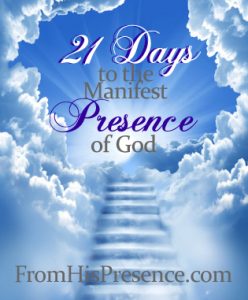 Hi and welcome to Day 15 of my series about developing an awareness of God's presence! You can refer back to Day 1 if you'd like to know my backstory for the series.
I encourage you to read all the posts in the series if you are just joining us. Each day's assignment builds on the previous assignments, and they are all vitally important! (Be sure to subscribe to receive my daily posts so you won't miss anything.)
Today, we are going to talk about how telling God "thank you" makes you immediately aware of His presence.
Giving thanks is a HUGE key to walking with God. Psalm 100:4 says, "Enter into His gates with thanksgiving, and into His courts with praise. Be thankful to Him, and bless His name."
I don't pretend to understand how or why, but there is something about giving thanks to God that unleashes the manifestation of His presence.
Maybe it's because He is a Father that we have long neglected.
Or maybe He's been waiting for us to notice His gifts.
Or maybe it's because He loves to hear words of affirmation.
All I know is, somehow it does His heart good when we thank Him for what He has done in our lives.
When I start to tell God "thank you," I am instantly aware of His presence. I'm overwhelmed with gratitude. I feel His arms around me. I can sense Him hugging me.
And even if giving thanks didn't benefit me, isn't God worthy of our thanks anyway?
So here is your assignment for Day 15:
Find things to thank God for. Then thank Him.
All day long.
As you thank Him, notice how you suddenly feel His presence. Feel His arms around you.
Feel the fulfillment you bring to His heart of love, as you delight in what He has poured out for you.
Thanksgiving brings awareness of God's presence. Every time. It's that simple.
Would you start today to make a habit of thanking your precious Father for everything He does in your life?
Would you thank Him for who He is to you? For how much He loves you? For adopting you as His own baby?
You will be blessed, but more importantly, you will be blessing your Heavenly Father's heart with your thanksgiving.
Did you sense God's presence as you thanked Him for what He has done in your life? I'd love to hear about it in the comments section!
Related: Read the whole "21 Days to the Manifest Presence of God" series here!