Do You Have an Inheritance Word?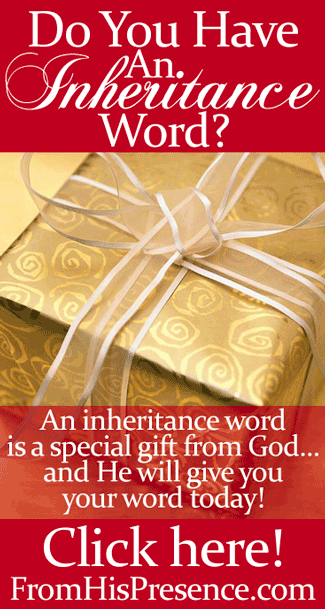 Hey beloved, guess what? God has an inheritance word for you, and today's post will tell you how to find out what it is. 🙂
First, what is an inheritance word?
An inheritance word is a passage of Scripture that God speaks into your heart as His special gift to you forevermore.
It's not the same as a Scripture that describes your calling. I have several of those, but they are not my inheritance word.
Your inheritance word describes something that God wants to be to you (in relationship), or something that He wants to do for you. It's a promise He makes to you. It's an expression of His love and watchcare over you for the rest of your life.
Your inheritance word will comfort you.
It will grip your heart so much that you will be able to stand on it, even when you don't have the courage to stand on anything else.
Several years ago, I was going through a really tough time and I heard Graham Cooke mention his inheritance word in a sermon. I asked God for my own inheritance word, and this is what He gave me:
I will lift up my eyes to the hills—
From whence comes my help?
My help comes from the Lord,
Who made heaven and earth.

He will not allow your foot to be moved;
He who keeps you will not slumber.
Behold, He who keeps Israel
Shall neither slumber nor sleep.

The Lord is your keeper;
The Lord is your shade at your right hand.
The sun shall not strike you by day,
Nor the moon by night.

The Lord shall preserve you from all evil;
He shall preserve your soul.
The Lord shall preserve your going out and your coming in
From this time forth, and even forevermore (Psalm 121:1-8).
I have meditated on this passage over and over since then. It means so much to me. Whenever I hear the Brooklyn Tabernacle Choir song, "My Help," that goes along with it, I cry like a baby.
God had my number when He spoke this passage to me. It's His covenant with me to take care of me, no matter what. Even if I'm hurting, I know from my inheritance word that the Lord will keep me.
So would you like an inheritance word of your own?
Here's how to get one:
Get alone with God.
Ask God to give you an inheritance word.
Open your Bible.
Read.
As you seek God about your inheritance word, He will show you a passage that will make you cry, laugh, whisper, or all three. When He does, ask Him if this is your inheritance word, and you will hear his response.
You will love that passage the rest of your life. It will calm you, comfort you, lift you up, encourage you, and grip your heart. You can claim it whenever you are feeling down. You can pray it when you are going through hard times.
Your inheritance word will become your story.
Are you ready for God to give you your inheritance word? If so, won't you get alone with Him and ask Him for it today?
And when He gives you your word, would you let me know your report in the comments below? I'd love to hear about it!