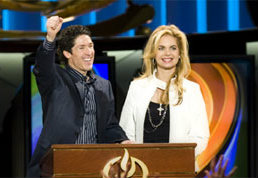 Have you ever heard someone bash Joel Osteen? I know I have. Some people talk badly about him because they think his preaching isn't deep enough. "Where is the repentance?" they ask. "Where is the hellfire?" They say that Pastor Osteen's messages are just trite, feel-good sermons without the Gospel.
I respectfully disagree.
It's true that Joel Osteen's messages are happy. They make you feel good. Why? Because he preaches hope. He preaches righteousness, peace, and joy. And last time I checked, those things are what the Kingdom of God is all about.
Romans 14:17 says:
…for the kingdom of God is not eating and drinking, but righteousness and peace and joy in the Holy Spirit.
God has given Joel Osteen a powerful anointing for giving people hope. He's called to it. If you listen to his church services on YouTube, you'll see that he does preach other points of theology too–but his TV broadcasts focus on hope. Some people may bash him, but that doesn't change his message. God has given him the message of hope, righteousness, peace, and joy.
Joel Osteen has become a pastor to America because he is willing to stay on-message… and I say, "Bring it on!" (And to the people who bash him: "Back off!")
So how does this apply to you if you're not a Joel-Osteen-basher?
Here's how:
Have you ever taken flak for your message and your calling?
I know I have. I'm called to several things, one of which is pioneering. God has gifted me to implement new ideas–sometimes only by example. I'm also called to exhortation–to proclaiming the Word with the power of God. I've taken a lot of flak because of these callings. I've taken some bullets that I didn't deserve, and they have hurt.
But you know what? Despite occasional opposition, I wouldn't trade these callings for the world. They are who I am. These things are in my DNA. I would stop breathing before I could stop pioneering and proclaiming the Word. These things are a fire in my bones. They are some of the most fulfilling things I do, and there would be a terrible emptiness in my sphere of influence if I were to stop doing what I'm called to do.
I believe it's the same for you. You have a specific message and calling on your life. Perhaps you are called to:
being a stay-at-home mom;
being a corporate executive;
feeding the poor;
teaching a Sunday School class;
being a missionary; or
helping children in the nursery.
No matter what your specific gift is, you are CALLED. This thing is the message of your life. It's in your DNA. It's who God made you to be.
There may have been times when you have been attacked for your calling. People may have hated you for it. They may have lashed out at you or accused you unjustly.
But you know what?
God called you for a reason. You are the only one who can satisfy this need in your sphere of influence. You are the only one who can represent YOUR part of the Body of Christ. God gave you a message for a reason, and He needs you to live it.
Some people may hate you for your call. They may accuse you of horrible things, the way they accuse Joel Osteen. But don't listen. If you will stay on-message and stick with what God has called you to do, you will have more impact than you ever dreamed… and you will have the satisfaction of knowing that you have fully performed God's purpose for your life.
Will you stay on-message today?