Prophetic Word For You If You're Feeling Frustrated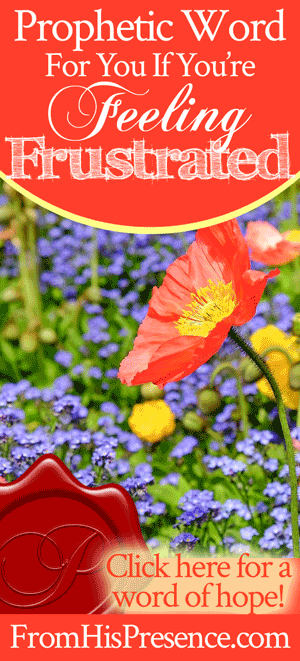 Beloved, have you been feeling stuck and frustrated? If so, the Lord gave me an encouraging word for you today!
I heard the Lord say:
"I am releasing a new season on the earth in which you are going to see the winds of change blow where they have not blown before.
Things that have felt like they were stuck in the mud are going to be suddenly loosed. I am uprooting things that are in My way, and I am loosing angelic assistance to you in ways you have not previously known.
I know where you have been, and I know where you are going. YOU do not know where you are going like I do. I have given you a glimmer, a glimpse, of the road before you in the past. This was because the fullness of My plan would have been too great for you.
But now I am pulling back the curtain and allowing you to see farther into My plans for you than you could see before.
Don't be surprised if I show you something completely unexpected. The unexpected is My playground. The new and different are My specialties. I have favor up My sleeve for you that you could never have anticipated; could never have imagined; could never have planned for even if you tried.
So ask Me for this favor.
Ask Me specifically to do things for you that you cannot even imagine. Then thank Me for the things I do as soon as I do them. Cultivate a thankful heart, for your thankfulness brings more of My help.
Look up. Things are not as you planned. Indeed, they will be better than you planned. I am bringing change. I am cultivating hope in your heart. I am the Author and the Finisher of your faith, and I do all things well."
Thank you, Lord!
Does this word encourage your heart today? It sure does mine! If the Lord ministered to you using this word too, please leave a comment below and share what's on your heart about this!
Related: 7 Life-Changing Prayers for People Who Feel Forgotten and Prayer #4: If You Feel Forgotten, Ask God for Favor!
Would you help me with my work of reaching people for Jesus as a domestic missionary? I need you; we are in this together! This blog, and all of the Kingdom work we do in this community together, are made possible through your partnerships, donations, and product purchases.
If you'd like to help, please check out the partnership details and products available for sale here. And, thank you in advance for helping make this blog and everything we do together for the Kingdom possible!