5 Ways Holy Spirit Gives Wealth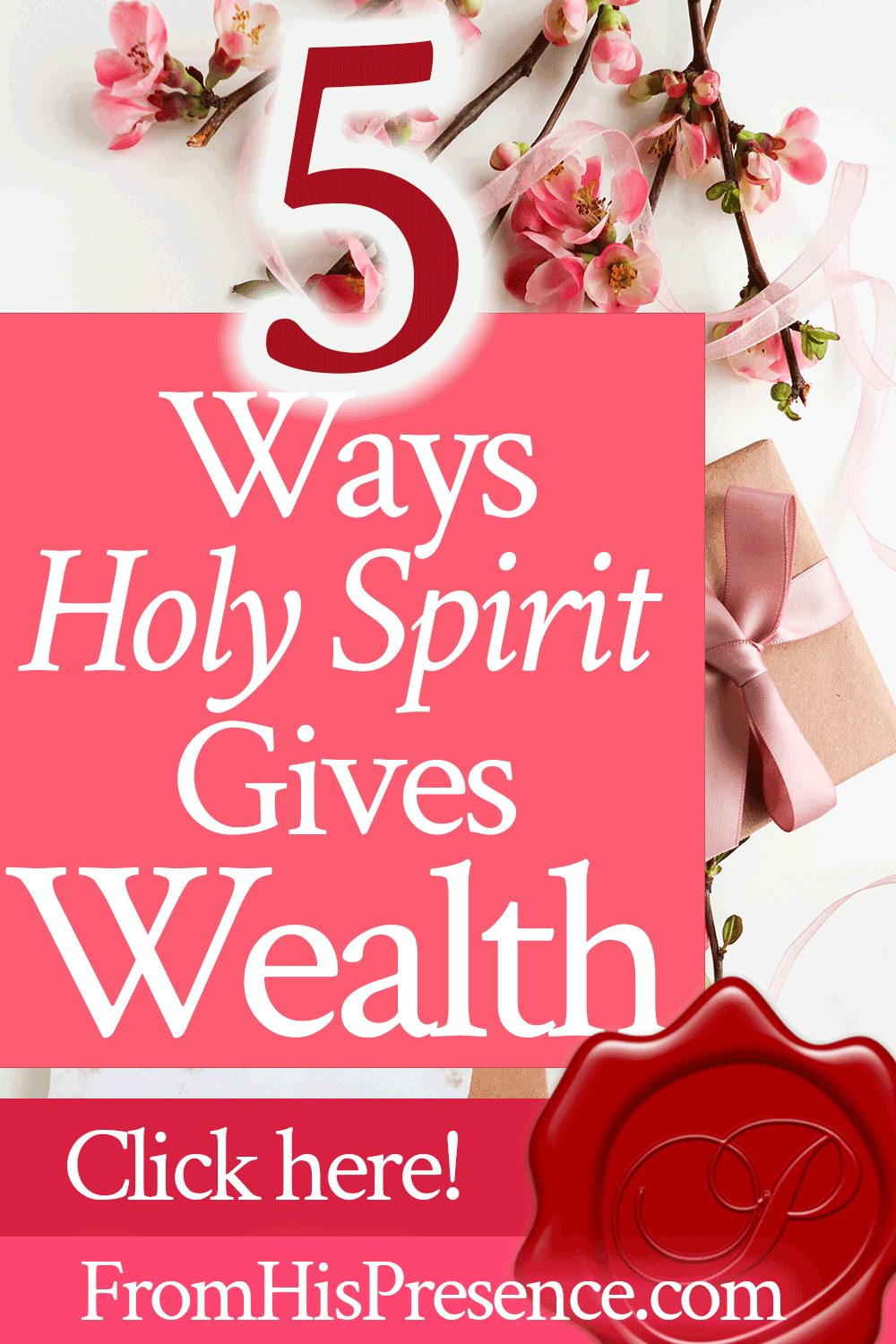 Did you know that God the Holy Spirit is the great Transmitter of Wealth? True story! Jesus died on the cross to purchase everything God has, and access to everything God IS, for us. And it is one of the precious Holy Spirit's functions to actually convey those things to us, both spiritually and materially. Yes, Holy Spirit gives wealth.
Need encouragement to believe? Check out these seven ways that God the Holy Spirit gives wealth (listed in no particular order):
1. Holy Spirit gives wealth by transmitting all of Jesus' stuff to you.
John 16:13-15 says this:
"However, when He, the Spirit of truth, has come, He will guide you into all truth; for He will not speak on His own authority, but whatever He hears He will speak; and He will tell you things to come. He will glorify Me, for He will take of what is Mine and declare it to you.
All things that the Father has are Mine. Therefore I said that He will take of Mine and declare it to you" (John 16:13-15 NKJV).
Everything that the Father has belongs to Jesus. And Jesus told us in John 16:13-15 that Holy Spirit "will take of what is Mine and declare it to you."
Well, guess what happens when God speaks?
When God speaks, things get created. When God spoke in Genesis chapter 1, He created the earth. God's Word is the original creative force. And when God the Holy Spirit takes of what is Jesus' and declares a thing to you, He literally transmits the thing to you, along with His declaration.
This is why it's VITAL to not have any unhealed mother wounds.
If you have unhealed mother wounds, you'll keep Holy Spirit at bay even though He lives inside you. Then, you won't be able to receive the flow of provision (including money) that He is trying to get to you nonstop.
However, when people get healed of mother wounds, I've seen it time and time again where suddenly they are able to start receiving from the Lord–and everything changes.
Mother Wounds and the Holy Spirit
When you have bad experiences with human mother-type figures, you automatically develop a paradigm that says, "Anyone coming to me in the position or capacity of nurturing, mothering, comforting, teaching, raising me up, et cetera is going to hurt me."
Because of this false paradigm, you will find yourself putting up defensive walls to keep anyone at a distance who comes to you as a nurturer, comforter, et cetera.
Well, guess how Holy Spirit comes to you?
You guessed it: He comes as Comforter. He is our Nurturer. He is our Teacher, too! And so when we have false paradigms that tell us to keep comforting, nurturing people away (all because our mother hurt us), then we tend to keep Holy Spirit at arm's length too.
Oh, He still lives inside you if you've given your heart to Jesus.
But, you won't feel or sense intimate relationship with Him if you're keeping Him at arm's length. And you also won't be able to receive all the things from Jesus that Holy Spirit is trying to transmit to you.
Holy Spirit may be inside you, with open arms extending everything He has to you and offering it to you freely, but it is as if you are standing there with your arms folded and eyes closed, refusing to accept the gifts that are offered.
How can you overcome this?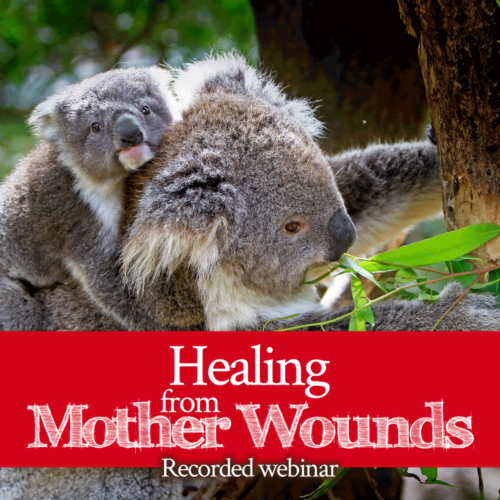 Get healed from mother wounds. Purchase my video class about Healing from Mother Wounds here, and pray the healing and deliverance prayers I lead you through at the end of the class.
People all over the world have told us they have received great healing through this class about Healing from Mother Wounds! We pray that you will receive the same healing and deliverance from Jesus!
2. Holy Spirit gives you wealth by first giving you wisdom.
If you will ask God for wisdom, He will give it to you. The Bible says:
"My brethren, count it all joy when you fall into various trials, knowing that the testing of your faith produces patience. But let patience have its perfect work, that you may be perfect and complete, lacking nothing.

If any of you lacks wisdom, let him ask of God, who gives to all liberally and without reproach, and it will be given to him. 

But let him ask in faith, with no doubting, for he who doubts is like a wave of the sea driven and tossed by the wind. For let not that man suppose that he will receive anything from the Lord; he is a double-minded man, unstable in all his ways" (James 1:2-8 NKJV).
So God will give you abundant wisdom if you will ask Him for it.
And, if you have wisdom, you will learn how to handle money properly. You will realize that money is a universal need; it is the method of exchange by which we all trade for what we need. And you will care about how to handle it rightly, the way God wants you to.
Want to be closer to God? Get this book!
7 Prayers to Pray Over Your Character
If you want to be more like Jesus, get the book and pray these 7 prayers every week! You can use it as a rotating prayer plan. Memorize the key points of the prayers and cry out to the Lord daily! He will transform you as you pray, and you will draw ever closer to Jesus.
This is only one of the first ways wisdom brings wealth, but it is an important one. In Proverbs 8, Holy Spirit personifies Wisdom and He says this:
"I traverse the way of righteousness, in the midst of the paths of justice, that I may cause those who love me to inherit wealth, that I may fill their treasuries" (Proverbs 8:20-21 NKJV).
Wisdom, in itself, brings provision–because wisdom is the manifestation of God's Holy Spirit. Wisdom is Holy Spirit Himself, applying Himself to your situation.
And although His name is Holy Spirit, He is also equal with the Father and the Son–so His name is also El Shaddai. And He, as God that He is, is the Source and Fountain of all provision.
God's Name El Shaddai
El Shaddai is the name by which God revealed Himself to Abraham, to Isaac, and to Jacob. It is derived from the Hebrew word "shad," which means "breast." "El Shaddai" literally means "The Many-Breasted One."
Yes, God reveals Himself to us as The Many-Breasted One. Is it because He has a lot of breasts? No; God the Father is Spirit and does not have a fleshly body.
Is it because He is female? NO, of course not; God is completely above the human concept of gender. GOD is wholly other. Both male and female were made in the image of God. BOTH male-ness and female-ness were derived from who God is, and God clearly calls Himself "He" in the Bible.
So why does God call Himself the Many-Breasted One?
To show us who He is and to demonstrate His attributes. Basically, when God revealed Himself to Abraham as El Shaddai, He used the image we have of a baby nursing at its mother's breasts to demonstrate how we are to receive from God.
The enemy has tried to steal the understanding of "nursing" at God's breast from God's people.
There is an unholy substitute for every holy thing. And sometimes the unholy thing gets so loud that we don't realize there's a holy original!
So what's the unholy substitute for God's name "El Shaddai"? Think of all the pictures you have probably seen of false gods–idols, demon gods that people worship–that have lots of breasts. Think of all the stories you have heard about "goddesses of fertility" and the multiple breasts their idols always portray.
ALL of those idols are the enemy's perverted twistings. The enemy is trying to steal God's worship. Don't let Him.
God Most High is El Shaddai, the Many-Breasted One.
Call on Him today and draw on His very nature for everything you need! And don't let the enemy steal the revelation of El Shaddai from you.
3. Holy Spirit will give you a desire for freedom, which can result in wealth if you follow through.
Freedom, as well as the desire for freedom, are always from God. God is the Author of freedom. Second Corinthians 3:17 says:
"Now the Lord is the Spirit; and where the Spirit of the Lord is, there is liberty" (2 Corinthians 3:17 NKJV).
Holy Spirit will always inspire you to get free, stay free, and walk in freedom. When it comes to money, this means He will help you want to get out of debt and become financially free.
After all, Proverbs 22:7 says:
"The rich rules over the poor, and the borrower is servant to the lender" (Proverbs 22:7 NKJV).
Yes indeed: debt is always bad. Debt always brings you into servitude and bondage. I know the world hawks the use of OPM ("Other People's Money") as a tool, but actually it's a tool of bondage and oppression according to Scripture.
When God the Holy Spirit fills you, speaks to you, and compels you, you will desire to be free in every way–including financially.
And if you will follow Him, learning how His Word prescribes that we handle money and obeying what His Word says, the end result will be that you will get out of debt, get free, and prosper.
Everything you see was created by the spoken word.
So if you have nothing except the ability to speak, you can still create anything you want. You can be like God and speak those things that are not as if they already were (Romans 4:17)!
To help you, Jamie wrote a book of hundreds of Biblical confessions for you—especially in the area of your finances. It called Speak Life Volume 1: Chart Your Course With Your Words, and it's our most popular book ever! Get your copy today and begin speaking LIFE over those things that concern you!
4. He will help you start your own business.
The wisdom that Holy Spirit gives will make you discontent with always "working for the man." Why? Because Proverbs 31 says that the virtuous person is an entrepreneur and an investor–not a slave to others.
There's nothing wrong with working for someone else for awhile, or in a transitional season. BUT, the Word of God does command each of us to become entrepreneurs. THAT is where the real wealth is.
What if you're working for someone else right now?
Well, that's fine as long as you don't hate your job. If your job makes you miserable, however, it may be time for a change. And if you're tired of living your life subject to the whims and dictates of your job, again: it may be time for a change.
(But NOTE: Never quit your job without a backup plan. First Timothy 5:8 says, "But if anyone does not provide for his own, and especially for those of his household, he has denied the faith and is worse than an unbeliever." You have to be able to provide for your own self and for your own obligations, even if you're doing it by faith.)
But the Lord DOES command that we should all be investors and entrepreneurs.
(Watch my video class about The Entrepreneurship Mandate for more info about that.)
It is the Lord Himself who places the desire for freedom within us, even when it comes to our jobs and businesses. It is God who causes us to yearn to be released from bondage in every way. And it is the Lord who stirs up the desire in you to improve your situation!
How can you improve your situation if you hate your job? Well, of course you can get a different job. That is a great start. But, that may be only a temporary solution.
The permanent solution to financial freedom is to own your own business.
Starting a business is wisdom; you can't possibly be "the head and not the tail" if you don't own your own business. Even being a middle manager, a corporate executive, or a CEO doesn't make you the head and not the tail unless you own the whole business outright. (Yes, even the CEO reports to the Board of Directors and the shareholders!)
Owning your own business is literally the ONLY way you can be the head, and not the tail. What are you waiting for? Get a vision from the Lord, make plans, and start a business in the area of your calling today!
5. Holy Spirit gives wealth by giving you creativity.
Intellectual property–which is the outflow of creativity–is one of the most lucrative assets you can own. If you write a book, make your own art or graphics (even in t-shirt format!), release a song, or do any other creative thing that you can offer to the world, there can be HUGE money in that.
(Note that I said that "YOU" can offer to the world. If you give away your rights to your intellectual property and let someone else sell it for you, that could be lucrative–but it could also not be lucrative. Someone else could take most or all of your profits. However, if you keep your rights, you keep 100% of the profit. Be careful about what you define as "a good deal" or "a good opportunity"!)
Most people have no concept of the wealth they could accumulate by being diligent to produce creative works.
Podcast Encouragement: You can write a book!
But the opportunities to create wealth from your creativity and from the byproducts of your creativity are virtually unlimited. For example:
One book may not make you a fortune, but the investments in mutual funds you could make from that one book could. And that one book could also pay off your car note. How much better would you feel if you didn't have a car payment every month?
Two books may not make you a fortune, but ten books or twenty books could pay off your house. What kind of change would that produce in your life?
Selling one painting might not earn you much, but selling one painting and the prints thereof ten times could earn you enough to buy the tools for a bigger painting that will sell for way more. That money, over time, if you repeat the process, could fund yet another business you want to start–like purchasing a rental property!
Intellectual property has unlimited potential because it depends only on two things:
It depends on your being diligent to let God's creative power flow through you, producing creative works for the world to enjoy; and
It depends on your being a wise and faithful steward of the creative assets He gives you.
Both of those two factors are completely under your control. I repeat: Both of those two factors are completely under your control. IrepeatIrepeatIrepeatIrepeatIrepeat …
Both of those two factors are completely under your control.
Friend, there are many more ways that God the Holy Spirit gives wealth. However, I felt led to write about these five ways Holy Spirit gives wealth today because everyone can partake of them. Not only that, but we MUST all walk in these five anointings in order to be truly healthy people:
People that can receive from the goodness of God, completely healed from past emotional wounds;
Good stewards of what we have;
Getting out of debt;
Starting our own businesses; and
Unleashing the creativity God has endowed us with for the world to enjoy.
You can't even be a happy and fulfilled person without most of these things.
Every person longs for creative expression, for healing and wholeness, for independence with our labors, and for financial freedom. Without those things, we often feel suffocated, stifled, and miserable.
Friend, God's plan for your life includes both wealth AND health.
Do you believe it today? And if so, will you do the work it takes to walk in His plans, co-laboring and partnering with Him to fully realize and activate His plans for your life and all of His anointings within you?
Leave a comment below!