Open Your Mouth Wide, and I Will Fill It!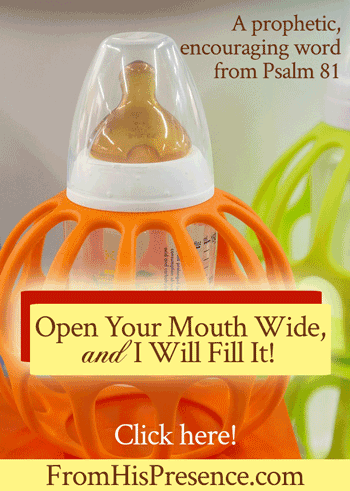 Have you been discouraged and stopped believing God? If so, the Lord has an on-time word for you today: "Open your mouth wide, and I will fill it!"
Yesterday, while I was feeding my one-month-old baby, I was pondering the mechanics of nursing. The lactation consultant at our local hospital gave me literature recently about how to get the baby to nurse well. One of the things that paperwork says is that Baby has to open his mouth to 140 degrees in order to transfer milk well. That's about as far as a human mouth will open.
And then I heard the Lord say, "Open your mouth WIDE, and I will fill it!"
This is a quote from Psalm 81:10. The whole verse says:
I am the Lord your God, who brought you out of the land of Egypt; open your mouth wide, and I will fill it" (Psalm 81:10).
I was floored when I heard Holy Spirit say this. Why?
Because just like my baby has to open his mouth ALL THE WAY in order to transfer milk, the Lord showed me that WE must open OUR mouths all the way also in order to receive from HIM.
Our Papa is El Shaddai, the Many-Breasted One. In order to receive, we have to nurse at His breast. But we cannot do it if our mouths are not open ALL THE WAY.
What does "opening your mouth all the way" look like?
For me, it looks like believing God when certain things happen, and kicking fear, doubt, and unbelief to the curb.
For example, it looks like believing God to pay this ministry's expenses every month, as well as enough wage for me for my family to meet our budget. (He has always provided, by the way.)
Actually, even as I write this, I'm challenging my own faith–because "opening my mouth wide" HAS to mean believing God not just for enough, but actually believing for plenty. Plenty and enough to spare, so this ministry can expand and do more work for the Gospel, as it has continued to do. Enough for EVERY good work.
#PreachingToMyself
It also looks like continuing to believe God for things I've asked for, even when my body and soul get tired of contending.
Example: Last year, I asked God for a financial miracle. My husband and I agreed in prayer, wrote the vision, and sowed into it. Papa even gave me a strategy to see it happen. But this year, I have been so tired and stressed out by caring for our baby that I haven't bothered to pray for that miracle. "Opening my mouth wide" means I need to go back to believing for what I asked for.
Opening your mouth wide could also mean:
That we believe God for maximum favor, everywhere we go.
That we expect Him to fulfill our dreams completely, and more. (After all, He's the God who does exceedingly abundantly above all we could ask or think, right? Ephesians 3:20.)
It means we expect all our needs to be provided for with generous, overflowing provision (Philippians 4:19).
It means we expect our houses to be paid off (Deuteronomy 28:12).
It means we expect to be blessed in our ministries, our jobs, our relationships, and more.
"Open your mouth wide" means we believe God for the absolute maximum blessing we can imagine, plus more that we can't imagine.
It means we put a demand on God for everything we need and want, just like a baby puts a demand on the mother's breast for everything he wants and needs. (Sometimes he doesn't stop with what he needs. Sometimes he keeps nursing just because he wants.)
?
What are you putting a demand on God for? And are you believing Him for little or much?
Related: What Does It Mean to Put a Demand on God?
If you're going to have faith, you might as well exercise it BIG. Why bother having faith for little? The same faith that believes God to give you a pittance could be used to believe God for abundance. It's an insult to God for us to think He's little. It's an insult for us to think He's poor, cheap, stingy, or short-handed.
Our God is an abundant God.
He's the Creator of Heaven and earth. And that God wants you to open your mouth wide–140 degrees, just as wide as you can get it–and expect Him to feed you.
After all, as I was meditating on this, I looked at my baby and realized that I would never refuse to feed him. He'll always have milk he wants—the milk that he's believing me for, every time he approaches me. And I'm just a human, a created being formed of dust. But if I'm willing to give my baby all the milk he wants, is not our God willing to do far above even that? Far more for you and for me than even I am willing to do for my baby, the flesh of my flesh?
Of course He is. After all, Jesus said:
Ask, and it will be given to you; seek, and you will find; knock, and it will be opened to you. For everyone who asks receives, and he who seeks finds, and to him who knocks it will be opened.

Or what man is there among you who, if his son asks for bread, will give him a stone? Or if he asks for a fish, will he give him a serpent?

If you then, being evil, know how to give good gifts to your children, how much more will your Father who is in heaven give good things to those who ask Him!" (Matthew 7:7-11).
Related: The 2018 Abundance Challenge–a new way to study the Bible regarding your finances!
Our Father longs for us to approach Him like a baby approaches the breast.
He longs for us to acknowledge Him as our source and provider. He longs for us to nurse at His breast. (Did you know that He revealed Himself to Abraham not as Commander in Chief, but as El Shaddai–the Many-Breasted One?) He longs for us to refuse to go away …
… and refuse to stop crying out …
… until we've nursed all the milk that we need.
And when I say "all the milk," I mean all the:
love,
healing,
provision,
comfort,
transformation,
wisdom,
strength,
encouragement,
guidance,
companionship,
instruction, and more …
… that we need.
So is your mouth open wide? Or not?
Again, are you believing God for much or for little? Do you expect much from Him, or little? Do you have your mouth open to the full 140 degrees, so you can transfer the milk you need into your stomach? Or do you have your mouth only open a little–or even completely shut?
What's your level of expectation?
If you will open your mouth wide–all the way–and believe God and nurse at His proverbial breast, He will meet your expectations. Open your mouth wide, and He will fill it.
Will you believe God for the max, starting today?
Does this word encourage your heart? If so, please leave a comment below! I love hearing what Holy Spirit is saying to you!