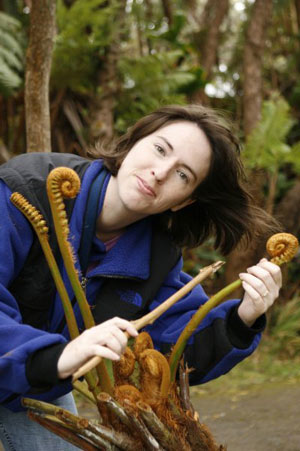 I'm Jamie Rohrbaugh, the woman over there in the blue jacket. (Yes, I'm playing violin on a Hawaiian tree fern in the photo, but that's another story.) 😉 
I'm an author, a speaker, and a Presence seeker. A daughter of God, and not an orphan. I was born for revival: to see the fullness of the Third Great Awakening come in my generation.
I write to encourage you. I want to see you equipped to walk in the radical power and love of Jesus.
So what will you find here that will change your life? Simple. You'll find posts that will help you make "on earth as it is in Heaven" reality in your life.
I blog about 3 times a week (usually Monday, Wednesday, and Friday) about prayer, prophetic ministry, the supernatural lifestyle, spiritual fatherhood & sonship, and the manifest presence of God.
I also have a free, online equipping program called Presence Seekers University. Don't hold back; go ahead and sign up today!

My regular email subscription list* doubles as my free equipping program. I send extra stuff to the people on this list, including:
extra prophetic words that you won't find on the blog;
equipping assignments;
recommended training; and more.
When you sign up for free email updates from me, you can choose between weekly updates or up-to-date updates (updates that send whenever new content is posted). Only my regular, daily subscribers are enrolled in Presence Seekers University. The weekly subscribers only receive a weekly summary of the new posts on the blog since I don't want to overwhelm them with emails. 🙂
When you do, you'll get my power-packed, printable blessing cards AND my ebook, "The Presence Seeker's Creed," for FREE as a signup bonus and "thank you" gift!
Here are some other things you'll want to check out here:
My most popular articles, in the list in the left sidebar. (Warning: Some of these are a bit controversial, but I stand by 'em all. 😉 How 'bout you read them and tell me what YOU think?)
My article series about divine alignment, reaching your destiny, being filled with the Holy Spirit, and more. Here's an index to many of my series; or you can see hundreds of my posts at one time over on my Pinterest page.
And finally, here are 56 random and potentially brow-raising factoids about me, if you really care to know:
My middle name is Lyn, with only one "n." I didn't know that my name was spelled that way until my adolescent years. (Birth certificate? Who looks?)
I have a very active sense of humor. Life, in general, is a pretty good time for me.
I really enjoy eating, especially Mexican food.
I'm a vegetarian, and have been all my life. (Long story. Ask me sometime over coffee.)
I'm married to Bruce, the best husband in the world. Ladies, back off; he's taken.
The picture of Bruce and I at the right is from when I graduated with my Master's (from Berea Seminary) in 2012. The man should always wear pink.
Saturday mornings are my favorite time of week. I get up early, and read for hours if I can.
I love to read, especially books by the dead guys.
Finney, Tozer, Spurgeon, John Wesley, and Jonathan Edwards are my heroes.
I wanted a golden retriever, but my husband said no. So I got a really needy Siamese cat named Moses instead.
Moses bites me and most other folks too, but I adore him anyway.
I love crafts and working with my hands.
I have started a whole bunch of scrapbooks. I have not finished any of them, not even the one from 2008. You may see me post some goals around this.
I love to quilt. I have started several quilts, and have not finished any of them. You may see me post more goals around this.
I'm a pioneer. Need something started? I'm your girl.
Sometimes I get bored after the project is cranking along. That's why I delegate. I'll start it, you finish it. Works for me.
I strongly dislike cooking.
However, when needed, I can cook a couple of things decently.
Cheese lasagna is my specialty. Four pounds of cheese, two jars of sauce, pre-cooked pasta, and some Mrs. Dash seasoning. You can't go wrong.
A programmable crock pot is the best thing I've  bought recently.
I love cheesecake.
And ice cream!
And peanut butter-chocolate pies!
I hate buying bigger clothes after I eat the ice cream and pies.
So I run half-marathons. I rarely train first, but it makes me feel good to finish them.
I've run four half-marathons so far.
I also ran one 5K, which I won, but only because God made all the other girls in my division stay home.
I've been through hell and back in my life. Several times.
Jesus is the one that has always brought me back, even before I knew Him.
I had a personal, life-changing encounter with Jesus Christ for the first time when I was 21.
It happened because God gave me a black 1981 Corvette.
I figured if He wanted me to have a Corvette, He must love me after all.
It was the first time in my life that I felt the love of God.
The Corvette was hot. See picture at right. Driving it felt pretty good. 🙂
I drove that same Corvette to Pensacola, Florida, in March 2003, where I had a radical encounter with the Holy Spirit at a Joyce Meyer conference.
My life has never been the same since then.
But I did retain my affinity for Mexican food.
I love to travel. LOVE.
My happy place is the Old Faithful Inn in Yellowstone National Park. I put a photo of how amazing it is on the right. Even the photo doesn't do it justice.
I play viola. I try to be in tune.
I enjoy playing piano most… but only from guitar charts. I usually can't be bothered with reading music. 🙂
I am wasted for the Body of Christ. I love seeing how every person fits together in life and ministry. We need one another.
I live grace-conscious, not sin-conscious. God keeps me on a short leash. If I sin, He convicts me and I repent right away. Other than that, I never think about sinning. I just live in the presence of God.
I think just focusing on God all the time is the best kind of spiritual warfare.
God blows me away. I'm wasted for Him.
I'm also wasted for the Word of God, the Bible. I'm called to the study and ministry of the Word.
My husband is a geologist and a talented nature photographer.
I love planting flowers. I don't love taking care of them when it's 105 degrees out quite as much.
I love to play racquet sports. But I don't actually play anymore. I just dream about it. (Too busy.)
I got my B.A. in 2002 in Spanish with a minor in French. I don't know why; it seemed like a good idea at the time.
I love to make prophetic art. The eagle on the right is one of my favorite pieces I've done. The pink feathers show all of Psalm 91. 
I chew on Bible passages slowly. I aim for quality, not quantity.
I would like to memorize whole books of the Bible someday. I saw a young guy recite Philippians awhile back, and it blew me away.
I love to dance with my husband.
I have about 58 favorite songs.
I'm very proactive; I love making progress. Making progress is part of my definition of success.
That's a lot of information, but hey, you'll find a lot of openness on this blog. We all go through the same types of things; it's just that not all of us talk about them. I'm called to talk about them, and I hope my learnings and even failures can help you.
Are you ready to throw yourself into the presence of God with me? Yay! Please check out all the great pages on the site, follow my posts by email, Facebook, Pinterest, or Twitter, and let's have a great time together!