3 Fun Ways YOU Can Have a Deeper Worship Experience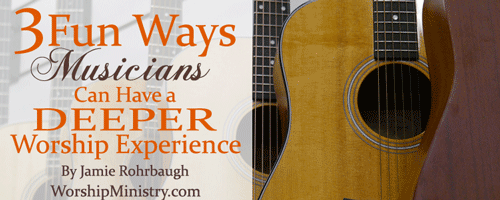 Do you ever struggle to enter into a deep encounter with God in your worship? If so, this word is for you!
I'm a glory hog. I admit it. There's nothing better for me than to revel in the Presence of God, and I want all I can get. When all eyes are on Jesus… when the cry of our heart is going up to Him … when I'm with the Body of Christ and we are all worshipping in unity…when you can feel and see Him and the Father and the Holy Spirit… I am undone. There's nothing better.
Psalm 16:11 tells us:
You will show me the path of life; in Your presence is fullness of joy; at Your right hand are pleasures forevermore."
Having a deeper worship experience that results in radical encounters with God like that is not hard. God always wants to encounter you, so if your heart is turned toward Him, He's ready and willing to catch you up in His arms!
However, even though it's not hard, deep worship IS something that has to be LEARNED. So… I wrote this month for WorshipMinistry.com about how YOU can have a deeper worship experience. These are my 3 secrets, tried and proven. Yes, the title of the article says it's for musicians. But forget the "musician" word. 😉 This article is for ANYONE who desires to have radical encounters with God in worship.
Are you ready? Click here to read about 3 Fun Ways YOU Can Have a Deeper Worship Experience!
Related: Read my transparent Confessions of an Unlikely Worship Leader here!