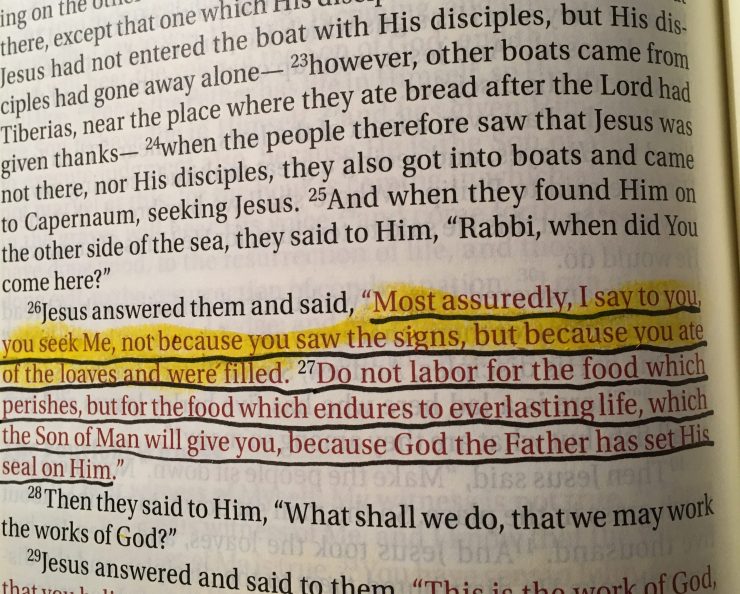 Hey beloveds,
The Lord just showed me something during my Bible study this morning in John chapter 6. It challenges me, and I hope it will challenge you too.
Here's the key:
WALKING IN ABUNDANCE is a key to evangelism.
The Lord just showed me this, and it took my breath away.
So many of us love to reach people. We work and labor to do that. But do we also do what we need to do in our own personal lives to appropriate what Jesus makes possible for US—the things which make our lives attractive to others?
We don't even have to strive for it. We can receive from God while we dwell in His holy flow, obeying Him diligently as He guides us. We can have peace and rest, even while we work out our own salvation with fear and trembling.
Jesus said not to "labor" for the food that perishes, but for the food that endures to everlasting life. I had that sentence underlined before this morning.
But I had missed the first thing He said to the Jews: "You seek Me, not because you saw the signs, but because you ate of the loaves and were filled."
WHOAAAAAA.
We are trying to get other people to seek Him. But do we have any loaves?
We aren't talking about spiritual bread here! We're talking about physical provision—food that fills someone's belly! So I ask again: When people come to you, do they find loaves?
Do they find provision? Are we providing jobs to people who need them? Do we have food, groceries, money to meet their needs? Do we have these things in our personal lives? Do we have them in our churches?
Or, are we just scraping by?
From what Jesus said, walking in abundance is a key to evangelism.
This doesn't mean we can't share our faith if we're experiencing poverty. Peter said, "Silver and gold have I none, but such as I have I give to you. In the name of Jesus Christ of Nazareth, rise up and walk." BUT …
JESUS also clearly said that a whole crowd of people sought Him because He had filled their bellies.
What are we doing to fill the physical bellies of unbelievers? Do we even have the means to do so?
And if not, isn't the area of provision and abundance and entrepreneurship among Christians an area in which we need to come up higher?
That will get rid of stinking thinking about poverty being holy, and how Christians shouldn't have anything, right there.
#BreakThatPovertySpirit
Does this challenge you like it does me? If so, leave a comment below!
And P.S.:
If you'd like to learn more about how to kick the poverty spirit to the curb—and why you should—I just released a video teaching on this yesterday. It's called "Getting Free from the Spirit of Poverty," and it's instantly downloadable in my Gumroad store:
Https://www.gumroad.com/fromhispresence