Hey beloveds,
You may have noticed that I disappeared for a few days. Well, there was a good reason! I had a baby!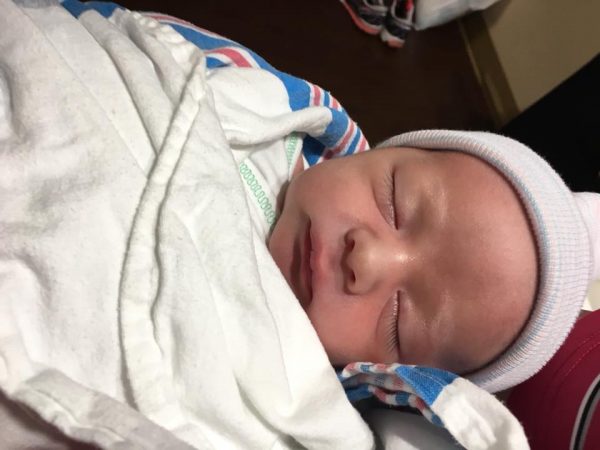 Our son Elijah was born on Christmas Eve via c-section.
The c-section was not our original plan, but my labor was not progressing past a certain point and Baby's heart rate was not responding well to the stronger contractions. So, off to the operating room we went.
I am so thankful for a wonderful doctor and wonderful hospital staff.
The c-section went well and I wasn't in any pain. (That was one of my biggest concerns when the doctor told us we'd need surgery. Would I feel it? But, no. Thank You, Jesus.) When the doctor brought our baby out of my womb, I heard him crying even though I couldn't see him, and I cried along with him. 🙂
Baby Elijah is just fine.
He is healthy in every way. And I am doing just fine too. I was very sick after the delivery (sick because of the anesthesia), but we had some of the sweetest nurses on the planet taking care of us. The stomach sickness wore off by mid-day the next day, and I was able to begin eating. (Yay for food!) I have some pain from the surgery, but it's getting better each day.
So now we are learning to take care of our baby!
We just came home from the hospital on Thursday night. We are definitely in a learning curve! Neither my husband nor I have prior experience with babies. Neither of us had ever even changed a diaper before! So we are learning All The Things by the seat of our pants. 🙂
Plus, my husband and I have night after night of sleeplessness … learning how to comfort our son when he screams for 5 hours at a time 4 nights in a row cries, learning how and when to feed him, and more and more and more.
So I took a few days off from the blog, but now I'm back, Lord willing!
We have some great things in store for you on the blog in 2018. I'm so excited about it! New Year's is my favorite time of year and the Lord has been giving me download after download of encouraging words and resources for you.
So, stay tuned for that.
And, may I ask you to pray for us? Specifically, we need prayer for:
Grace and wisdom as we learn how to care for a newborn;
Physical strength as we deal with lack of sleep and I'm recovering from surgery;
More grace and wisdom as we learn how to re-shape our time to accommodate regular daily activities and ministry, along with our new family; and
Financial provision, as our home expenses have increased due to Elijah's birth (increased insurance premiums, baby items, etc).
Thank you for your prayers and encouragement.
You all have been lovely. You have sent me lovely emails and messages and comments of encouragement from all over the world, and every single one means so much to me. THANK YOU. I have still been praying for you, and I'm looking forward to kicking things back into gear this week as we enter the lovely New Year 2018!
Love in Christ,
Jamie