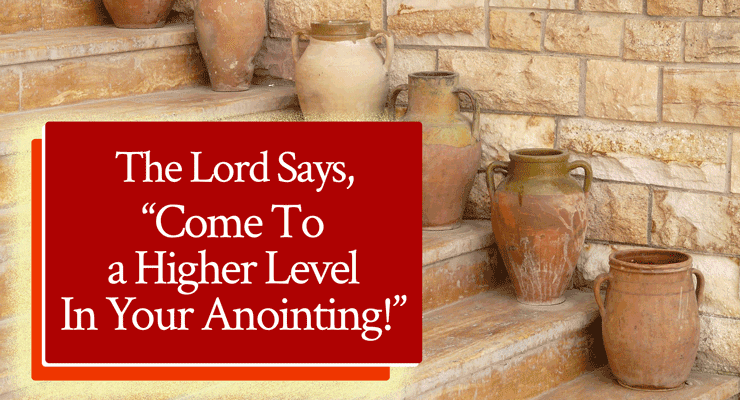 The Lord says to us today:
"I want you to come up higher in your anointing. To do this, you must preserve the dove.
I am with you always, but it is possible to hurt Me. It is possible to hurt My Spirit who is with you and in you. I am a person with thoughts and feelings. I love certain things and hate others. I love peace, and joy, and kindness. I hate contention, strife, and self-serving words and attitudes.
My beloved, I love you enough to discipline you.
I know you are sorry, but I want you to know how much this hurts Me:
It grieves My Spirit when you act like less than you are.
It grieves Me when you are wrathful, proud, self-serving, egotistical, or angry in your flesh.
It grieves My heart when you do not honor Me and My Spirit living inside you.
I want you to come up to a higher level of purity and submission to Me.
I want to be the center of everything for you and your home. I want your home to be a reflection of Me. I desire to be enthroned in your house, in your car, in your heart, and in your family. But that can't happen unless you focus on doing what pleases Me even in the things you think don't really matter.
Please do what pleases Me.
I am not mean or cruel; nothing I am asking of you is bad. Instead, I am asking you to submit to My best! I am inviting you to live like I want you to live, in all the JOY unspeakable and full of glory that is available to you as My child; as royalty in My Kingdom. I am encouraging you to embrace the absolute BEST I have for you.
It's going to take a change in your thinking, but I will help you.
You may be doing "pretty good" already in your thinking, but this is going to require a change in your thinking that will totally transform your life. It's not going to be hard for you to learn, but there will be a lot of crucifying the flesh involved. However, when you gave your life to Me, isn't that what you signed up for? The old man is dead; you are a new man in Me.
Ask Me for help; and listen to My still, small voice.
I will put choices before you when you are tempted. I will put the good choices that give you the way out, to get away from the choice the enemy has placed before you.
Learn to listen to Me. If you're concerned you might be wrong, err on the side of preserving the anointing. If you aren't sure something is right or wrong, but you would do things differently if I were sitting right beside you, that's a good indicator that the thing isn't good for your anointing.
Some things aren't wrong, but they aren't the best either.
First Corinthians 6:12 says:
"All things are lawful for me, but all things are not helpful. All things are lawful for me, but I will not be brought under the power of any" (1 Corinthians 6:12).
As we walk through this together, focus on Me and remember: it's not always about sin. Sometimes it's just about being more anointed.
I want to increase My anointing on your life.
I want to increase My power that flows through you. I want to build your character. I desire to take you to a whole new place where you have never been; but the ticket to get there is costly.
It all begins at home.
The journey on which you desire to go begins at home. This journey begins with your home life:
Your priorities;
Your marriage;
Your children;
The way you manage your health for Me;
The way you manage your relationships;
The way you insist upon your own way–or make yourself lower, like I did.
This is a hard journey, but it is not too hard. Humble yourself under My mighty hand, and I will lift you up in due time.
Did you think that the escalator of promotion would not require sacrifice?
My Word tells you that the path to promotion requires you to go DOWN. I have taught you many times about this, but now I will be teaching you at a whole new level. Consider each day, each moment, as a new test. Consider every waking hour as an opportunity to learn and grow in My anointing. Let My Spirit guide you, instruct you, and–yes–CONVICT you.
Open yourself up to My conviction more than you ever have before. Implore Me to change your heart. Fast and pray for this. As My friend Gipsy Smith recommended, draw a chalk circle around yourself and ask Me to begin a revival right in that chalk circle.
My child, I love you more than you can ever imagine.
I am disciplining you, exhorting you, and encouraging you to come higher in Me because I know what is in you. I know what I have placed in you, and there is more for you. I have more in mind than you are seeing right now, and I am not negating anything you see right now.
It's just that there is more for you.
And the "more" is going to be costly. The "more" is going to cost you your pride–pride you didn't know you had. The "more" is going to cost you your ego–ego you didn't realize you still had. The "more" is going to cost you everything you hold dear in your flesh–everything that makes you comfortable, that keeps you in your old thought patterns–because I am, in return, giving you everything.
If you will give Me your everything, I will give you My everything.
I assure you: My everything is a lot bigger than yours. My everything is worth more than yours. My everything is more costly than yours. And My everything is available to you by the blood of Jesus, but you have to pay the price of obedience.
It's a new level of obedience I am inviting you into. A new level of humility. A new level of thriving. A new level of receiving from My Holy Spirit … and a new level of intimacy with Me, walking with Me in the cool and in the heat of the day both.
Behold, I am with you always, even to the end of the world.
Your world will not end with this transition, but it will smart a little bit. There is no stripping of the flesh that doesn't hurt. Rest assured, however, My child, that I am the healing Balm in Gilead. I am the Healer who will apply salve to every wound your flesh incurs. I will replace your fleshly tendencies with My Spirit's tendencies as I bring you into greater submission to Me.
Pray daily for a new heart and spirit during this season.
As I promised in Ezekiel 36:25-27:
Then I will sprinkle clean water on you, and you shall be clean; I will cleanse you from all your filthiness and from all your idols. I will give you a new heart and put a new spirit within you; I will take the heart of stone out of your flesh and give you a heart of flesh. I will put My Spirit within you and cause you to walk in My statutes, and you will keep My judgments and do them" (Ezekiel 36:25-27).
Ask Me for a new heart and a new Spirit. Ask Me for MY HEART and MY SPIRIT. And do not be discouraged, beloved. You have come a long way, baby, but you are going to go so much farther that it will be as if all the progress you have made to date has been nothing at all.
Your future is bright. Your testimony is assured. I am working in you both to will and to do for My good pleasure. Believe Me. Trust Me. Cling to Me. Seek My face in every moment, before every response, in every situation … for you will find Me to be your ever-present Help in trouble.
Love, Papa."
If the Lord is convicting you and speaking to you out of this word like He is me, please leave a comment below.
Jesus, please help us!