Do This to Break the Drought Off Your Life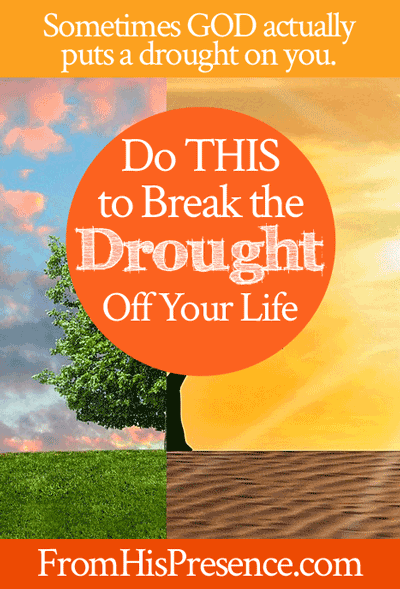 Beloved Presence-seeker, do you feel like you're in a spiritual, emotional, or financial drought? If so, God's Word has a solution for you–something easy you can do to break the drought off your life?
Here's how to break the drought off your life:
As I was reading this morning in the Psalms, the Lord suddenly interrupted me and told me to read Haggai. Now, Haggai is not a book I read often; it's not the first book I think of when I open my Bible. So, I knew the Lord had something to show me in that book.
When I turned to Haggai, I honestly did not even remember what it was about. Yes, I've read it before and even released a prophetic word from Haggai before. But, I didn't remember any of those things. So I had zero foreknowledge of what the Lord would say to me from Haggai.
But to be perfectly honest, I was shocked at what I found. Why?
Because Haggai is all about how the Lord told the Jewish people that HE had placed a drought on their land, their provision, their businesses, their produce, their investments, the work of their hands, and on all the results of their labors. GOD placed a drought on these things, and the people were in lack.
But you know why He did it? Because they were putting their own houses first and not building His house.
At that time, God's house laid in ruins. The Jews had returned to their land and had built themselves houses, but they hadn't bothered to build the temple of God. They even built themselves nice houses, it says; but they weren't any better off for it.
They weren't getting a return on their giving.
They didn't have enough provision for daily life.
They were trying to take care of themselves, but it wasn't working … and their paychecks just disappeared every time they got paid for their work.
They were in lack, and things were rough.
Sound familiar?
But you know what God said would break the back of that drought? It's simple:
Building His house.
Building His house.
Yup, building His house … instead of their own.
So they did. Haggai 1:14 says "the Lord stirred up the spirit" of the leaders and of all the remnant of the people, and they came together to work on God's house.
Working on God's house took time. But, the problem was, they started the work with impure hearts.
A few months later, though, on the day they laid the foundation for the temple (Haggai 2:18), God convicted them of their impure hearts. When He did, they must have repented, because after that God said that from that day forward He would bless them.
He promised to bless them, even though it wasn't harvest time.
When He gave the promise, God pointed out that "As yet the vine, the fig tree, the pomegranate, and the olive tree have not yielded fruit." But, that was no problem for Him. God doesn't need it to be earthly harvest time in order to pour out His blessings. HE is above all those things, and far more powerful. So He said, "But from this day I will bless you."
So the word for you and for me today is this:
Build the house of God with a pure heart to break the drought off your life.
When I saw this word in Haggai this morning, I started drawing bricks in my Abundance Challenge study Bible: bricks of little things I have done recently to serve the house of God. I want to pour all I can into God's house, so I will keep drawing bricks and trying to fill them up! (It just inspires me to serve more.) I love the local church, and I want to serve God there all the days of my life.
After all, as David wrote:
For a day in Your courts is better than a thousand. I would rather be a doorkeeper in the house of my God than dwell in the tents of wickedness" (Psalm 84:10).
So are you in a drought in your life?
According to Haggai, GOD HIMSELF said that drought comes from not building His house first.
If you need showers of blessings on your:
Property;
Provision;
Spirit (needing God's fire to fall on your spirit);
Anointing;
Investments;
Finances; or
The work of your hands …
Then it's time to build the house of God.
How can you build the house of God?
It will be different for every church. Talk to your pastor. Then give. Work. Pray. Volunteer. Organize. Serve. Teach. Whatever they need … do it. And do it not grudgingly, but out of a pure spirit.
Building the house of God breaks the back of the drought off your life.
Will you build God's house with a pure heart today?
Has a drought been on your life? If so, could it be from God? Do you need to build God's house, so you can break it? Please leave a comment below and share what Holy Spirit is telling you about this!