Dublin, Ireland 2-Day Prophetic Equipping Intensive, November 16-17, 2018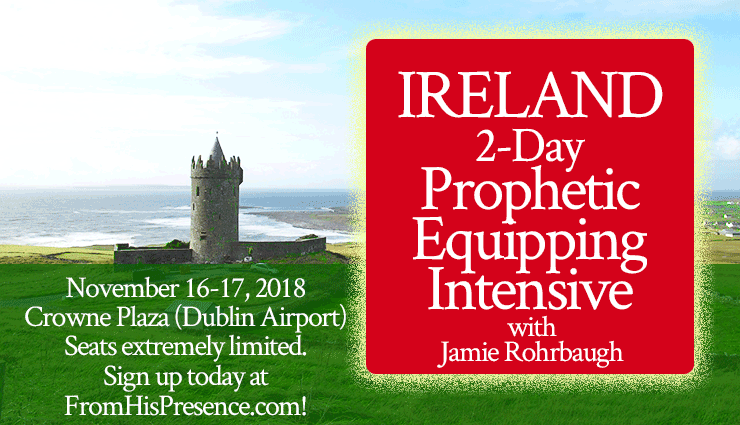 Hey everybody! I'm BEYOND thrilled to announce that my team and I are coming to IRELAND for a 2-day prophetic equipping intensive (and other ministry) in November! If you're in Ireland, Northern Ireland, the UK, the Isle of Man, or the EU, please come join us for this LIFE-CHANGING event!
Here are the details for the Ireland prophetic equipping intensive:
Dates: November 16-17, 2018
What: 2-day prophetic equipping intensive with me and 4 other members of my team who are prophetic pastors/teachers. You'll get lots of attention, loads of teaching and impartation, and a huge immersion in the things and ways of Holy Spirit!
Who: My husband and I are coming, of course–but I'm also bringing several others:
Pastors Joe and Diane Guthrie, who RAISED ME in the prophetic, are coming to help equip you. Believe me, folks, Pastors Joe and Diane are solid gold POWER. I can't wait for you to meet them!
I've also asked our intercessory prayer warrior, Ms. Jo Ann Valentine, to come with us. Ms. Jo Ann has worked with GodTV, Pastor Benny Hinn's ministry, and other ministries in their partner prayer departments. She knows how to PRAY, folks, and she knows how to govern in the spirit realm. You will gain so much from her as well!
I'll be doing most of the teaching, but I've asked my team members to teach certain things in their areas of specialty. So you'll be getting all of us, firing on all 10 Holy Spirit cylinders. 🙂
Topics: Here's what we will be teaching in this two-day intensive:
How to hear God
How to discern times and seasons
The Issachar anointing (with impartation)
The breakthrough anointing
The Perez anointing (with impartation)
The ministry of the pioneer
Beginning to understand and interpret dreams, visions, and strange events
How to cultivate a prophetic spirit so you walk in the Spirit of prophecy every day
Difference between the Jezebel spirit and the Spirit of Prophecy
Prophetic warfare
Prophetic release of Jesus
Prophetic protocol
How to hear prophetic words from the Lord
Checks and balances that guard your accuracy
Prophetic intercession
Prophetic worship–the power of prophetic worship and how to release it
Blessing, impartation, and commissioning
Bonus materials and many written class notes will be provided to each attendee.
Class time: 9 AM – 9 PM with breaks for meals
Location: Crowne Plaza Dublin (Airport location), Northwood Park, Santry Demesne, Dublin 9, Ireland
(Note: Attendees may stay in any hotel they like, but there is also a Holiday Inn Express next door to the Crowne Plaza if you're looking for a different hotel than Crowne Plaza.)
Cost: EARLYBIRD PRICE THROUGH SEPTEMBER 30 is €200 Euros, which includes admission to the intensive for both days, car parking, bonus materials, and class notes. ***Car parking tickets will be validated at the hotel reception desk.***
Admission is non-refundable unless the entire event is cancelled.
If you're in Ireland, Northern Ireland, the UK, the Isle of Man, or the EU, come meet me in Dublin for this intensive! It's going to be life-changing and seats are very limited. Be sure to sign up quickly, and I will see you there!