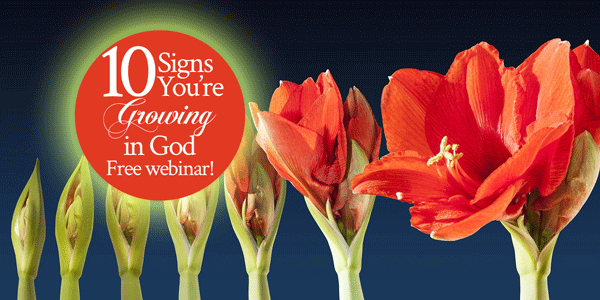 Hey everybody! Guess what? I'm so excited to offer you another FREE webinar, and it's THIS TUESDAY!
This webinar is called "10 Signs You're Growing in God."
Date: Tuesday, November 21, 2017
Time: 1:00 – 2:00 PM Eastern time
The title is self-explanatory, and I want you to know that this class will both encourage you, inspire you, and challenge you, all at the same time!
Click here to register for 10 Signs You're Growing in God.
Since this is a free webinar, I can offer unlimited signups. But, only the first 100 people who sign in on the day of class will get to participate in the class live. All other Presence-seekers who register for the class will receive a free video replay that you can watch at your convenience.
Participating in class live is always fun, though, so try to get a live seat!
It's a blast–and plus, you get to ask questions and get answers and encouragement from our whole community! So, be sure to sign in early the day of the class!
(I typically sign into the software about an hour before class, and there are already people logged in. The number of people grows and grows as we get closer to class time. I recommend trying to sign in about 15 minutes before class if you want a live seat.)
Sign up for this FREE class today! You'll be glad you did!
Hope to see you in class on Tuesday!
Lots of love,
Jamie