Pray This When You've Got Nothing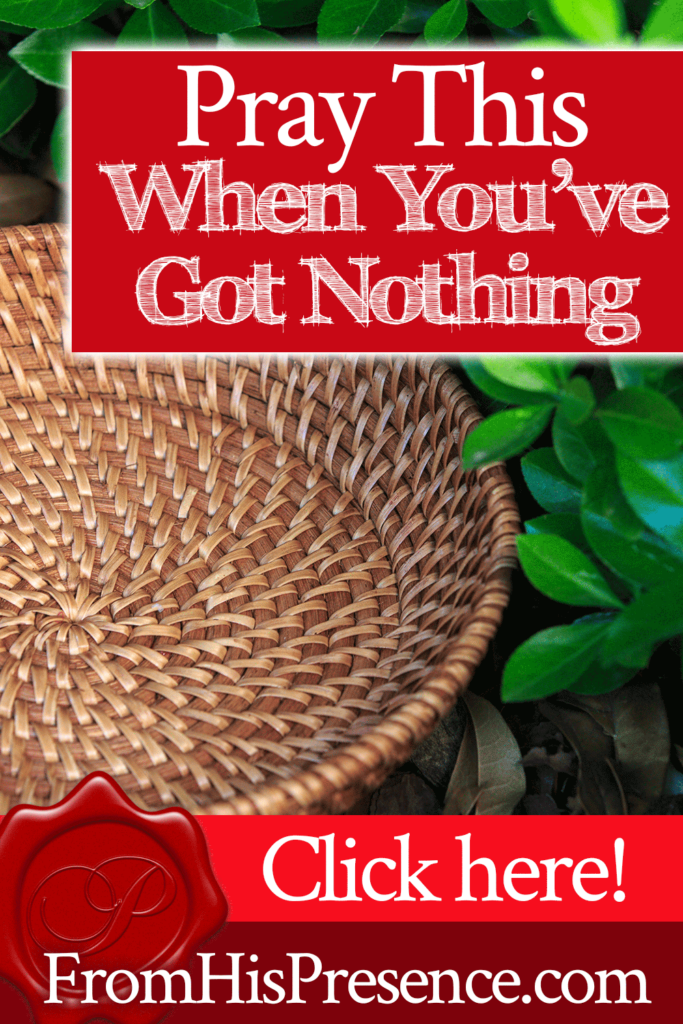 "I've got nothing." It's a popular phrase to describe a lot of situations. Sometimes it's said as a joke. But honestly, there are times when we've all "got nothing"–and I feel like this is such a time spiritually in the Body of Christ.
I believe God is bringing His people, as individuals, to a new level of brokenness before Him and total dependence ON Him.
He is doing a work in our hearts that will ultimately bring us much closer to Him. However, we definitely have to go through a burning and refining process first, on our way to that place.
In this new level of brokenness, I am seeing the Lord do these things in His people:
He is removing any dependence on idols. (Idols are things we have set up, even accidentally, for ourselves to rely on, instead of God.)
Things that used to work are no longer working.
Fleshly talents that used to help you are no longer helping you.
Solutions that used to work every time no longer work.
The knowledge, inspiration, and creative ideas you used to have are no longer helping you much.
The Lord is bringing each of His people to a new place of total dependence upon Him.
In this place, we each become more aware of our nothingness than ever. We become more cognizant of our total, fleshly inability to do anything that needs to be done, such as:
Providing for our own needs;
Taking care of those around us;
Standing firm in faith; etc.
However, in this place of brokenness, the Lord is actually strengthening us if we will have eyes to see it.
See, we actually have no fleshly ability to do anything in and of ourselves. As Jesus said in John 15:5:
"I am the vine, you are the branches. He who abides in Me, and I in him, bears much fruit; for without Me you can do nothing" (John 15:5 NKJV).
But sometimes we forget that we are totally dependent on the Lord. So, the Lord has to correct us.
Other times, Holy Spirit, in His sovereign wisdom, simply knows that now is the right time to peel back another layer of the "onion"–removing more things from us that don't look just like Jesus. He does this to change us from glory to glory, faith to faith, and strength to strength; to conform us a little more into the image of Christ.
So how should you respond when you've got nothing?
When you've got nothing, you have to come to the Lord in all His fullness and let the mere fact that He exists fill you up.
See, God is the Great I Am. When Moses first encountered God at the burning bush, he asked the Lord who He was. Their conversation went like this:
"Then Moses said to God, 'Indeed, when I come to the children of Israel and say to them, 'The God of your fathers has sent me to you,' and they say to me, 'What is His name?' what shall I say to them?'

And God said to Moses, 'I AM WHO I AM.' And He said, 'Thus you shall say to the children of Israel, 'I AM has sent me to you'" (Exodus 3:13-14 NKJV).
God identifies Himself as "I AM WHO I AM." That is His name.
And by revealing that name to us, the Lord is telling us that He is who He is; He is not defined by another, and He cannot be compared to another.
God is wholly self-sufficient and not dependent on anyone else for His identity. And by telling us His name "I Am Who I Am," also "I Am" elsewhere in the Bible, He is telling us this:
The mere fact that God exists–that He is–is the entirety of the solution we need.
I will say that again:
The mere fact that God IS is our total answer to every one of life's dilemmas.
See, you don't have to have anything except faith when you come to God.
Let's face it: All of our fleshly attempts at anything will accomplish nothing. We can do nothing without Jesus. And all the wisdom of the world is foolishness to God.
We cannot even hold our own cells together; Hebrews 1:3 tells us that Jesus Christ is "upholding all things by the word of His power."
We are completely and utterly dependent on God for everything:
for our next breath;
for the protons and neutrons and nuclei in every cell in our bodies to stay together;
for our next meal;
for the wisdom, knowledge, and instruction we need;
for provision;
for clothing;
for comfort;
for provision;
for salvation and forgiveness from sin through the blood of His Son Jesus Christ, which also gives us eternal life; and the list goes on.
Without Him we can do nothing.
All that said, beloved, consider this:
If the Lord is bringing you to a place where you've got nothing …
When you know He's with you, but that's literally all you know and all you have …
When you cannot see how or when or why or the way forward, but all you know is that He is the Way forward …
Embrace it.
Yes, you read that right. I know it's a really hard place to be in when the Lord brings you into brokenness like that; I'm there with you right now too. But when you've got nothing, embrace it–so you can embrace Him at a deeper level.
Right now, I'm coming to God every day and confessing that I've got nothing but a need for Him.
I see nothing but Him and His faithfulness. Many of the solutions and miracles I've been praying for haven't been manifest yet (although some have; praise God for that!), but I only hear the Lord telling me to "wait," and that they are coming.
But even with that promise, I still have nothing except Him. And I tell Him so.
Nevertheless, this place of "I've got nothing" is the sweetest spot of intimacy with Jesus.
When you've got nothing, you become aware that He is your Everything. When you see no way forward, you become aware only of the fact that He is the Way, and that He will lead you.
And when you have no wisdom of your own; no solutions; no easy fixes; no skills that can get you out of this place …
All you can see is Jesus.
And you know that He is enough.
So if you've got nothing today, are you ready to pray?
Pray this with me if you've got nothing right now, and you just need Jesus and only Jesus:
"Dear Heavenly Father, I come to You in Jesus' name.
Abba Father, thank You for Your faithfulness. Thank You for hearing and answering my prayers. Thank You that You are God all by Yourself, and You need nothing. You are everything I need, though, and I gaze at You and praise You right now for who You are.
Father God, I have nothing to bring You except my heart. I feel like I have nothing at all right now except You. But Father, thank You for bringing me into this place of total dependence on You.
Lord, I've been asking You to discipline me and correct me, so I thank You for Your work in my heart. Thank You for helping me to cast down the idols of things I have depended on, when I should have depended on You all along.
Father, I've got nothing in and of myself–but You are Everything.
So I come to You humbly today, Father, in the name of Your Holy Son Jesus. I bow before You, and I give You my nothingness. I drink from Your fullness, Lord; I receive from Your Everything.
You and You alone are everything I need, Lord Jesus, Father, and Holy Spirit. You are the One who sustains me and gives me life. You provide all my needs. You comfort me and keep me alive. And You have always been faithful.
So Father God, I ask today in Jesus' name:
That Your Holy Spirit would comfort me today.
Give me wisdom.
Instruct me and teach me in the way I should go. Guide me with Your eye upon me.
Order my steps in Your Word.
Hear the cry of my heart, and show me the answers to my prayers every day.
Make me perfect in love today, and cast out all fear.
Fill me with Your Holy Spirit afresh and anew, Father, for You are all I have.
Abba Father, I thank You that Your grace is sufficient for me, for Your strength is made perfect in weakness.
Make Your strength perfect in me today. Surprise me with happy surprises and good news from every side. Help me to stay aware of my total dependence on You, for You are faithful and will never leave me without support.
Thank You, Abba Father. Please help me remember that You are enough for me in every way. The mere fact that You exist, and that I am in the palm of Your hand and hidden in Christ Jesus, means that all shall be well in my life.
I trust You, Father. Thank You. Thank You, Jesus, and Holy Spirit. I love You.
In Jesus' name I pray, amen."
Beloved friend, are you in the place in which the cry of your heart is "I've got nothing"? Did you pray this prayer today? If so, leave a comment below and we will pray for you!
And remember, God is MORE THAN ENOUGH!