Prayer for Actual, Literal Gold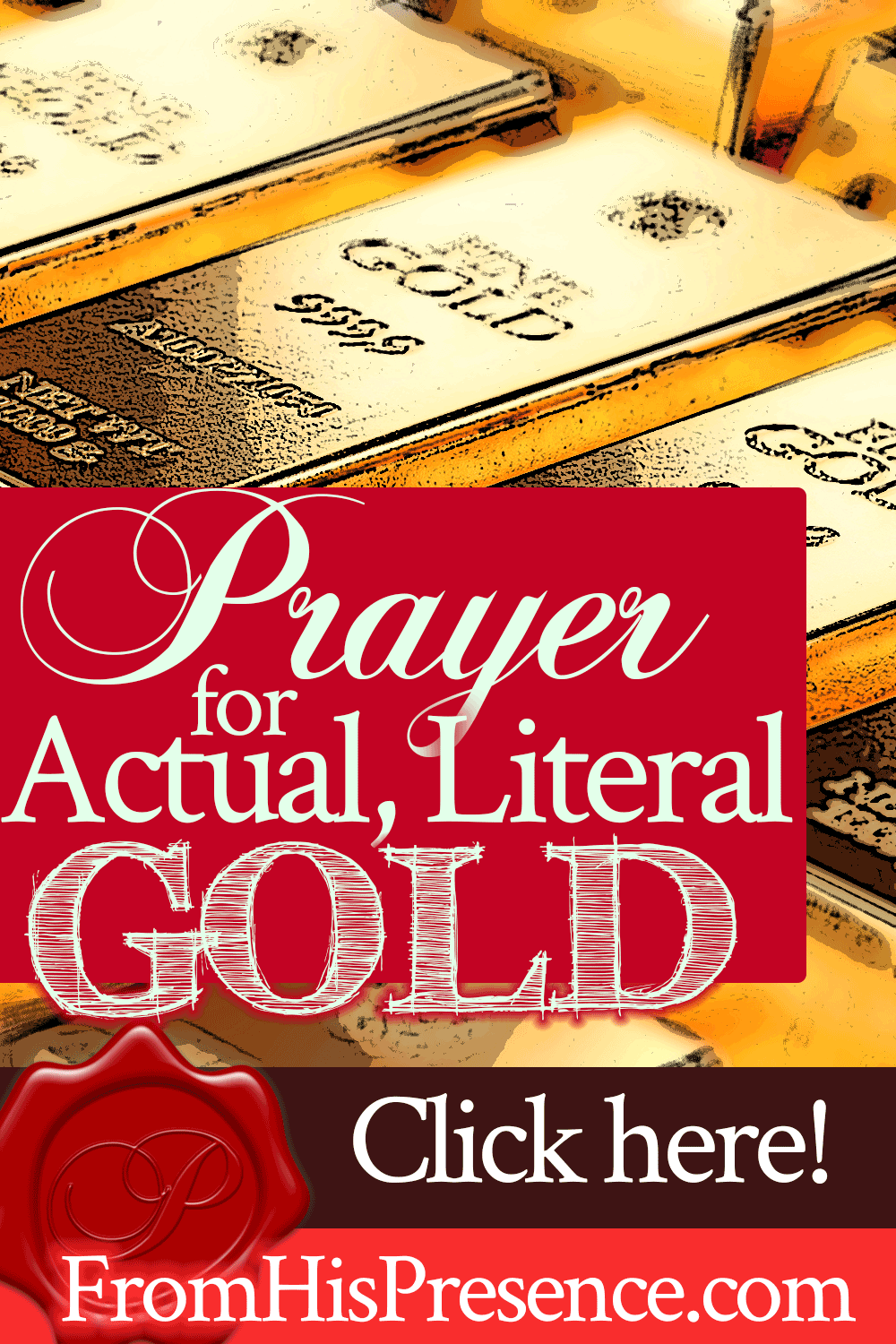 Did you know that God likes gold? He does; true story. And as you read this article, I believe you may be as stunned as I am to read about how much God likes gold, per His Word. Read on, and pray the prayer for gold at the end of this post!
Here's the backstory:
God really likes gold. He's HUGELY into gold.
As a matter of fact, He surrounds Himself with it in Heaven … and I believe He wants you to have some here on earth. If you will stick with me in this rather unusual subject, I'll explain why you should pray for gold–and then we will pray together for actual, literal gold.
First, here's how we know God likes gold:
In Genesis 2:10-12, the Bible says:
"Now a river went out of Eden to water the garden, and from there it parted and became four riverheads. The name of the first is Pishon; it is the one which skirts the whole land of Havilah, where there is gold. And the gold of that land is good. Bdellium and the onyx stone are there" (Genesis 2:10-12).
In this passage, God is telling us what the world looked like right after creation (or at least, this version of creation, as the Bible also shows that a world existed before … but that's another story for another day). In this newly-fashioned and formed world, God had many wonderful things. He describes them in detail in His Word, in the first few chapters of Genesis.
DID GOD CREATE THE WORLD MORE THAN ONCE?
wATCH THIS VIDEO, PART OF OUR "GOD IN THE WILD" SERIES on Youtube:
But right in the middle of that description, He specifically points out this place where there was gold: Havilah. And you know what else He says about gold? He said that gold is GOOD.
I first heard about this from Rabbi Daniel Lapin, who wrote a book called "Thou Shall Prosper: 10 Commandments for Making Money." He points out that God called gold "good" right in the 43rd verse of the Bible … and the fact that it's one of the very first things God says to mankind through His Word is pretty important.
So, gold is good. God said so. And here's something that will freak you out if you think about it:
God surrounds Himself with gold in Heaven.
People say, "Oh, in Heaven gold is considered trash. God paves the streets with it …," but that's a load of hooey.
Think about it: Yes, God paves the streets with gold in Heaven. But would God really pave the streets with trash? Also, the New Jerusalem is made of gold. Does that mean God built the city out of trash? NO. God wouldn't build His city OR His streets out of trash.
It's much more likely that gold is one of God's favorite things.
Maybe gold carries the very molecules of Heaven.
Maybe gold is a heavenly material that God saw fit to deposit on earth, just to make us long for eternity.
Maybe God deposited a little piece of Heaven on the earth, and that's why gold has carried a mystique about it since the beginning of time. Maybe that's why it gets into men's spirit and makes them long for something more.
And maybe that's why gold doesn't tarnish.
Whoaaaaa.
When you think about all that, you might have just thought: "I need gold!"
AVAILABLE IN EBOOK OR PAPERBACK FORMAT!
Over Not Under: Financial Prosperity God's Way
Do you want God to empower you to get wealth, as He promised in Deuteronomy 8:18? Then this book is for you!
Over Not Under will help you gain deep insight about God's financial principles—and about how to activate His provision, blessing, and abundance in your life!
Now, I'm not here to recommend or suggest any investment strategy or purchases. I am not an investment advisor, financial advisor, or legal counselor (consult your professional advisor, et cetera, et cetera). And I am definitely not saying that gold is a good investment strategy. God may speak to you about things like that; I don't know.
But, I am saying that Father God wants you to have gold according to His Word.
Here's how I know God wants you to have gold:
Genesis 2:10-12 (quoted above) says that gold is good. Then, Psalm 84:11 says:
"For the Lord God is a sun and shield; the Lord will give grace and glory; no good thing will He withhold from those who walk uprightly."
If you take A) "Gold is good" + B) "No good thing will He withhold from those who walk uprightly" and add them up, you get the answer: A + B = God will not withhold gold from you. And since Jesus said to ask for whatever you want, and it will be given to you, it makes sense that God wants you to have gold.
It's as simple as that.
God wants you to have gold.
That doesn't mean He wants to just dump it in your lap if you can't be trusted with it. You need to be a good steward to expect God to bless you; and you need to become a better steward in order to see Him bless you more. That's just the truth of God's Word.
Plus, Haggai 2:8 says:
"'The silver is Mine, and the gold is Mine,' says the Lord of hosts."
So everything belongs to God and He's only letting you steward things when He entrusts them to you.
But, He wants to entrust you with more as you become capable of stewarding it. And if you're capable of stewarding it, He will give you all the good things you can handle.
And since God likes gold a lot, calling it a good thing …
And since Psalm 84:11 says that He will not withhold any good thing from those who walk uprightly …
Then I believe it would please God for us to ask Him for gold. Not to make ourselves wealthy. Not to hoard it or love it … but just as part of doing business.
After all, Jesus said to "occupy"–meaning in the Greek, do business–until He comes.
And a lot of business is done through the industry of "all things gold." Just something to think about.
So pray this prayer for gold with me if you feel led by the Lord to do so:
"Father God, I come before you in Jesus' name. Father God, thank You for loving me and blessing me. Thank You for providing all my needs richly in Christ Jesus. Thank You for prospering me and blessing all the work of my hand.
Father, Your Word says that gold is good. Your Word also says that You will not withhold any good thing from those who walk uprightly.
Furthermore, You told us to occupy until You come; and the steward that Jesus described who got the most reward was the one who did the most business and turned a profit.
So Father, on the basis and authority of Your Word, I ask You to send me gold.
Lord, when You send that gold, teach me to steward it well. Help me to learn how buying and selling gold works. Teach me how to handle gold and how to invest in it safely, securely, and properly, as a faithful steward for Your Kingdom.
Lord, never let my heart become attached to gold. Don't let me love it, crave it, hoard it, or worship it. Never let gold get in my blood, Lord; let only Your Spirit have influence over me. I refuse to be bound by anything except the blood of Jesus, Your Word, and Your Spirit.
But Father, with that said, I do believe that the wealth of the wicked is stored up for the righteous.
I believe You put gold here on earth for a reason, when it's obviously a heavenly treasure. And I believe that, like you did for Noah, You forewarn us of events to come.
So Lord, because of Your Word, I have asked You to send me gold and I believe You will.
Let it come to me now, Father, and keep it and me safe. Help me to keep it, buy it, or sell it only in response to the prompting of Your Spirit, and make me wise with understanding about how to handle it to bless Your Kingdom.
Thank You, Father God. In Jesus' name I pray, amen."
Does this prayer for gold resonate with you? Has Holy Spirit been talking to you about gold? If so, or if you prayed this prayer for gold, please leave a comment below! I want to hear what the Lord is saying to you!