What To Do With Depression, Part 5: Make the Hard Decision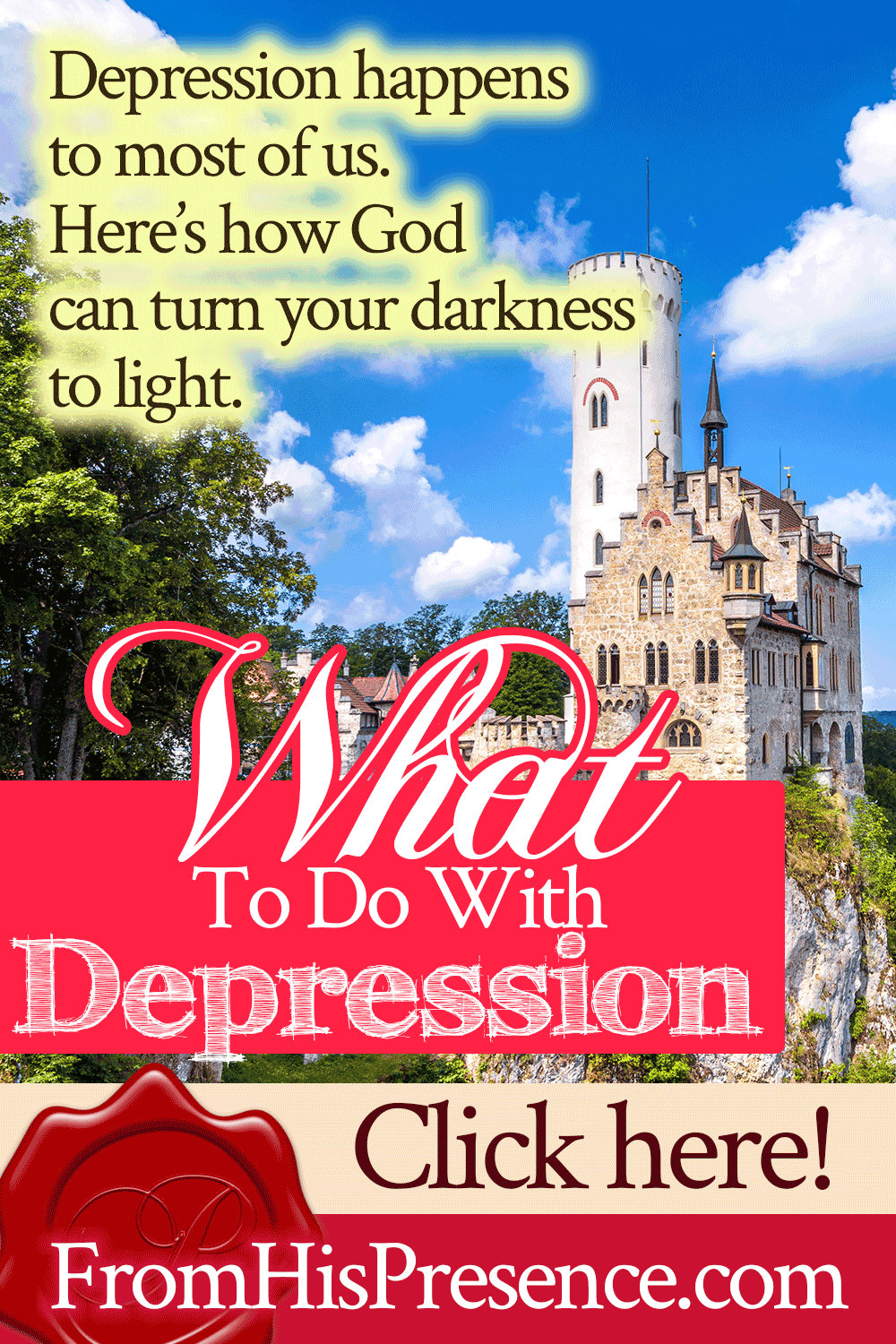 Welcome back to our series about What To Do With Depression. If you haven't already done so, please read Part 1, Part 2, Part 3, and Part 4 for vital information about how to heal from depression.
In this portion of the series, we are looking at key action steps that will help you heal from depression. In Part 4, we talked about Key Actions 1-4. (We are listing these in no particular order; they all help.) Today, we will only look at Key Action 5–but it might be the most important of all.
read the series
What To Do With Depression: Table of Contents
Key Action 5 is to go ahead and make some difficult decisions.
When struggling with depression, this key action (making difficult decisions) is the one thing I have done that has almost always brought instant healing. True story. Some examples of difficult decisions I have had to make in the past are:
Leaving a toxic church, a number of years ago;
Quitting a stressful job and moving to a job that was lower on the corporate ladder;
Deciding to rent out a house that wouldn't sell when our finances were in turmoil after trying to sell it for years.
All three of these big decisions were difficult to make.
In each situation, I was suffering from terrible depression, hopelessness, despair, and agony of heart. In all of them, I had lost my will to live. In each of these circumstances, I spent most of my time crying and staring into space, begging God to deliver me and heal me.
In each of these situations, I hadn't wanted to make that big decision. Or, I thought that I shouldn't make that big decision. However, as soon as I DID make those big decisions to leave the church, rent the house, quit the job …
… I experienced instant peace and healing.
In each situation, I got my joy back.
When I made those hard decisions, the depression went away. The Lord filled me with hope again and restored the joy of my salvation. I'm so grateful. But through it all, I came to understand that sometimes the Lord doesn't miraculously deliver us. Sometimes, He waits for us to deliver ourselves.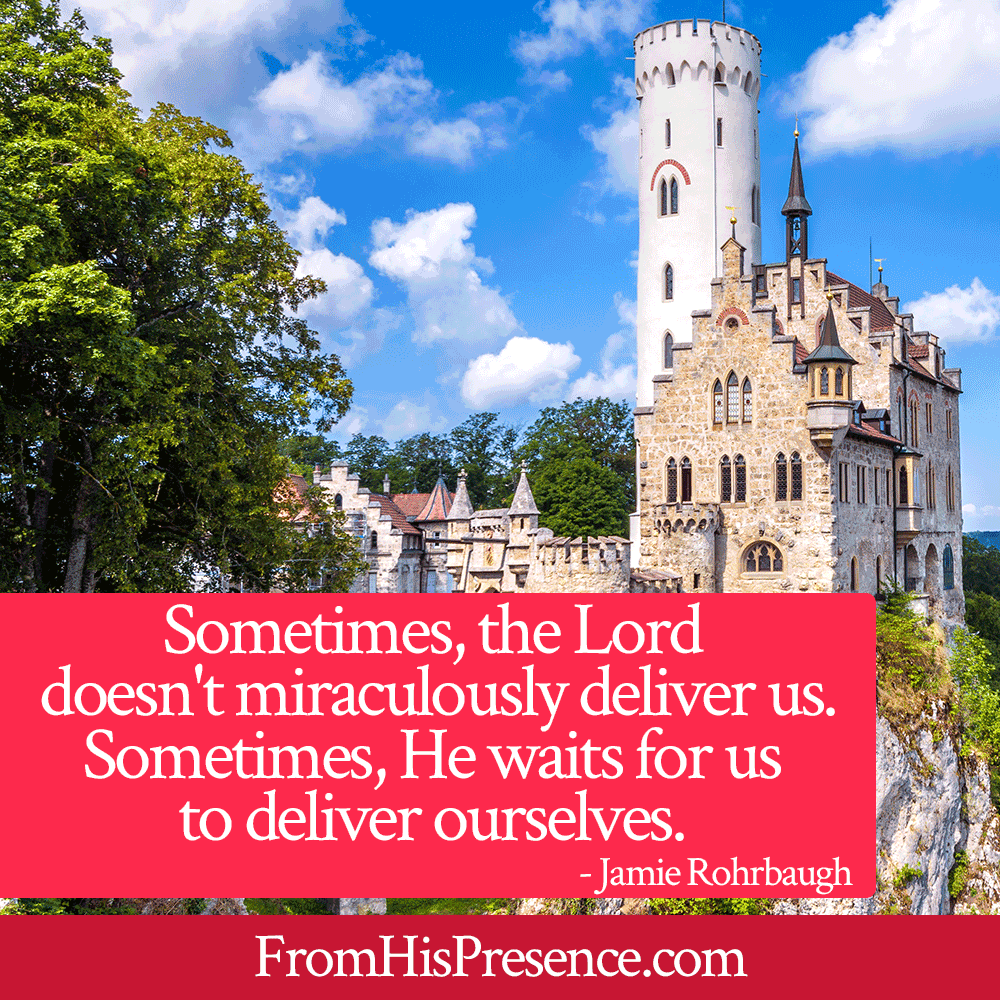 After all, Isaiah 52 says this:
"Awake, awake!
Put on your strength, O Zion;
Put on your beautiful garments,
O Jerusalem, the holy city!
For the uncircumcised and the unclean
Shall no longer come to you.
Shake yourself from the dust, arise;
Sit down, O Jerusalem!
Loose yourself from the bonds of your neck,
O captive daughter of Zion!" (Isaiah 52:1-2 NKJV, emphases mine).
Did you see that? God's chosen method of deliverance IS FOR YOU TO DELIVER YOURSELF.
Not kidding. It's written right there in the Book, plain as day:
YOU are supposed to awake. (In other words, you've been asleep and God needs you to wake up now.)
You have strength; God has given it to you. Put it on and do something!
He wants YOU to shake yourself from the dust and arise. Often, that means shaking the dust off your feet and leaving a place, the way Jesus prescribed. But notice that He sees you have been in the dust, and He wants YOU to get YOURSELF out of it! Of course He will help you, but you have to make the choice to pursue freedom!
God sees that there are chains around your neck, and that you're a captive. He wants you to loose yourself!
Friend, we in Christian circles often think that we're waiting for God to tell us to go. However, God thinks differently. HE says He's waiting for US to notice that His fruit is not in a thing, and to get up and leave.
We have to stop waiting for God to speak and notice that sometimes He speaks in silence.
Sometimes, God speaks by looking at you, raising His eyebrow, and looking pointedly at your ungodly, unfruitful situation–then looking back at you and raising His eyebrow some more.
Sometimes, God isn't speaking to us about a situation verbally or even in our spirit.
Instead, He's waiting for us to realize that XYZ situation doesn't line up with His Word. He's waiting for us to get up the guts and courage to do something about it.
The fact is:
He has magnified His Word above His name, and He expects us to search out His Word, compare all things to His Word, and act on His Word–without waiting for ten trumpet blasts, five angel appearances, and an audible iteration of His still, small voice telling us to leave a situation.
And often, if you don't realize that God speaks in silence as described above, you can think that you hear things with your spiritual ears that God isn't really saying.
IMPORTANT WORD on Youtube:
Stop Waiting for God to Speak (and Start Following the Glory)
God speaks sometimes by teaching us to notice when our situations don't align with His Word. He speaks sometimes by teaching us to actually trust our God-given discernment that sees blatant disobedience to His Word in front of us. (Shocker, I know!) 🙂
And when He's teaching us that lesson, He will be silent in the ways we are accustomed to hearing Him speak.
But, it's all for a good purpose.
It's all to make us people of His Word; people of action; people of spiritual maturity who don't have to be led about by leading strings. As God said in Psalm 32:8-10:
"I will instruct you and teach you in the way you should go; I will guide you with My eye.

Do not be like the horse or like the mule, which have no understanding, which must be harnessed with bit and bridle, else they will not come near you.

Many sorrows shall be to the wicked; but he who trusts in the Lord, mercy shall surround him" (Psalm 32:8-10 NKJV).
God doesn't want us to have to be drug about with bit and bridle. He wants us to see what He wants, know His heart based on His Word, and operate from that.
But when we cooperate with Him to deliver ourselves, the way He expects us to, He will help us. He will bring us out into prosperity.
And then we will see that it was Him doing the work the whole time. As Psalm 68:6 says:
"God sets the solitary in families; He brings out those who are bound into prosperity; but the rebellious dwell in a dry land" (Psalm 68:6 NKJV).
When God delivers you–even when He expects you to deliver yourself, which is just another way HE delivers–He does a good job.
He always will bring you out into a prosperous land. And if you are willing to believe Him, you have a right to claim this promise in prayer. You have the right to ask Him to prosper you as soon as you follow Him OUT of your bad situation.
Beloved, you may think you have been waiting on God to deliver you. But sometimes He is waiting on you to deliver yourself.
What do you need to do today? What difficult decision have you been not wanting to make? For example:
Do you need to leave that church?
Do you need to quit that job, and find one that doesn't ruin your life with stress?
Do you need to go ahead and rent out that house, so your finances will stop bleeding?
Do you need to move out of your parents' home and live on your own?
Do you and your spouse need to go to Christian marriage counseling, instead of pretending your marriage is okay when it's not?
Do you need to check yourself into rehab and get free from addiction?
Whatever it is, MAKE THE DECISION. Free yourself from your chains. You will often find that depression flees, and peace returns, when you do.
And that peace is worth everything.
I'll leave you with this Scripture:
"Depart from evil and do good; seek peace and pursue it" (Psalm 34:14 NKJV).
O my friend. Departing is an active verb; it's something you have to choose to do. So are the verbs "do," "seek," and "pursue."
So go ahead and DEPART from that evil thing or place today. Actively SEEK peace and pursue it; go after it with all your heart. You will be glad you did, and the Lord will reward you and bring you into a prosperous land as you obey His clear, written Word.
Is the Lord speaking to you about making a difficult decision today? Does this teaching from the Scriptures help you know what to do with the depressing situations you've been experiencing? If so, please leave a comment below. We will pray for you.