What To Do With Depression, Part 4: Key Actions 1-4
Welcome back to our series about What To Do With Depression. If you haven't already done so, please read Part 1, Part 2, and Part 3 for vital information about what the Bible says regarding depression.
In this portion of the series, we are looking at how to heal from depression.
Let's begin by learning how to begin your journey of plodding step-by-step toward full emotional and mental wholeness.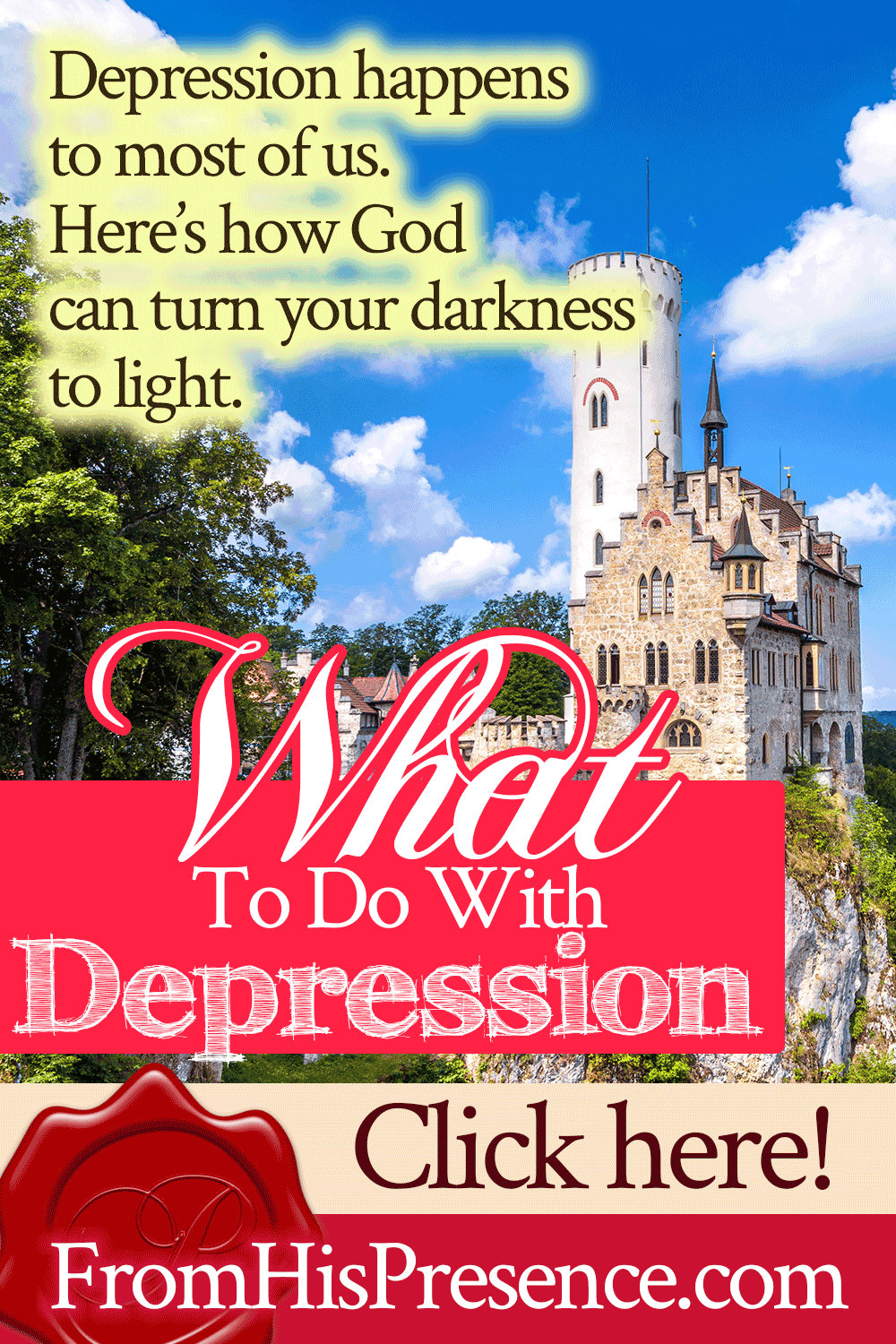 Below, I will list the key actions you can take to transform your mind, receive healing from depression, and walk in total wholeness.
I'm not listing these keys in any particular order, because they all help. And although they should all be done, remember that we're talking about slow plodding here.
What do I mean by "slow plodding"?
Simply this: Put all the effort into these key actions that you can; but understand that transforming your mind is a marathon, not a sprint.
If you do just one thing per day, you will still move along your healing journey! And if you want to feel even better on any given day, do more than one of these things. Do them a little or do them a lot. But even if you only have the courage or energy to do one of them, that one thing will still help you.
Here's how to walk in the Spirit, so you can overcome your emotions by your spirit.
And remember, these key actions are listed in no particular order. You can do any of them at any time, and in any order. 🙂
Key Action 1 for healing from depression: Preach yourself happy.
If you want to really encourage yourself in the Lord, find a Bible verse that ministers to you–and then start preaching it to someone else. Call up a friend who is going through a hard time and begin encouraging them. Meet someone for a meal and begin sharing God's Word with them.
Social media is GREAT for this as well.
Anyone can do a live stream or release a reel or other short video on social media! And even if you don't consider yourself a preacher, you CAN be a friend. You can encourage someone else who may be going through a hard time right then too!
If you start encouraging someone else with God's Word, pretty soon you will find that you have "preached yourself happy!"
God's Word will activate in your own heart and emotions at the same time as it proceeds forth from your mouth to encourage someone else. It works every time; try it! Preaching yourself happy is a great way to strengthen yourself in the Lord.
TIP:
Highlight these verses in your Bible as you heal from depression:
Key Action 2: Read the Word of God until you find relief.
God's Word will comfort you. God's Word is alive and full of power! Your Bible doesn't consist of dead words on a page; it consists of words that were breathed out by God Himself, and every word that He speaks has power.
Friend, if you are struggling with depression, open your Bible and read it as if every word were medicine–because it is. Read it long and read it deeply.
I recommend starting in the Psalms and the book of Matthew, and looking for a passage that talks about the very emotions you are feeling right at that moment.
This is particularly easy in the Psalms; David and the other psalmists were "feelers," and just about every emotion you can think of is fully described in prayers in the Psalms. As you read, Holy Spirit will minister His Word to you personally if you will ask Him to.
Here's another helpful tip:
When you sit down to read your Bible, ask the Father to have Holy Spirit open it up to you, teach you, and give you revelation from what you read. (You will notice a marked difference in your study time if you will pray that right at the beginning, before you start reading your Word at all.)
Key Action 3: Speak the Word until you find relief.
Feelings and manifestations follow your words. This is one reason why many people don't find healing; they curse themselves with words of death, sickness, and depression–thinking that they will improve their words when they feel better.
But it never happens …
… Because your feelings follow your words, not the other way around.
So what do you do if you want to feel better? You have to speak better words.
This is why I've written hundreds and hundreds of Biblical confessions (in my books, Speak Life Volume 1 and Speak Life Volume 2) for our readers to speak out loud over themselves. If you want to see what the Bible says you can have, you have to say what the Bible says. That's how you get miracles, prosperity, blessing, and wholeness.
Years ago, when I first began working on transforming my mind according to the Word of God, I was very depressed.
To combat the depression and heal my mind, I got a book of Biblical confessions. Then, I opened that book and began pacing back and forth in my tiny kitchen, yelling God's Word over myself at the top of my lungs.
Why did I yell? Not because God can't hear me; His hearing is just fine. 🙂 But, I yelled to make myself hear me! I yelled God's Word out over myself to convince myself that I believed it!
And you know what? It worked.
I'm sure I looked funny, but I didn't want to live with depression any longer. I was sick and tired of being sick and tired. And so I yelled the Word of God!
But, as I did, the Word took root in my heart; those roots started producing fruit (the first fruit I had ever seen in my life); and my life, mind, and emotions changed.
God's Word always works.
If you're struggling today, find a passage (or passages) from God's Word and proclaim them out loud over yourself as loud as you can–or even softly. Just speak the Word. You may have to do it more than once, but you will see a difference.
Learn more about God's Word by exploring our How to Know the Bible is True series!
Key Action 4: Pray until you find relief.
The most amazing thing happens when you pray deeply and from your heart: you find rest and relief for your soul. That means rest and relief for your mind, will, and emotions.
After all, Jesus said:
"Come to Me, all you who labor and are heavy laden, and I will give you rest. Take My yoke upon you and learn from Me, for I am gentle and lowly in heart, and you will find rest for your souls. For My yoke is easy and My burden is light" (Matthew 11:28-30 NKJV).
The process of obeying Jesus' command to "Come to Me" is called prayer.
When you pray deeply and from your heart, pouring out your entire heart to the Lord, He will give you rest. But, you do have to come to Him with everything you are and cast your cares on Him. That means you have to pour out all your thoughts, emotions, fears, concerns, worries, anger, sadness, hopelessness, despair, joy, and anything else to Him–and leave those things with Him.
A lot of people think they will find rest when they just say, "Lord, please help me pay the bills today."
And although God hears and honors that prayer, that prayer doesn't get you the full benefit of your relationship with Jesus. Of course He hears and answers! But when you're crying and upset, you need to snuggle up to the bosom of Jesus just like a baby needs to snuggle his or her mama.
Snuggling up to the bosom of the Lord in prayer means you pour out your entire heart to Him.
It also means you take the time to let Him comfort you, reassure you, and hold you tight. While you have that conversation with Him, pouring out all your cares upon Him and taking the time to listen and receive from Him, He will comfort you! All your cares will drain away, and He will give you peace.
Philippians 4:6-7 says this:
"Be anxious for nothing, but in everything by prayer and supplication, with thanksgiving, let your requests be made known to God; and the peace of God, which surpasses all understanding, will guard your hearts and minds through Christ Jesus" (Philippians 4:6-7 NKJV).
If you will interact with the Father, Jesus, and Holy Spirit this way in prayer, then you will see immediate results:
You will finish your prayer session feeling comforted.
You will feel peace and hope again.
You will move through your day with calmness and purpose after you pray like this.
And you will see God move on your behalf!
Friend, God is not a vending machine.
God is your Father. He hears and answers prayers, and He will listen to the faintest cry of your heart. But He desires relationship. Jesus' command to us was to abide in His LOVE. And if you don't take the time to really commune with the One who knows you best and loves you most, you won't reap the benefits of that relationship:
You won't feel safe in His arms, for you'll be going about your business on your own, having (mostly) forgotten about Him.
You will still be dealing with your own worries and cares, for you won't have taken the time to cast them on HIM, so He can care for you.
And you will be carrying your own anxieties and perpetuating your depression, for "Anxiety in the heart of man causes depression, but a good word makes it glad" (Proverbs 12:25).
Did you get that last point? "Anxiety in the heart of man causes depression."
Don't get mad at me; I didn't make that up. That's the Word of God! My friend, depression has a cause–and that cause can be cut off at the root if we will go the Lord with ALL our cares and commune with Him like we ought to.
I know popular Christian culture doesn't agree. But you know what? Popular Christian culture never helped you before, and it won't help you now. The Word of God is the only thing that will help you and me and all of us who deal with difficult things emotionally.
There is a cause for depression, and that cause is named "anxiety."
And we can cut depression off at the root if we learn to "Be anxious for nothing, but in everything, with prayer and supplication, with thanksgiving, make your requests known unto God." It is only then that the PEACE of God, which passes all understanding, will GUARD your heart and mind in Christ Jesus. (See Philippians 4:6-7, quoted above.)
Oh beloved. We have got to transform our minds.
There is no room in our hearts or minds for any thought that doesn't match God's thoughts about us. There is no room in our walk with Christ for any habits or thought patterns that don't align with God's Word.
I know it's hard to be transformed by the renewing of our minds; I've been at it since I got saved at 21 years old. BUT, it is NOT too hard–and it's MUCH easier than being depressed, hopeless, suicidal, and blue.
I know; I've been all of those things, on more than one occasion.
BUT GOD.
You can overcome your emotions with your words, and you overcome your emotions with prayer.
You find rest, comfort, and healing for your emotions with your testimony and spoken confession. And, you find rest, comfort, and healing for your emotions in prayer.
Remember Psalm 16:11:
"You will show me the path of life; in Your presence is fullness of joy; at Your right hand are pleasures forevermore" (Psalm 16:11 NKJV).
And even when your emotions hurt, you have to work on transforming your mind one thought at a time.
As Romans 12:2 says:
"And do not be conformed to this world, but be transformed by the renewing of your mind, that you may prove what is that good and acceptable and perfect will of God" (Romans 12:2 NKJV).
I know bad things happen. I understand that emotions happen and depression happens.
I know; trust me, I know. I've been through hell, over and over again. I've been in some of the darkest, hardest times of my life for the last seven years. I am not sitting here writing from some kind of ivory tower where bad things never happen.
But I am sitting here writing from a Strong Tower.
As it says in Proverbs 18:10:
"The name of the Lord is a strong tower; the righteous run to it and are safe" (Proverbs 18:10 NKJV).
We only covered 4 action keys in this article. But, if you will activate these action keys in your life–even in the tiniest amounts if that's all you can do!–you will start to feel better. In the next part of this series, we will discuss some more action keys.
Remember that the process of being transformed by the renewing of your mind is a marathon, not a sprint.
But every single step you take, no matter how small it is, makes you stronger. Every prayer from your heart; every time you cast your cares upon the Lord; every time you speak the Word of God over yourself … you will see results.
Friend, depression is not God's will for you.
But you have to choose to speak life and follow the action steps from His Word. So what are you waiting for? Pick a step today and get started! Ask the Lord to fill you with His joy and comfort as you take steps to abide in His love and obey Him, and He will help you.
Does this article speak to your heart today? If so, leave a comment below!