What To Do With Depression, Part 2
Welcome back to our series about what to do with depression. (Be sure to read Part 1 here if you haven't already.) Today, we are going to start talking about how to overcome depression.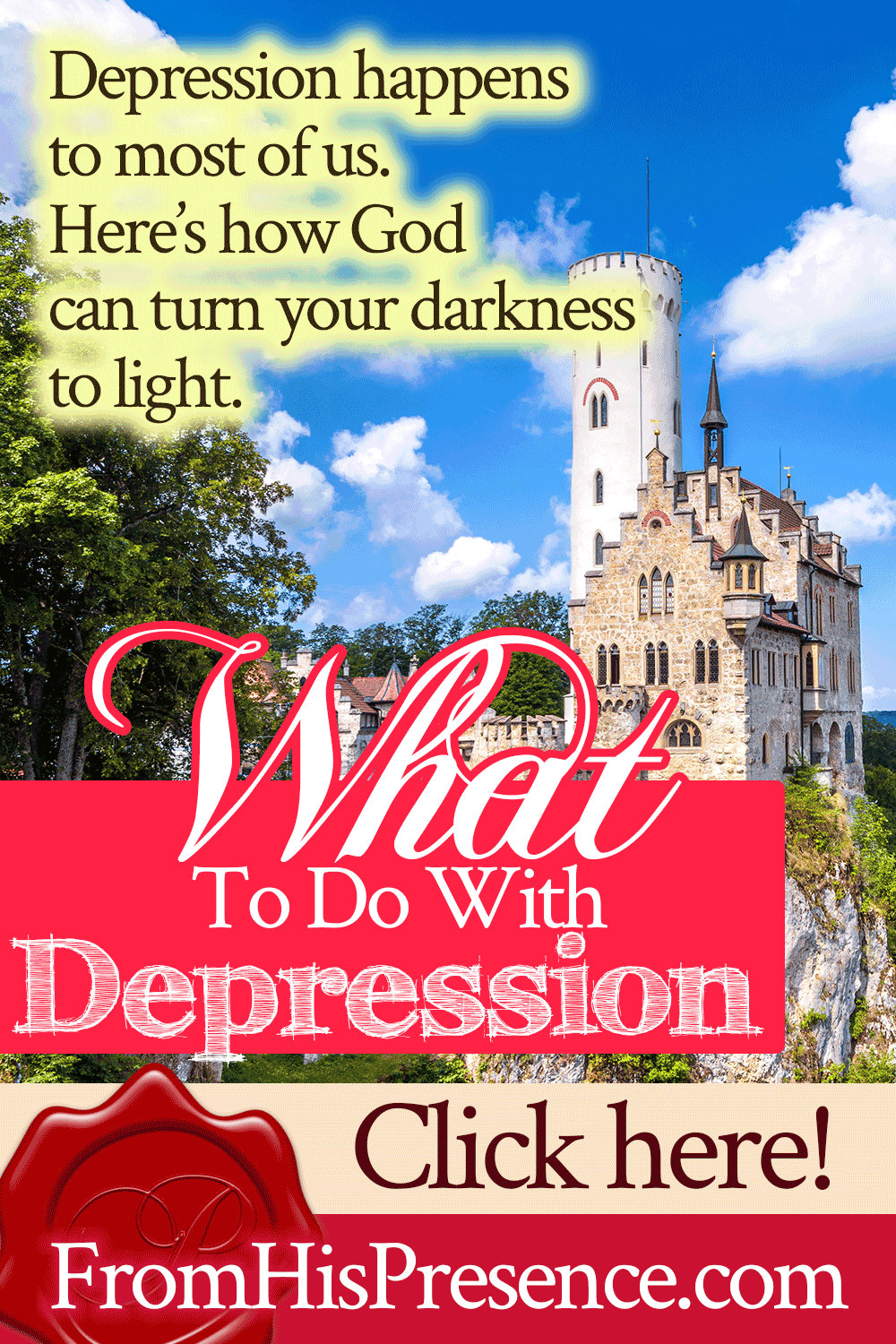 We established in Part 1 that our emotions are only something we have.
Your emotions are something you have; they are not who you are. Who you are is your spirit. This is important because it allows us to see that our lives are not dictated by our emotions.
So if your life is not dictated by your emotions–yet your emotions are giving you a lot of trouble–then what should you do?
You should walk in the Spirit.
You always have a choice to walk in the Spirit, rather than walking according to the dictates of your flesh or of your soul (your mind, will, and emotions).
Friend, trust me: If there's anyone who would love to walk in the flesh right now, it's me. Frankly, the h-e-double-hockey-sticks I've been going through for years has only gotten worse lately.
I have been dealing with such trouble and hardship on every side that my feelings say I despair even of life. I'm not exaggerating; I literally feel like my heart is going to stop beating from the pain, trouble, and despair. And every time for the last seven years that it has seemed like maybe things are getting better, they have gotten worse instead.
But God is merciful, and God is gracious.
We underestimate the power of Christ in us. Oh, I know we know God is in us to operate in the gifts. We know that He will help us pray for the sick or speak in tongues or witness for Jesus. That's all well and good and valid.
But we tend to underestimate the keeping power of God.
The Lord is our Keeper. As it says in Psalm 121:1-8:
"I will lift up my eyes to the hills—from whence comes my help?

My help comes from the Lord, Who made heaven and earth.

He will not allow your foot to be moved; He who keeps you will not slumber. Behold, He who keeps Israel shall neither slumber nor sleep.

The Lord is your keeper; the Lord is your shade at your right hand. The sun shall not strike you by day, nor the moon by night. The Lord shall preserve you from all evil; He shall preserve your soul.

The Lord shall preserve your going out and your coming in from this time forth, and even forevermore" (Psalm 121:1-8 NKJV).
Five times in that Psalm, the Lord tells us about His "keeping" or "preserving" power. His keeping power is real. Just like animals in a zoo have a keeper who tends to all of their needs …
The keeper feeds them;
The keeper arranges their veterinary care;
The keeper trains them;
The keeper pets them and loves them;
The keeper watches over them day and night …
So our God keeps us, but in SO MUCH GREATER measure than a human would ever keep an animal.
Our God is our Keeper. And even in the hardest times, when we despair even of life, His keeping power is FOR us.
So when your trials are so bad that you despair even of life, what do you do?
When you can see no hope and no future, how do you handle it? How do you get back on stable footing? How do you get to a place where you can breathe again?
I'll give you the simple answer, and then we'll break down how to carry out that simple answer in further articles in this series.
Here's the simple answer for what to do with depression:
You have to walk in the Spirit, knowing that man does not live by bread alone–but by every Word that proceeds from the mouth of the Lord.
As it says in Deuteronomy 8:3:
"So He humbled you, allowed you to hunger, and fed you with manna which you did not know nor did your fathers know, that He might make you know that man shall not live by bread alone; but man lives by every word that proceeds from the mouth of the Lord" (Deuteronomy 8:3 NKJV).
When you're in the darkest valley, God's Word keeps you alive.
Frankly, it is only God's Word that keeps you alive all the time–dark valley or not. However, when things are going well and we aren't facing turmoil, we often think that we have strength in our flesh to sustain ourselves. We don't realize how utterly dependent on God we are. Everything is good and we just go about our merry business.
However, when we are going through tests and trials, our weakness becomes clear to us. And it is then that we realize that Jesus is the Vine; we are the branches; and without Him we can do nothing.
As Jesus taught us in John 15:
"I am the true vine, and My Father is the vinedresser. Every branch in Me that does not bear fruit He takes away; and every branch that bears fruit He prunes, that it may bear more fruit. You are already clean because of the word which I have spoken to you. 

Abide in Me, and I in you. As the branch cannot bear fruit of itself, unless it abides in the vine, neither can you, unless you abide in Me.

I am the vine, you are the branches. He who abides in Me, and I in him, bears much fruit; for without Me you can do nothing" (John 15:1-5 NKJV).
Did you get that last part? "For without Me you can do nothing."
We don't always realize how very literal that is until we come upon hard times. But when we suddenly lose all strength and will to go on …
… when we despair even of life …
… when you feel like your heart is going to stop beating because of the pain …
… when you struggle to want to get out of bed every day …
… when you're sick in bed for days on end, whether from physical sickness or from heart-sickness …
… then suddenly it becomes very clear that it is only Jesus, and the keeping power of God, that puts air in your lungs for one more breath.
For one more day of enduring the pain.
For one more time to get up out of bed and be faithful to Him, for He is worthy.
So here's the answer in its simplest form for what to do with depression:
Walk in the Spirit by depending only on the Word of God.
For example:
Friend, all things will work together for good for you if you love God and are called according to His purpose. (And you are.) We know this from Romans 8:28:
"And we know that all things work together for good to those who love God, to those who are the called according to His purpose" (Romans 8:28 NKJV).
It doesn't matter how we feel. It doesn't matter what we see. All that matters is what God's Word says. And when things are darkest, you can get out of bed in the morning and live another day because God's Word says you can.
The power is in the Word, and it's in God. It's not in your circumstances or feelings.
Friend, your problems have a shelf life. Your troubles have an end date. But God's faithfulness has neither a shelf life nor an end date. God's faithfulness is forever.
Look at what it says in Psalm 119:89-93:
"Forever, O Lord, Your word is settled in heaven. Your faithfulness endures to all generations; You established the earth, and it abides.

They continue this day according to Your ordinances, for all are Your servants.

Unless Your law had been my delight, I would then have perished in my affliction. I will never forget Your precepts, for by them You have given me life" (Psalm 119:89-93 NKJV, emphasis mine).
God's Word is forever, and you can get up today and live another day because His Word says you can. His grace is sufficient for you, for His strength is made perfect in your weakness. You can go on because God's Word says so.
I know it's hard. But it's not too hard. All you have to do is throw your weakness on His strength. Throw your inability and inadequacy on His faithfulness. Let Him carry you, and live by the Word of God instead of by your feelings.
I'm not writing from an ivory tower.
I've already been transparent with you and have told you that I am going through some of the hardest times of my life right now. I know what it's like to despair even of life.
But I am writing to you from a Strong Tower.
As it says in Proverbs 18:10:
"The name of the Lord is a strong tower; the righteous run to it and are safe" (Proverbs 18:10 NKJV).
When troubles come, aren't we thankful for "But God!"? Our God is a strong and mighty tower. He is a refuge and stronghold to those who are oppressed. He is Faithful and True. And His Word, which is Himself (see John chapter 1 for more on that), will sustain you.
So what do you do with depression? The only true answer is this:
Get up today and live by faith in the Word of God. It isn't easy, but you can do it. And eventually, if you will walk in the Spirit and live by faith in the Word of God, things will get better.
In Part 3 of this series, we will explore how to proactively MAKE things get better. But until then, please leave a comment below and let us know if this series is helping you!