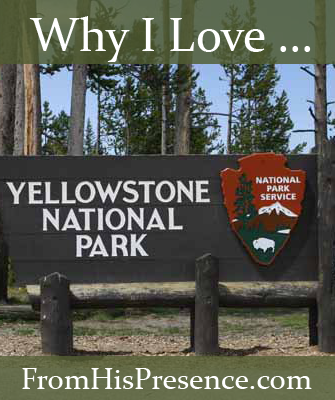 As I started writing about here, in "Why I Love Grand Teton National Park," my husband and I went on a long road trip out West a couple of years ago. We saw the most amazing scenery and wildlife I can imagine. It was an incredible trip.
This summer, in the hopes of inspiring you to check out God's marvelous creation, I'm going to be blogging about some natural places we have seen!
(I will share several photos, but be sure to follow my page on Facebook to see even more pictures, that I don't have room for here.) And next up is…
Yellowstone National Park!
Yellowstone is one of my favorite places on the planet. We were there in June. It had been an exceptionally snowy winter, and there was still snow on the ground (up to 10 feet in some places, and 2 feet in others). That means that the animals were down in the low country (where they could graze, because the high country was still covered in snow). So Yellowstone and all its critters were on full display for us to see!
Yellowstone is wild and free. There's no way to adequately describe it in words, so I am going to show you a number of photos and hope you can catch even a small glimpse of what I'm talking about!
First, the whole park has rivers, waterfalls, and lakes everywhere. This is one of the very first rivers we saw when we came in the southern entrance: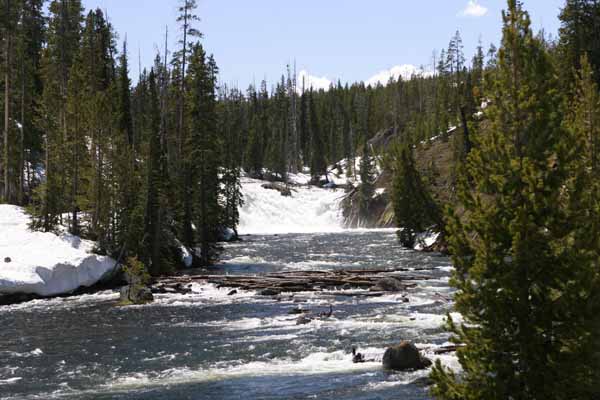 The white wall in the center of the photo is a rushing cascade, not snow. (You can see the snowpack to the left, though.)
We saw some elk right away. However, but it was calving season for the elk, and the roads to where were the large elk herds were were all closed off. But here's one bull elk; you can see his antlers, still in velvet: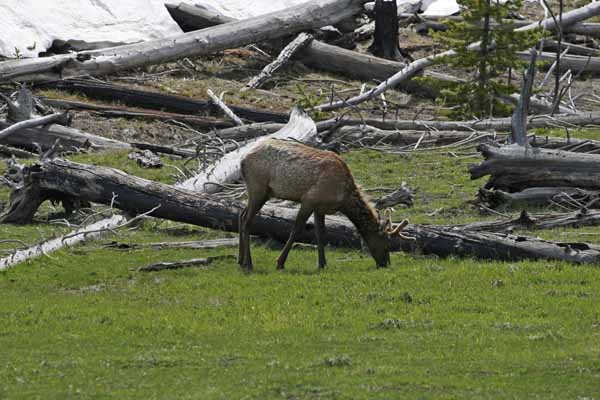 Yellowstone is laid out in districts. The principal districts are Geyser Basin, the Lake area, the Grand Canyon of the Yellowstone, and Mammoth Hot Springs. Our first major stop was Geyser Basin, where Old Faithful and most of the hotels are.
When we pulled into the parking lot, this was our welcoming present: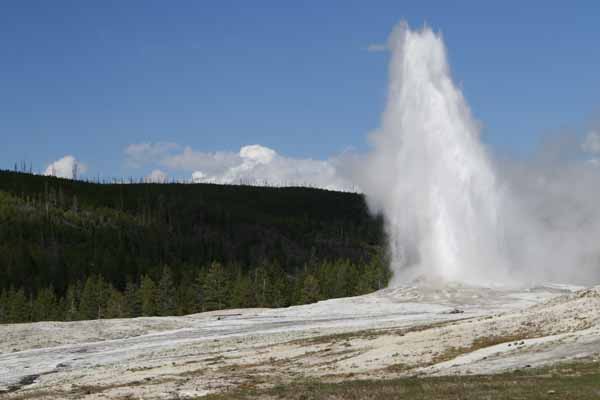 It's Old Faithful!
Just for the record, Old Faithful is not the biggest geyser in Yellowstone. The average height of an Old Faithful eruption is 145 feet according to Wikipedia, but there are bigger geysers. Old Faithful, however, is the most predictable.
Also, the photo above makes it look like Old Faithful is in the middle of nowhere, but it's not. To the right, outside the photo, is a hotel and cafeteria; behind the photographer (Bruce) are two hotels and the visitor's center, and there are nice, wide, sidewalks and even some bleachers all around the area, for people to watch the geyser from. 🙂
We got to see Old Faithful erupt several times while we were there, but it never got old. It's a magnificent spectacle.
The ground is warm in Geyser Basin, so the bison love it. We got to see a lot of them up close… too close: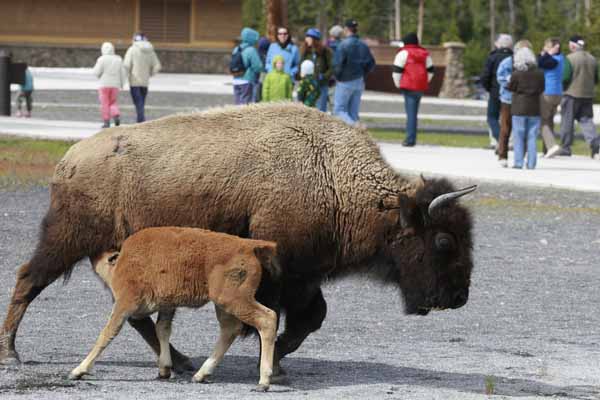 There are rangers everywhere trying to keep tourists from doing stupid things and getting too close, but many tourists didn't seem to care. You would see tourists putting their toddlers right in front of bison to take their photos. (Really, people?) There were warning signs everywhere about staying away from the bison and elk, because they have been known to charge and gore people AND cars. So make a note to self: If you go, use your zoom lens. Don't risk it. 🙂
Geyser Basin has too many geysers, fountains, mud pots, and other geothermal features to describe well, but here are some nice views that will give you the general idea:
Castle Geyser: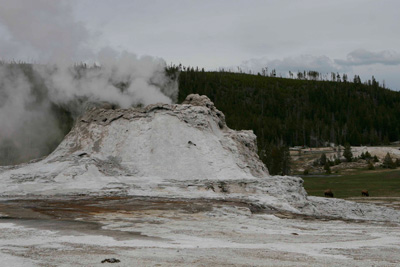 Grotto Geyser: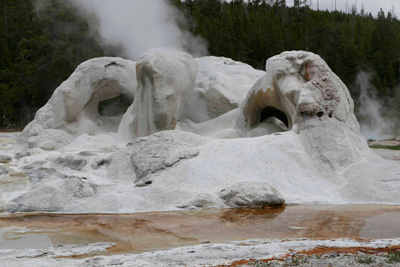 One of many colorful pools: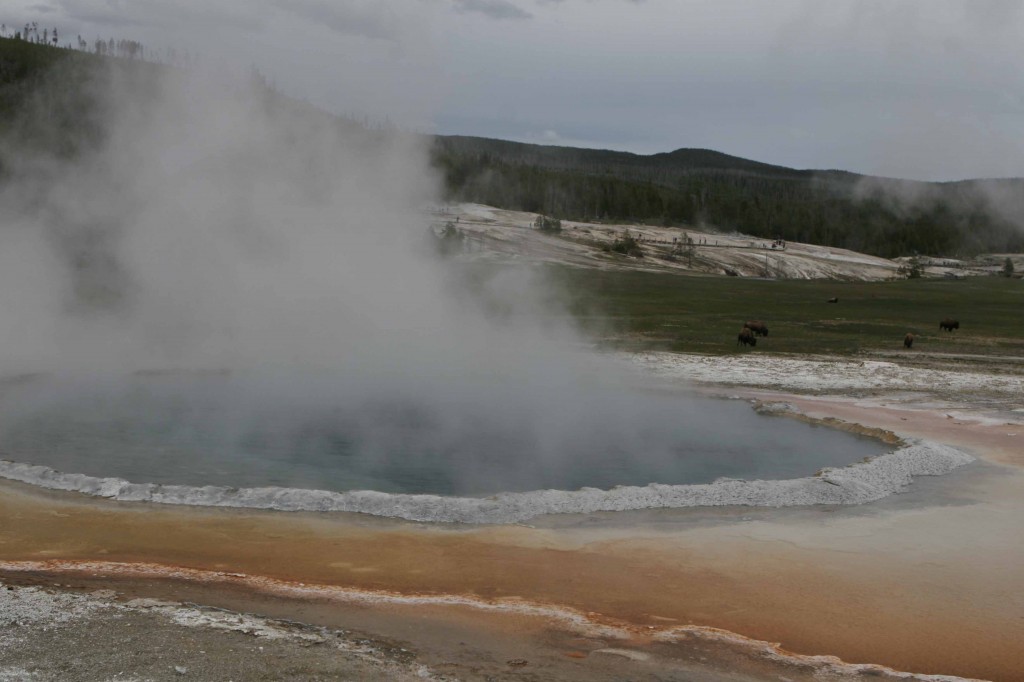 And this was our favorite geyser, the Calypso Geyser: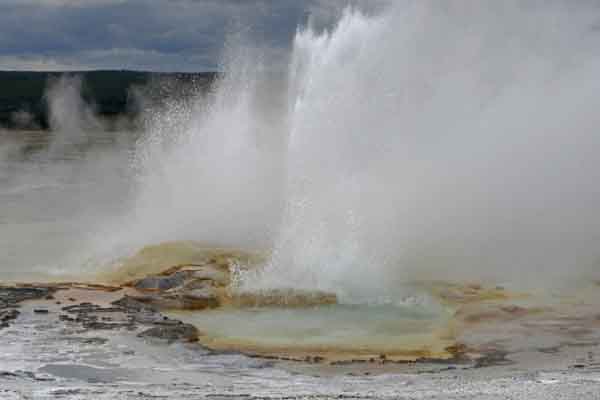 And on and on. Geyser Basin is definitely amazing. It's other-worldly; you almost expect to see dinosaurs wandering around: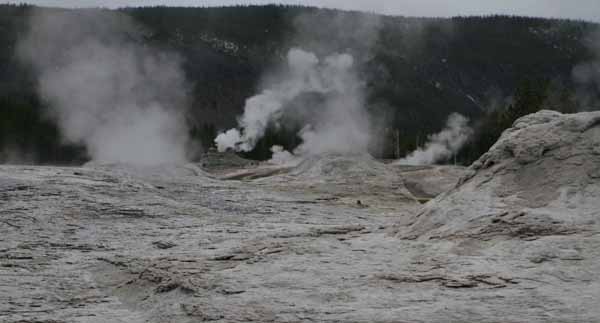 Then there is the Old Faithful Inn, my happy place. Old Faithful Inn is on the National Register of Historic Places, and it's magnificent. Words can't do it justice. If you ever get to go to Yellowstone, stay in the Old Faithful Inn. Nowhere else. It's worth it, even though you'll have to drive to other districts of the park. The Inn is not even the most expensive! It is just amazing. The roof is something like 13 stories high. There's fine dining all day and a classical pianist in the evenings. The whole place is indescribable. Trust me… stay here.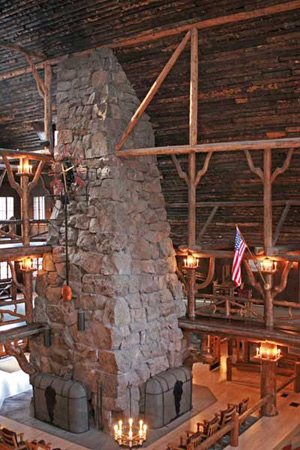 Now let's talk about the critters.
In addition to bison and elk, we saw a grizzly bear (forgive the fuzziness; he came out of nowhere and was moving fast) …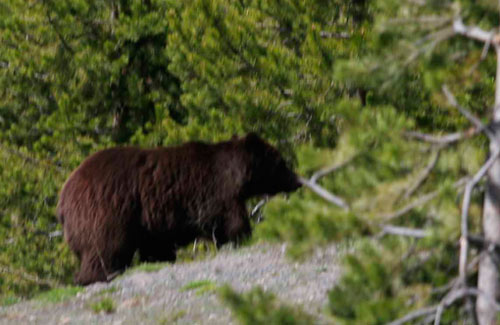 Lots and lots of black bear (and yes, you take a picture every time you see another one):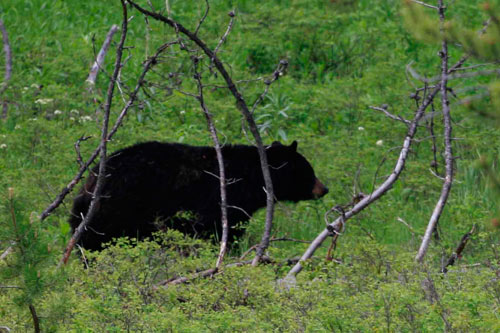 Fox (again, this guy was moving fast, and my husband, Eagle Eye Rohrbaugh, was doing good to get a shot at all, albeit fuzzy):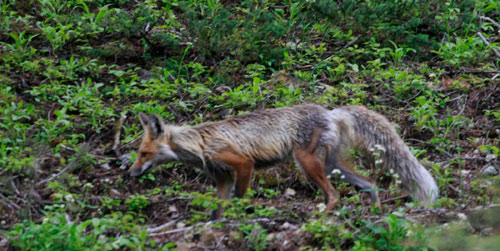 Antelope (in the Lamar Valley; most of the animals were in the Lamar Valley):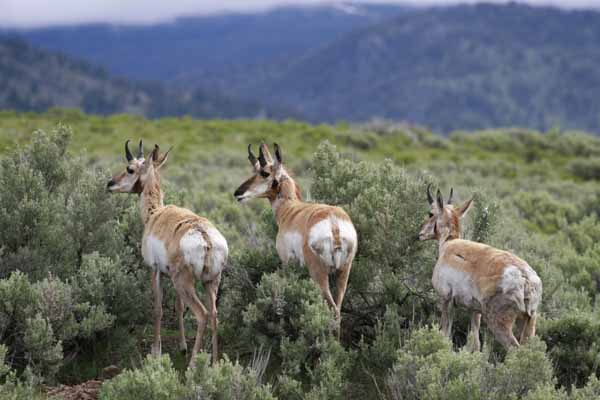 And a badger… (we don't have these in the South):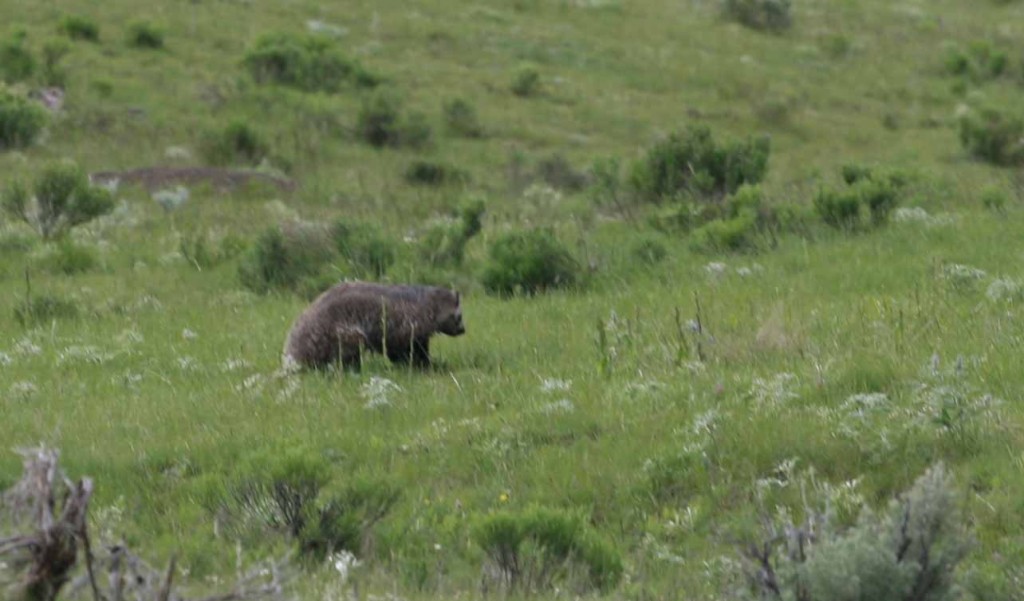 Several yellow-bellied marmots (these guys were rock stars):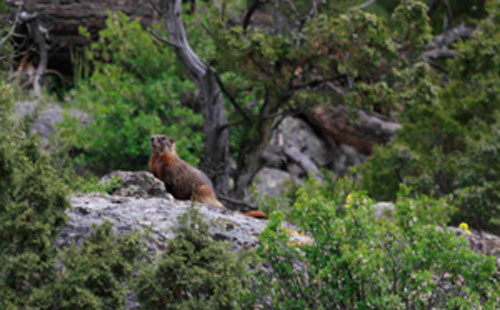 Mountain sheep (go "like" my Facebook page to see even more sheep, including a "how many sheep can you count in this photo" shot):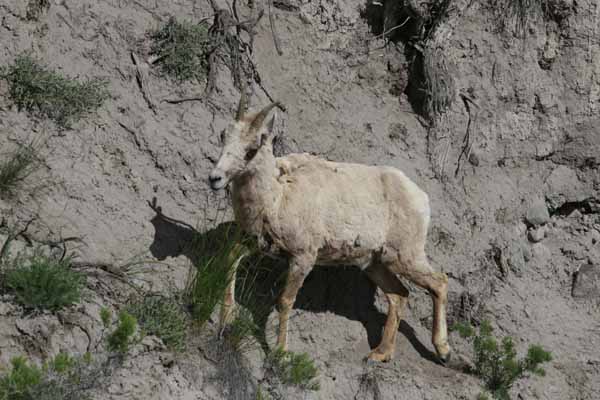 And many more animals.
Then there is the Grand Canyon of the Yellowstone: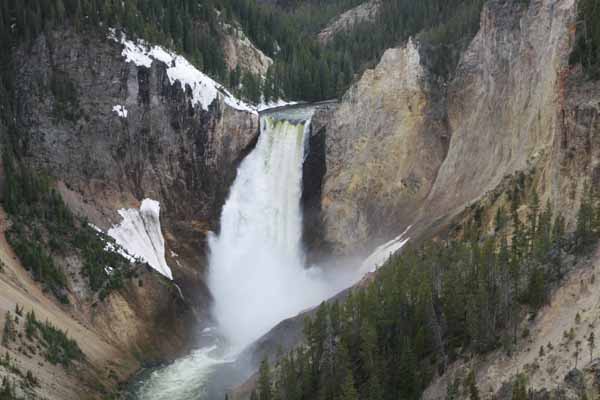 I'll post more photos of the canyon on Facebook. It's absolutely indescribable. Suffice it to say that, when I saw it for the first time, I cried and felt the presence of God. It's that amazing.
And there's Mammoth Hot Springs:
You can see in this photo where it gets the name "Mammoth":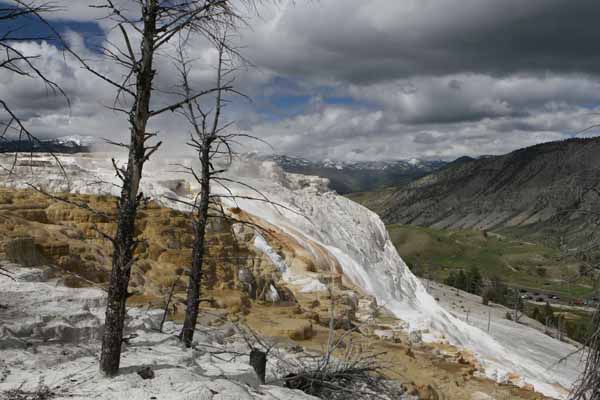 And Yellowstone Lake, which is huge, and is in the caldera of the volcano: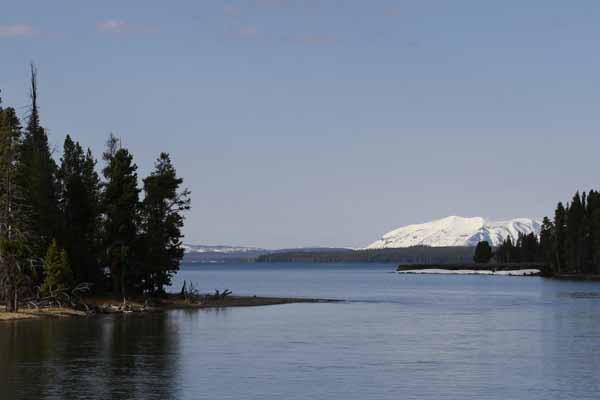 Yellowstone National Park has so much to offer. We saw even more than I could possibly blog about. It wasn't all just sightseeing, either; we even did other things:
We went on a guided boat ride on the lake, and got nature lessons from a Ranger who had been there 25 years;
We went a horseback ride and cowboy cookout, where we watched a bear run across the field while we ate burgers and drank hot chocolate around a campfire;
We ate like kings (the food service at Yellowstone is awesome, at Geyser Basin and Canyons anyway);
and more.
Yellowstone is a long way from most of the American population, but if you love nature, I strongly encourage you to go there anyway. It's worth the sacrifice. Seeing the wonder and majesty of Yellowstone will change your life.
Have you been to Yellowstone? If so, what did you love about it? Or, do you want to go and have questions? Ask away in the comments below!
Related resources: My husband, the travel guru, researched and read travel guides like crazy before we went out West. If you're headed to Yellowstone, he recommends you get this travel guide: Yellowstone Treasures: The Traveler's Companion to the National Park
 (Amazon affiliate link). It's written by a woman whose father worked at the Park, and it's fabulous.