Tattoo Interpretation #7: Crown and Sword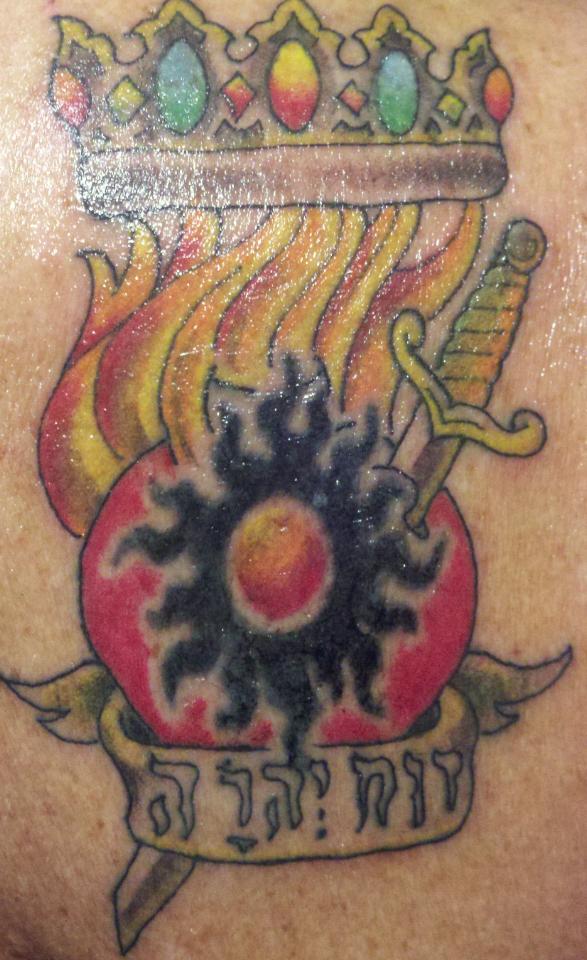 Today's tattoo interpretation is for Miss T, who has a crown and sword tattooed on her back right shoulder.
As usual, this tattoo has a natural meaning to its bearer. However, I want to search out the hidden, supernatural meaning: those things that Papa might be saying to Miss T to encourage her, that she might not have known or thought of when she chose this emblem to represent what was going on in her heart.
First, let's take a look at the colors:
Red represents wisdom, anointing, redemption, prayer, and maturity when used in the positive sense. (In the negative sense, it represents anger or war.)
Orange represents perseverance in the positive sense. (In the negative sense, it represents stubbornness, rebellion, and witchcraft.)
Yellow represents, in the positive sense, renewed mind, hope, and courage. (In the negative sense, it represents intellectual control, fear, and cowardice.)
Black represents hiddenness when used in the positive sense. It can also just represent the actual color of something black in the natural world. (If used in the negative sense, it usually represents soulish issues: messed-up issues in your mind, will, and emotions.)
Purple, in the positive sense, represents authority to rule. It's the color of kings. (In the negative sense, it represents ruling by intimidation or manipulation; illegitimate authority; trying to use domination or control; and dictatorship.)
Green, in the positive sense, represents conscience, character, creativity, prosperity, growth, provision, healing, health, balance, and new beginnings. (In the negative sense, it represents envy and pride.)
Blue represents communion with God and revelation when used in the positive sense. (In the negative sense, blue represents depression, anxiety, and isolation.)
This tattoo is a very positive symbol, so we know the positive meanings of the colors apply here.
Next, let's look at the symbols:
When I first looked at this tattoo, I was instantly struck by the black light pattern around the sun. It screamed "black hole" to me. If you have ever studied astronomy or astrophysics, you know that a black hole is actually a sun that is flaming up and then falling back upon itself. Its matter condenses upon itself and gets very heavy. Because it gets so heavy, it has a tremendous amount of gravity, and it actually pulls its own light back into itself. Nothing can escape its drawing force.
The sun represents the Lord. The color black represents hiddenness. I believe the sun with the black light around it is actually referring to the drawing, wooing of the Holy Spirit. I believe Papa is inviting Miss T to come in closer, deeper, to be fully absorbed by Himself. He is wooing her to a place where her entire vision is taken up by Him; where she is hidden completely in Him. "Keep me as the apple of Your eye; hide me under the shadow of Your wings…" (Psalm 17:8).
The banner at the bottom of the image brings to mind Song of Solomon 2:4: "He brought me to the banqueting house, and his banner over me was love."
Miss T told me that the red circle represents the heart of David to her. The sword through the heart has a number of meanings in the Bible: principally God's Word (Ephesians 6:17; Revelation 19:15).
The sword also reminds me of Luke 2:34-35: "Then Simeon blessed them, and said to Mary His mother, "Behold, this Child is destined for the fall and rising of many in Israel, and for a sign which will be spoken against (yes, a sword will pierce through your own soul also), that the thoughts of many hearts may be revealed."
The flames represent God. (Hebrews 12:29: "For our God is a consuming fire.")
The crown represents authority and kingship.
Here's what I believe the Lord is saying to Miss T in a nutshell:
Miss T, first and foremost, Papa God is affirming to you that He knows you have given Him all authority over your life. You have crowned Him Lord of all you are and of everything you do.

He loves you with an all-consuming love. You are special to Him. He calls you a woman after His own heart.

In this season, Papa is inviting you to come to a hidden place with Him that is deeper and weightier than any hidden place you have experienced before. He is drawing you.

As you come, He will show you things in His Word that will change you forever. New revelation awaits. He is bringing you into greater levels of maturity than ever before.

In this season, you will emanate God's love. You will radiate His Person to every person you come into contact with. People will not be able to see you; you will be hidden. Instead, they will experience the love of Jesus through you.

So come up higher! Go in deeper! Heaven is open to you.
Now it's Ms. T's turn. Ms. T, does this tattoo interpretation mean anything to you? Please leave a comment below (on this post) and share your thoughts. Thanks!
Related: