Understanding God's Symbolic Language: Call for Tattoo Photos!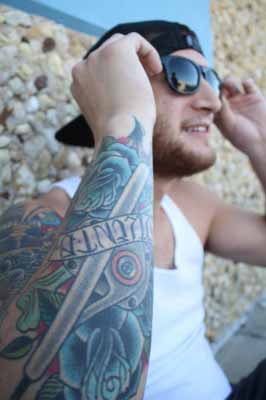 Did you know that God loves to encourage you? He loves to tell you how much He loves you. He loves to help you navigate through the tough choices and tougher times that you face in life.
One of the huge ways that God speaks is through pictures, numbers, symbols, colors, metaphors, and so on. However, in order to hear His encouragement, love, and wisdom, we have to understand His language.
So starting next week, I am going to begin blogging (once a week or so) about how to understand God's symbolic language.
Where will I get the information?
From the parables of Jesus;

From the dreams of the prophets and their interpretations (in Isaiah, Ezekiel, Daniel, etc); and
From the symbols described in the book of Revelation, as well as other books of the Bible.
So don't be afraid; it's all Biblical!
And to make it even more fun, we're going to apply it in a modern way:
We're going to do tattoo interpretations.
Yes, you read that right! It's going to be a blast, too. Here's why:
God loves to encourage you; and
He loves to speak using pictures.
So if you have a tattoo, you've already got a picture or symbol that means a lot to you to start off with.
That means tattoo interpretations are an easy way for us to learn to hear God and understand His language.
All we have to do is study the symbols and ask God for the interpretation.
You will know right away if we heard the Lord correctly, because if the interpretation speaks right to your heart, you'll feel it and love it. 🙂
Then you can let us know if the interpretation was encouraging to you, and we can be encouraged that we're learning!
God is the only One who gives interpretations to dreams and symbols (Daniel 2:28). But fortunately, He loves to speak through His people, and He loves it when we learn to hear Him better.
So here's how this will work:
Your tattoo interpretation will always be encouraging. It will always be positive and will build you up. No bad news or correction allowed here, so don't worry. 🙂
Head on over to my FromHisPresence Facebook page and "Like" it.
Send me your first name and a photo of your tattoo by email at jamie at fromhispresence.com.
I will study the symbols in your tattoo, ask God for the interpretation, and will post the interpretation on Facebook.
I may also use some photos as examples in my posts about the meaning of different symbols.
So by sending me your tattoo photo, you're giving me permission to post it publicly online, along with your first name.
If I get a lot of photos, I may also call in some other folks I know, who already know how to hear God's encouraging words through symbols, to help.
Here are the rules:
This is a family-friendly site, so your photo has to be family-friendly! No photos of your bare private areas, please; they will be deleted and I won't respond to them.

Make sure your photo is in focus and zoomed in to the full tattoo as much as possible. If I can't see it, I can't study it.
It has to be your tattoo. Not someone else's.
But, if you know someone else who would like a tattoo interpretation, please forward them this post or share it on Facebook, and let them post their own photo. They don't have to read this blog to receive a tattoo interpretation.
After you receive your interpretation, please leave a comment telling us if the encouraging word was meaningful to you.
If we get inundated with tattoo photos, it may take awhile for me to get to yours. But don't worry; I'll get there! While you wait, check out the other interpretations you see on Facebook.
Ok? Are you ready? Let's go… God loves you and wants to encourage you! So send me your tattoo photo now, and let's see what He has to say!
Image courtesy of Art By Katie Lane  / FreeDigitalPhotos.net.