I recently posted here about how we need to learn to understand God's symbolic language. I also discussed in that same post about why I will begin teaching God's language of pictures using tattoo interpretation. Today, we will have our second lesson and second tattoo interpretation! (Read the first lesson and tattoo interpretation here.)
Today's tattoo photo comes from Miss T. First, I will tell you the meanings of the symbols in her tattoo. Then, below the list of meanings, I'll give the "in-a-nutshell" interpretation of what the Lord is saying to Miss T through this tattoo right now.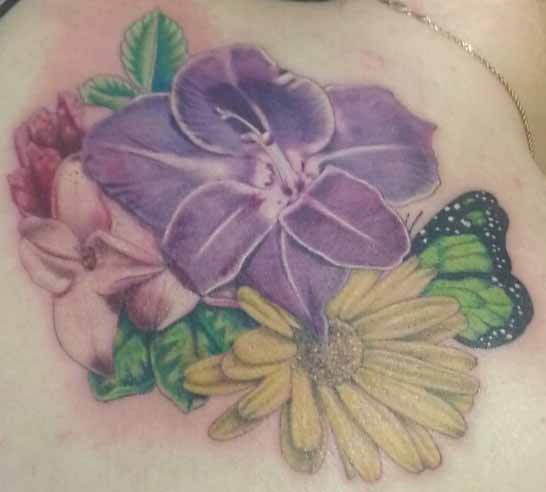 Tattoo #2: Flowers
Here are the symbols, together with their spiritual meanings.
Notice that the colors can have both a positive and negative connotation. Miss T's tattoo is full of positive symbols, so the positive meanings will apply in her case. But, I wanted to list both meanings, so you can see how the colors work.
The color purple, in the positive sense, represents authority and rulership to rule. It's the color of kings. (If used in the negative sense, it represents ruling by intimidation or manipulation, illegitimate authority, trying to use domination or control, or dictatorship.)
Green represents, in the positive sense, conscience, character, creativity, prosperity, growth, provision, healing, health, and balance. (If used in a negative sense, green represents envy and pride.)
White, in the positive sense, represents purity, holiness, and God. (If used in the negative sense, it represents a counterfeit or a religious spirit.)
Yellow, in the positive sense, represents a renewed mind, hope, and courage. (If used in the negative sense, it represents intellectual control, fear, or cowardice.)
Pink, in the positive sense, represents childlikeness and faith. (If used in the negative sense, it represents childishness/selfishness.)
Magenta, in the positive sense, represents holy emotions, passion, and giving. (If used in the negative sense, it represents negative emotions.)
Black, in the positive, can be a holy sense of hiddenness or separation. (If used in the negative sense, it can represent negative emotions.)
Flowers speak of glory and beauty (Song of Solomon chapters 2-6). Of note, these chapters in Song of Solomon mention flowers and gardens over and over … and always in relation to wooing the one's beloved. 🙂 (Read these chapters to find out more.)
Leaves represent healing (Revelation 22:2).
Butterflies represent change or transition. Also, butterflies fly, and flying represents spiritual advancement; viewing things from Heaven's perspective (Revelation 4:1).
So here is the in-an-nutshell interpretation of what God is saying to Miss T through these symbols:
Miss T, Papa God has put many wonderful deposits in you. He is calling you to walk in authority. You are His princess.

You will find the authority you are called to walk in by receiving the love of Papa God Himself. People have tried to dominate you, but their attitudes were not from God because they didn't spring out of the Father's love.

Now you are free, and Papa wants to renew your mind. He wants to give you hope and courage. You will no longer be hurt by lies people have told you in the past.

As you allow Papa to do His work in you, He will bring great healing. He will take you higher in the spiritual realm, and show you how much He loves you. He is wooing you, precious one. You are His bride, and He longs for you.

So embrace childlike faith. Know that Papa God loves you. You are precious in His sight. His heart yearns over you. He sings joyful songs over you, knowing that you and He have a great future together.

Papa wants to give you the new life you desire. As you seek Him, your emotions will change and prosper. You will experience His creative, healing power in your life.

Papa God is going to bring you into His beautiful, glorious purpose for your life.
I love Papa's language, don't you? He is always so beautiful and encouraging. Now it's Miss T's turn to let us know if this resonates with her!
Would you like to know what God is saying to you through your tattoo? If so, send me a photo of your tattoo, and I will teach using your symbol in a future post!
You can email your photo to me at: jamie at fromhispresence dot com.
You'll get an email when new content is posted. You'll also receive my free, printable blessing cards and my ebook–The Presence Seeker's Creed–for free when you confirm!
___________
I would like to thank my friends in the prophetic ministry team at my church for their input on this. I know Miss T personally, so I asked my pastor and the rest of the team to look at these symbols as well. That way, it's an extra safeguard to make sure I really am hearing what God is saying to her. My friends were as excited about God's message through this tattoo as I am! It's a privilege to have such great help and support. Love you all!