Tattoo Interpretation #6: Phoenix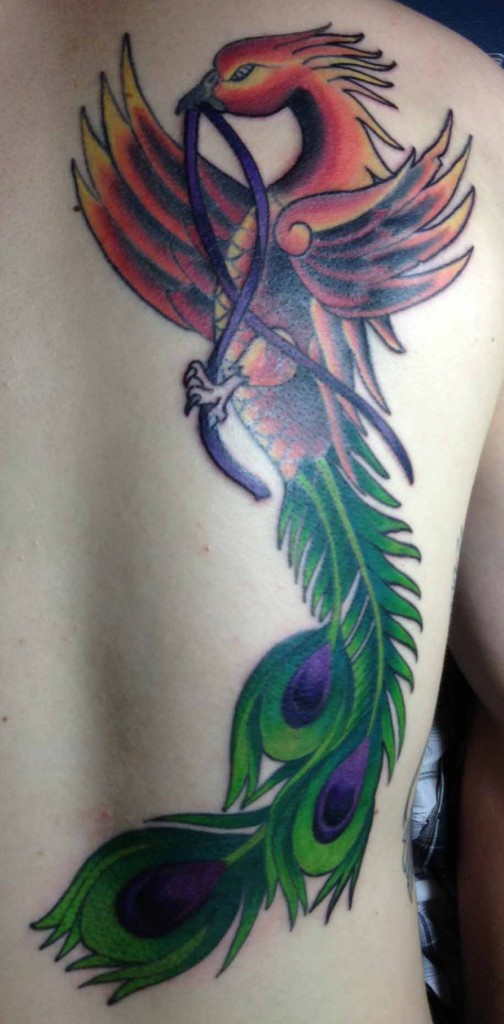 Today's tattoo interpretation is for Mr. D, who has a phoenix tattooed on his back.
This tattoo is full of symbolism.
First, let's look at the colors:
Red represents wisdom, anointing, redemption, prayer, and maturity when used in the positive sense. (In the negative sense, it represents anger or war.)
Orange represents perseverance in the positive sense. (In the negative sense, it represents stubbornness, rebellion, and witchcraft.)
Yellow represents, in the positive sense, renewed mind, hope, and courage. (In the negative sense, it represents intellectual control, fear, and cowardice.)
Black represents hiddenness when used in the positive sense. It can also just represent the actual color of something black in the natural world. (If used in the negative sense, it usually represents soulish issues: messed-up issues in your mind, will, and emotions.)
Purple, in the positive sense, represents authority to rule. It's the color of kings. (In the negative sense, it represents ruling by intimidation or manipulation; illegitimate authority; trying to use domination or control; and dictatorship.)
Green, in the positive sense, represents conscience, character, creativity, prosperity, growth, provision, healing, health, balance, and new beginnings. (In the negative sense, it represents envy and pride.)
Blue represents communion with God and revelation when used in the positive sense. (In the negative sense, blue represents depression, anxiety, and isolation.)
This tattoo is a very positive symbol, so we know the positive meanings of the colors apply here.
Next, let's look at the symbols:
The phoenix  is a mythical bird that typically is used to represent resurrection. According to Wikipedia, "In Greek mythology, a phoenix … is a long-lived bird that is cyclically regenerated or reborn. Associated with the sun, a phoenix obtains new life by arising from the ashes of its predecessor. The phoenix was subsequently adopted as a symbol in Early Christianity."

The phoenix is not actually in the Bible, but the principle of resurrection sure is! Here are two of the verses that come to mind about resurrection in the Bible (and the first one is a bit long, but it's really important, so I'm putting it in anyway!):
Isaiah 61:1-4: "The Spirit of the Lord God is upon Me, because the Lord has anointed Me to preach good tidings to the poor; He has sent Me to heal the brokenhearted, to proclaim liberty to the captives, and the opening of the prison to those who are bound; to proclaim the acceptable year of the Lord, and the day of vengeance of our God; to comfort all who mourn, to console those who mourn in Zion, to give them beauty for ashes, the oil of joy for mourning, the garment of praise for the spirit of heaviness; that they may be called trees of righteousness, the planting of the Lord, that He may be glorified." And they shall rebuild the old ruins, they shall raise up the former desolations, and they shall repair the ruined cities, the desolations of many generations."
First Thessalonians 4:16-18: "For the Lord Himself will descend from heaven with a shout, with the voice of an archangel, and with the trumpet of God. And the dead in Christ will rise first. Then we who are alive and remain shall be caught up together with them in the clouds to meet the Lord in the air. And thus we shall always be with the Lord. Therefore comfort one another with these words."
Feathers are symbolic of God's covering over you. Psalm 91:4 says: "He shall cover you with His feathers, and under His wings you shall take refuge; His truth shall be your shield and buckler."

Peacocks (because the feathers are peacock feathers) are often considered to symbolize the Holy Spirit; partly because of the feathers (see above), the glorious colors in a peacock's plumage, and partly because of the tail fan that forms a covering.
In a nutshell, here is what I believe the Lord is saying to Mr. D through this tattoo:
Mr. D, God has filled you with wisdom and anointing. He has redeemed your life. You have had to remain firm in hope and perseverance, but because of your hidden life–who you are when it's just you and God–He has brought you into maturity. Maturity of character will bring you into God's completed works for you. This means that some things that you have only hoped for will become visible.

God has given you authority to rule. I'm hearing "generational promises" as I write this. I sense God is saying that some promises have been laid up for your family line that your ancestors did not see fulfilled. However, Papa is going to fulfill those generational promises in you.

As you commune with God, let Him remove any ashes from the past that have stuck to you. I caution you not to get into introspection; just let God build a completely new thing for you as you seek Him.

Resurrection is coming. I believe I hear God saying that you might have some dreams that seemed too great, so you let them die. But nothing is impossible with God. No rhema word comes without power to perform it.

Hold on to Abba Father. He will cover you. I'm seeing your feet actually leave golden oil on the carpet as you walk, because of the manifest glory of God you will carry. The places your feet tread will be marked for God because you have been there.
Now it's Mr. D's turn. Mr. D, does this tattoo interpretation mean anything to you? Please leave a comment below (on this post) and share your thoughts. Thanks!
Related: