Understanding God's Symbolic Language: Tattoo Interpretation #5 (Lamb)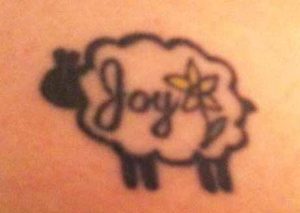 Today is the 5th in my teaching series about how to understand God's symbolic language using tattoo interpretation.
Today's tattoo comes from Miss S. Miss S has a lamb tattoo on her back, on the right, down low on her side. Since the lamb is outlined in black with white in the middle, I had to ask Miss S which kind of lamb she wanted it to be. She said it's meant to be a white lamb, and that it was just easier to outline it in black. So we'll go with that.
Let's look at the symbols and colors:
Flowers speak of glory and beauty (Song of Solomon chapters 2-6). Of note, these chapters in Song of Solomon mention flowers and gardens over and over … and always in relation to wooing the one's beloved. 

 (Read these chapters to find out more.)
The flower in this tattoo is yellow. Yellow represents, in the positive sense, renewed mind, hope, and courage. (If used in the negative sense, it represents intellectual control, fear, or cowardice.) We know the flower is a positive symbol, so the positive meanings apply here.
The number five (5 petals on the flower) represents grace.
Red represents maturity.
Green represents, in the positive sense, conscience, character, creativity, prosperity, growth, provision, healing, health, and balance. (If used in a negative sense, green represents envy and pride.)
White, in the positive sense, represents purity, holiness, and God. (If used in the negative sense, it represents a counterfeit or a religious spirit.)
Sheep, in the Bible, are always used to represent God's children. A great example of this is found in John 10:14, which says: "I am the good shepherd; and I know My sheep, and am known by My own." That's just one example. There are probably hundreds of Scriptures that use sheep as a metaphor for God's children.
A baby of anything represents youth or innocence. So a baby sheep–a lamb–represents one of God's children with an innocent, childlike heart.
Finally, the fact that this tattoo is on Miss S's lower side/back also strikes me as significant, because it's located over her kidneys. Did you know that, in the Bible, the words that have been translated "heart" in English are actually the literal word for "kidneys"? The Hebrews referred to the kidneys as the seat of human personality or emotion. So the location of this tattoo would also indicate to me that it's related to Miss S's emotions and personality–what we call her "heart" in English.
So here's what I believe Papa may be saying to Miss S through the symbols in her tattoo:
Miss S, I feel like Papa is saying that He knows you intimately; He recognizes that you have a sweet, innocent heart. He knows the fullness of your emotions, and your heart is pure.

Papa God is drawing you into His glory. He is wooing you into wonderful places in His kingdom that you haven't gotten to explore yet.

You will have joy along the journey. He is going to renew your mind, so that new courage and hope will spring up. He has already planted the maturity in you that you will need along the way. He has sown wonderful seeds into you that are going to bloom and yield fruit; it will be a new beginning. You only see the sprout of it now, but the full revelation is coming.

And while all this is happening, He will give you great grace. He will never leave you or forsake you; He will be with you the whole time.
Miss S, does that resonate with you? Please leave a comment below and share your thoughts. Thanks!
Related: