Confessions of an Unlikely Worship Leader: When Leading is Hard and Worship is Dry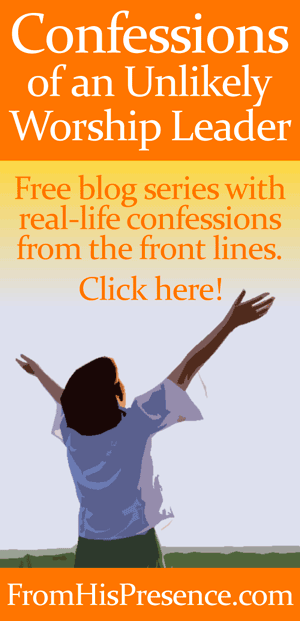 I have a confession to make. (Good thing, Jamie, because this blog series is all about confessions. Yes, I know. Move on.) 😉
The last few times I've led worship, I've felt so dry. It's been hard, and I haven't really felt the Presence of the Lord much at all.
The dryness might have just been a period of hiddenness, but I actually think the problem goes deeper.
I think I haven't been worshipping enough at home.
I do worship at home. I promise. I have quiet time alone with the Lord every morning, and I use that time to pray, study the Word, and generally commune with the Lord. I worship and adore Him as I pray and soak in His presence.
But it has been a long time since I sat down at my keyboard, just me and the Lord, and worshipped.
There is a good reason: I've been taking my keyboard to church a lot, and it's a hassle to load and unload it, to set it up and take it down. So I've been leaving it down.
That's one reason. But it's not a very good reason. Really, I've just been so busy that it's been all I could do to pray and read the Word, let alone sit down and worship through music.
That, my friend, is my sad confession.
It's not really about the piano. The problem is the state of my heart.
I have been too busy to worship. I have not valued worship; I have not valued singing and playing to the Love of my life.
I have felt like taking time to worship the Lord through my music has somehow been of secondary importance.
My heart breaks as I admit that to myself. I never meant to let my worship stagnate like that. However, it's no wonder I have felt dry in leading worship. I can't lead other people in something that I am not practicing myself. Sunday mornings aren't enough.
So I remedied this problem this morning. I sat down and just began to play to Him. I didn't feel very anointed to sing at first; it was all I could do to play. So I played – G2 then F2 chords, over and over – and just told Him how much I love Him. I thanked the Holy Spirit for being right there with me. I thanked Him for never leaving me, and for being my best Friend.
As I played, my heart began to change. I began to feel that passion again; I began to feel the heat of His gaze, and His fire kindled in my heart once again.
I soon forgot about trying to come up with chords and keys and lyrics, and just began to pour out my heart to Him as I played. Tears ran down my cheeks, and the words began to come:
"Like oil upon Your feet / like wine for You to drink / like water from my heart / I'll pour my love on You / If praise is like perfume / I'll lavish mine on You / 'till every drop is gone / I'll pour my love on You."
As I worshipped my Lord, I could feel Holy Spirit washing over me like refreshing water. He watered my heart, mind, and spirit. I continued worshipping for a long time, and when I stopped, I felt like a whole new person.
What's the takeaway?
I might be proficient at playing the songs, but you won't feel a thing when I'm leading you in worship unless I soak myself in His presence through worship at home.
Likewise, you might be proficient at singing the songs, but you won't feel a thing when you try to worship at church unless you soak yourself in His presence through worship at home.
Our public life can only be the outflow of our private life. That's true in every aspect of life, but nowhere is it more important than in our worship.
I have repented to the Father for ignoring Him by not worshipping. I will make a priority of sitting down at the piano, alone with Him, and worshipping from now on.
What about you? Have you allowed your private worship to become dry or nonexistent? If so, wouldn't you join with me today and change that?
Our Jesus deserves all the worship.