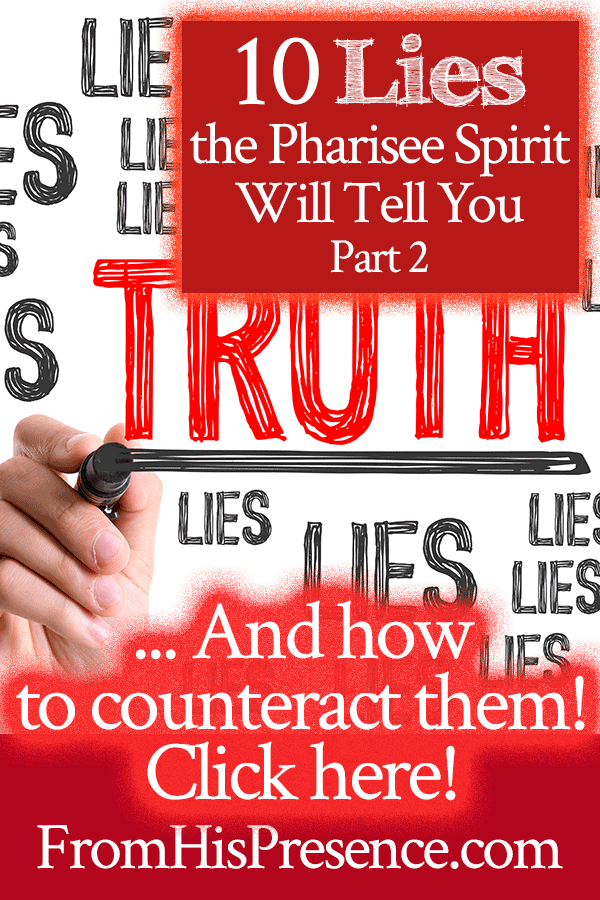 Welcome back to our series on 10 Lies the Pharisee Spirit Will Tell You! This is a study that dismantles the lies the enemy sends against you when he launches a psychological operation ("psyop" in military terminology) against your mind.
As I stated in Part 1 of this series, here, I believe that the Pharisee spirit and the Jezebel spirit are two words for the same thing.
The reason I believe that is that a Jezebel spirit is the demonic principality that tries to counteract God's Holy Spirit. Well, in the Bible, the Pharisees definitely tried to do that! They operated in outright rebellion against God's Spirit at all times.
However, whether you believe the Pharisee spirit and the Jezebel spirit are one and the same or two different spirits, it's doesn't really matter too much. It's a matter of terminology. Any spirit that's not from the Lord is demonic, no matter what you label it; and so we just need to cast it out, reject it, cast it down, and let JESUS be lifted high in our lives!
Right? Right! 🙂
So in Part 1 of this series, we looked at the first four lies the Pharisee spirit will tell you.
They were:
Lie #1: "You can't be trusted."
Lie #2: "You don't know yourself."
Lie #3: The Pharisee spirit will infer that you're mentally unstable.
Lie #4: "What you're saying doesn't apply to us."
In today's post, we're going to study 3 additional lies.
The next lie the Pharisee spirit will tell you when the Pharisee attacks you is:
Lie #5: "My pedigree justifies me [or justifies my accusations]."
We see this in John 8:39-41, in which Jesus and the Pharisees are having a conversation. Jesus starts it out by saying:
"I know that you are Abraham's descendants, but you seek to kill Me, because My word has no place in you. I speak what I have seen with My Father, and you do what you have seen with your father."

They answered and said to Him, "Abraham is our father."

Jesus said to them, "If you were Abraham's children, you would do the works of Abraham. But now you seek to kill Me, a Man who has told you the truth which I heard from God. Abraham did not do this. You do the deeds of your father."

Then they said to Him, "We were not born of fornication; we have one Father—God."
In this whole chapter, the Pharisees are attacking Jesus big-time.
But you know what? Jesus skillfully parries every thrust of the enemy's lies. He absolutely obliterates the enemy's attacks. (There is a reason that the first soldiers sent to arrest Jesus left without doing so, shaking their heads and saying, "No man ever spoke like this Man!") 🙂
Well, what's the lie in this passage? Very simple.
In this passage, Jesus has been telling the Pharisees, "You are not following God!" He's saying it strongly and emphatically. He's not withholding any punches; He's very blunt about how their actions fail to line up with God's Word.
You know what their response is?
They choose to focus on a tiny little part of what He said and argue about that. They said, "Abraham is our father." They didn't listen to the fact that Jesus clearly pointed out how their actions don't line up with God's Word. Instead, they simply grab onto one thing to argue about and use that argument as their defense.
"Abraham is our father." And when you hear it, you can just hear their attitude coming through loud and clear: "Abraham is our father, so we are automatically in the right."
Even though … they weren't … because their actions didn't align with God's Word.
Please be sure to read Part 1 and Part 3 of this series if you haven't already! They are vitally important!
Also related: Listen to my short podcast about 3 Ways Ungodly Naysayers Manifest (and What to Do About Them) using the player below. It will encourage you!

In modern lingo, the Pharisees' defense could also sound like:
"I'm the pastor here."
"If you sat where I sit …"
"My family and I have been in the ministry for a long time."
But you know what? It doesn't matter what your bloodline is. It doesn't matter what your pedigree is. It doesn't matter where your degree comes from. It doesn't matter if you even have a degree. It doesn't matter what your job title is or what your parents, grandparents, or fiftieth cousins twice removed did before you.
What matters is whether or not what you do lines up with God's Word.
And that's ALL that matters.
Pharisees, however, will try to intimidate you by assuring you that their pedigree, experience, title, corner office, etc. all give them the upper hand over you. They will use these things as a defense to avoid confronting the real issue, which is always "Does every part of this situation line up with God's Word?"
It's a psyop. A demonic psyop.
The enemy wants to convince you that you should back down when confronted with position or pedigree. But, don't do it. Don't ever do it. Submit to godly authority, yes. Of course. Every time.
But when the "authority figure" turns out to be ungodly (and we wouldn't be having this conversation about Pharisaical lies if the authority figure were godly and operating by Holy Spirit), DO NOT SUBMIT.
Never submit to anything that doesn't align with God's Word.
It doesn't matter how much enemy pressure is launched against you. YOU cling to God's Word, no matter what! And if you're "under" an authority that doesn't match God's Word, GET OUT and find a place that believes and practices THE BIBLE!
Isaiah 8:20 says:
"To the law and to the testimony! If they do not speak according to this word, it is because there is no light in them."
And that's the standard we need to live by, friends. Pedigree does not equal truth. Neither does position. Only God's Word equals truth.
Lie #6 comes from the same Bible passage. This next lie is:
Lie #6: "We are higher than you."
This lie is very similar to lie #5, but it's different enough that we need to address it here.
Sometimes a Pharisee will tell you that their pedigree makes them right–who they're related to, the length of time in ministry, their degrees, etc–and other times they will tell you that their position makes them right. I discussed most of these under the topic of lie #5, but just be aware that a Pharisee spirit could spin it either way–pedigree OR position.
Either way, if someone tells you they're right and you're wrong because of who they are, BEWARE.
Again, it's only the Word of God that makes anything right or wrong. Why? Because God's Word is breathed out by God Himself; it's a manifestation of who He is; and God's nature is the absolute standard that makes anything right versus wrong or sinful versus holy.
That being said, let's look at lie #7.
Lie #7: "You're from the wrong bloodline. You're our enemy."
The next passage where these lies are evident is John 8:42-48:
Jesus said to them, "If God were your Father, you would love Me, for I proceeded forth and came from God; nor have I come of Myself, but He sent Me. Why do you not understand My speech? Because you are not able to listen to My word.

You are of your father the devil, and the desires of your father you want to do. He was a murderer from the beginning, and does not stand in the truth, because there is no truth in him. When he speaks a lie, he speaks from his own resources, for he is a liar and the father of it.

But because I tell the truth, you do not believe Me. Which of you convicts Me of sin? And if I tell the truth, why do you not believe Me? He who is of God hears God's words; therefore you do not hear, because you are not of God.

Then the Jews answered and said to Him, "Do we not say rightly that You are a Samaritan and have a demon?" (John 8:42-48).
Why did the Pharisees hate the Samaritans?
Well, it's like this: The Samaritans were actually descended from Jewish blood too. However, they emerged as a people group when most of Israel was taken captive by the Assyrian king, hundreds of years before. The Jews who were left behind in Israel intermarried with the Assyrians, thus producing a race of people who were half-Jewish, half-Gentile.
So it was a real insult for the Pharisees to call Jesus a Samaritan.
They were saying that Jesus was from a different bloodline. This wasn't even true; He was actually descended from the Jews and Jewish kings, all the way back to David and Abraham; He could have been the rightful, political King of Israel if He had wanted to be. But by saying He was a Samaritan, they were also opening the door they needed to infer that He wasn't pure.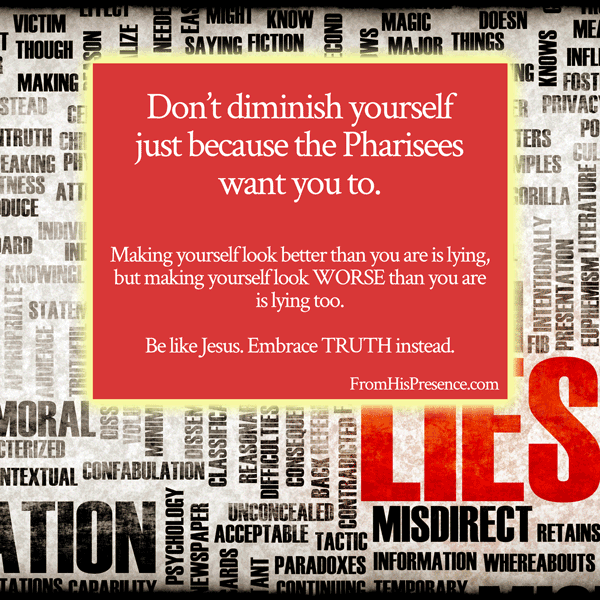 We see this type of thing all the time in the modern church.
It looks and sounds like:
"That person isn't from our denomination, so they're in error."
"That person doesn't drink our Kool-Aid, so they're in error."
"That person left the church, so you shouldn't talk to them." (Pharisees will say this even when the person being discussed didn't sin or walk away from God; they just went to another church.)
Pharisees will tell you that anything that is not under "their bloodline" or "their standards"–which really means "their control"–is not of God.
Oh, yeah. Happens a lot.
But you know what? Don't listen. It's a psyop.
The enemy uses this lie to try and psych you out/trick you, so he can bring you under his control.
Even more, the enemy wants you to experience the rejection that is embedded in the whole "You're not one of us / They're not one of us" lie. If you see the rejection in this lie and don't realize it's a lie/trick/psyop, then you'll immediately respond in fear and be willing to reject a person too–just so the Pharisee doesn't reject YOU.
Youch. That's why it's sooooo important to compare everything with the Word, folks.
When that happens, remember Isaiah 8:20. Also, just as much, remember what Jesus said in Matthew 7:15-20:
"Beware of false prophets, who come to you in sheep's clothing, but inwardly they are ravenous wolves. You will know them by their fruits.

Do men gather grapes from thornbushes or figs from thistles? Even so, every good tree bears good fruit, but a bad tree bears bad fruit. A good tree cannot bear bad fruit, nor can a bad tree bear good fruit.

Every tree that does not bear good fruit is cut down and thrown into the fire. Therefore by their fruits you will know them" (Matthew 7:15-20).
You can tell whether or not someone is operating under Holy Spirit or a demonic spirit by their fruit.
Nuff said.
Well, that about covers Lies 5, 6, and 7. In the next post in this series, we'll address lies 8 through 10.
In the meantime, does this post help you see through some of the lies the Pharisee spirit has been sending against you? Are you ready to defeat the psyop of the enemy by the blood of Jesus Christ and your confession of His Word? If so, leave a comment below!