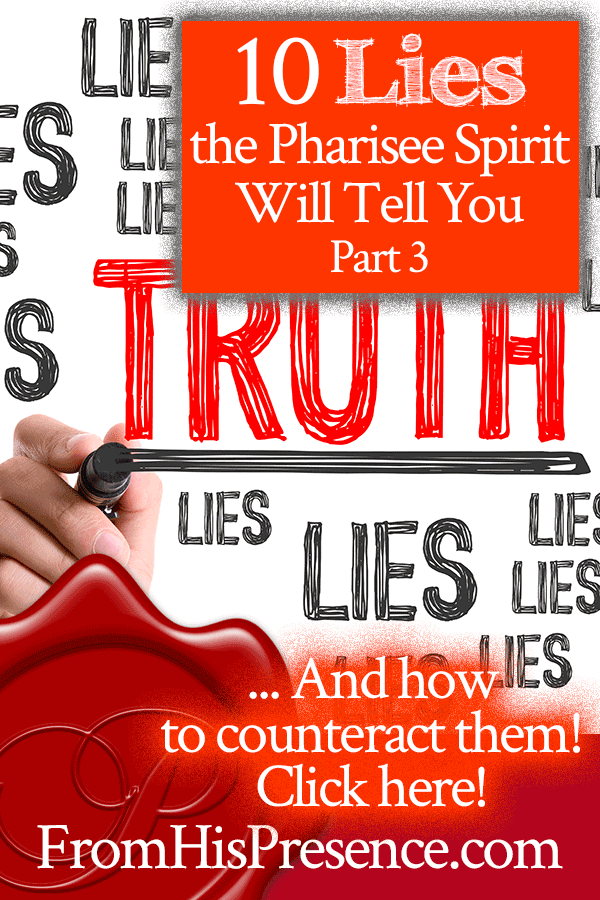 Do you have someone in your life who is accusing you, trying to control you, and cutting you down? If so, the person attacking you might be operating in a Pharisee spirit–and if they are, you need to be aware of the lies the Pharisee spirit will tell you, so you won't fall victim to the devil's tricks.
In Part 1 and Part 2 of this series, we looked at the first seven lies the Pharisee spirit will tell you.
Those 7 lies were:
Lie #1: "You can't be trusted."
Lie #2: "You don't know yourself."
Lie #3: The Pharisee spirit will infer that you're mentally unstable.
Lie #4: "What you're saying doesn't apply to us."
Lie #5: "My pedigree justifies me [or justifies my accusations]."
Lie #6: "We are higher than you."
Lie #7: "You're from the wrong bloodline. You're our enemy."
Please be sure to read Part 1 and Part 2 of this series if you haven't already! They are vitally important!
Also related: Listen to my short podcast about 3 Ways Ungodly Naysayers Manifest (and What to Do About Them) using the player below. It will encourage you!

Today, let's finish by talking about lies 8-10 that the Pharisee spirit will tell you when it's trying to manipulate you, control you, or otherwise mess with your mind.
These Pharisee lies are all based on an experience Jesus had in John chapter 8. In John 8, the Pharisees were attacking Jesus and telling Him all kinds of lies about Himself. They were trying to get HIM to agree with THEIR opinion that He wasn't God after all. They were trying to psych Him out.
Obviously, however, Jesus wasn't playing their game. The enemy unleased a psyop on Him (a psychological operation), but Jesus stuck with TRUTH and was completely able to combat their psyop–defeating them handily.
It is, after all, the TRUTH that makes us free. 🙂
So in case you're dealing with the same psyop that the enemy is unleashing against you today, let's look at those remaining tricks and schemes and falsehoods the enemy likes to get out of his toolbox.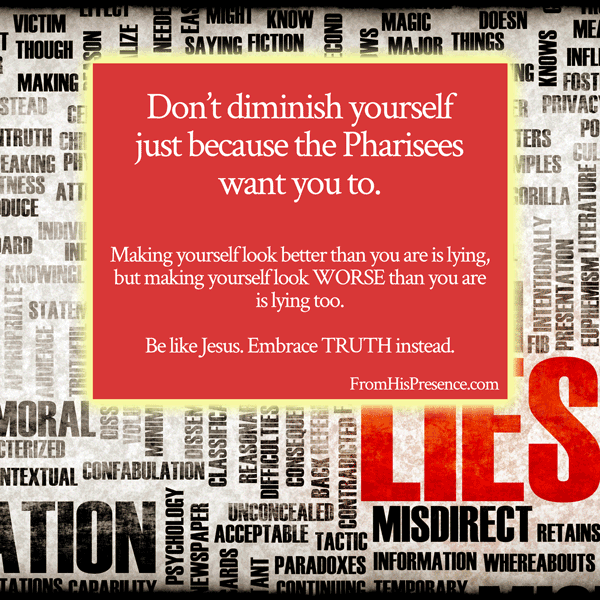 First up is:
Lie #8: "You have a demon."
John 8:48-50 tells us this part of the story:
"Then the Jews answered and said to Him, 'Do we not say rightly that You are a Samaritan and have a demon?'

Jesus answered, 'I do not have a demon; but I honor My Father, and you dishonor Me. And I do not seek My own glory; there is One who seeks and judges'" (John 8:48-50).
The enemy will tell you that you have a demon when you don't. He loves to do that in order to psych you out; it's intimidation. (The Jezebel spirit almost always tries to use intimidation to control God's people; and, as you know from Post 1, I think the Jezebel spirit and the Pharisee spirit are pretty much two fancy names for the same demonic principality.)
Of course, we always want to be on our guard against demonic influence of any kind.
Demons absolutely tempt God's people to sin. We know that demonic influence is not the only cause of sin; the lust of the flesh and the pride of life are also sources of sin.
However, we do need to understand that there is a dark part of the spiritual world–a place where demons do hang out.
Can a Christian be possessed by a demon?
I don't believe a Christian can be owned by a demon, because the Bible says that JESUS owns us. Jesus' ownership begins the moment we surrender our lives to Him, and no one can snatch us out of His hands nor out of His Father's hands (John 10:27-29).
However, it is a fact that demons can sometimes live inside Christians if the Christian has invited that demon in. If there, the demon doesn't own the Christian; it's just a nasty houseguest–a "guest" that is hell-bent on destroying your life. Literally.
So if demons can live in Christians, why is it a psyop for Pharisees to say, "You have a demon"?
Because … think about it. This was Jesus they were talking to. They told God Himself that He, God, has a demon.
Um, no.
Yet, they did say it. They didn't honor who Jesus was:
They didn't honor who He had proved Himself to be–very God of very God.
They didn't honor the prophecies over His life.
They didn't honor who His works proved Him to be.
They didn't honor the words He preached, the fruit of His life, or the miracles He performed.
They simply hated Him for reasons all their own–none of which lined up with the Scriptures.
Keep in mind, they did have the Old Testament then, so they still had Word to live by even though it wasn't the complete Word we have today.
But despite their study of the Scriptures …
And despite the fruit of Jesus' life …
And despite the effectiveness of His ministry …
And despite the way His ministry and words were pointing people to God and to holiness …
The Pharisees hated Jesus because they couldn't control Him, and they still told Him that He had a demon.
They did it because they hated Him, and they wanted to psych Him out. They wanted to back Him into a corner and turn Him into a cowering, submissive slave that they could control–
because they hated that He was a Son.
WHOA.
That'll preach. The Lord just showed me that as I typed this.
The Pharisees hated that Jesus was a Son …
… and the devil hates it that YOU are a son (or daughter) too.
#Word!
The Pharisees did not know God as Father. They knew Him as the Holy One of Israel; the Lord of hosts; God of angel armies. JESUS came to reveal God as Father, and the Pharisees did not. like. it. one. bit.
So how do you counteract this lie if the enemy is telling you the same thing?
Simple. Do the same four things that Jesus did:
Speak the truth, and the truth only.
Hold fast to the truth! Don't let the enemy intimidate you away from it. Don't back down!
Honor God!
Don't go down the rabbit trail with the enemy; keep your focus on the main thing! Stick to the point, even when the enemy tries to distract you.
Those four things are exactly what Jesus did in John 8:48-50. And by doing so, He showed us all how to respond rightly to attacks such as these. Remember, agreeing with someone when they sit there and tell you lies about yourself doesn't make peace. It makes you a liar like they are. So don't give in; cling to the truth!
Next:
Lie 9: The Pharisee spirit will try to use irrelevant statements (both lies and facts) to prove you wrong and confuse the issue.
We see this sprinkled all throughout this conversation between Jesus and the Pharisees in John 8.
For example, they accused Him of being a Samaritan (John 8:48)–even though they knew perfectly well He was from Nazareth and was not from Samaria. Their accusation was a lie, for one; but it also had nothing really to do with the topic of the conversation–Is Jesus God or is He not?–that they were right in the middle of.
I believe the enemy inspires people to do this because he wants to confuse you, and he wants to confuse the situation. If the enemy can get people who are attacking you to belabor points that are totally irrelevant to the situation, then:
He can muddle everything up.
He can get you to take your eyes off Jesus and look at the person who's attacking you.
He can put you on the defensive by suddenly making you feel helpless and lost in the middle of the attack.
That's why you've got to keep your eyes on Jesus and stay focused on TRUTH at all times!
When the enemy tries to throw confusing things at you, don't play! Repeat the same thing over and over if you have to, but do not–DO NOT–I repeat, do not get caught up into the side-road of confusion! YOU stay focused. Keep your eyes on Jesus and speak only the truth. Stay cognizant of what the conversation is about and refuse to get sidetracked.
And finally:
Lie 10: The Pharisee spirit will insinuate that you're making yourself out to be someone that you're not.
In John 8:52-53, the Pharisees attacked Jesus with this diatribe:
"Then the Jews said to Him, 'Now we know that You have a demon! Abraham is dead, and the prophets; and You say, 'If anyone keeps My word he shall never taste death.' Are You greater than our father Abraham, who is dead? And the prophets are dead. Who do you make Yourself out to be?" (John 8:52-53).
The enemy will often tell you that you're NOT who you KNOW you ARE. This goes along with all the other lies we've already talked about. The enemy simply wants to destroy your confidence in your identity.
This type of attack could come in so many different types of situations.
For example, you might tell someone that you're called to a certain thing–only to have them tell you that you're NOT called to that thing at all.
A leader did that to me once when they didn't want me to stop serving them in their particular area of authority. The Lord had called me away from that area to a different area, in order to focus more on what I'm really called to do (prayer, prophecy, equipping, etc). The leader whose sphere I was leaving didn't want me to leave because I was a hard worker.
So, instead of wishing me well and believing in God's call on my life, they tried to argue with me.
They tried to get me to back down and stay. They tried to convince me that I didn't know what I was called to do, even though I had told them exactly what I was called to do. And they threw in a lot of confusing statements to try and get me to doubt what I already knew God had called me to (prayer and prophecy).
Long story short, I blessed him and left anyway, focusing more fully on my calling–and now you and I together are reaching the world for Christ.
"Who do you make yourself out to be?" is an accusation straight from the devil's workshop.
The enemy wants to accuse you of making yourself out to be something you're not. But you know why? He does this because he hates it that you know who you are.
Let me say this again:
The enemy accuses you of making yourself out to be something you're not …
… Because he hates it that YOU KNOW WHO YOU ARE.
Pure and simple.
And because the enemy hates it that you know who you are, and that you believe in God's good plans for your life, he'll attack you and try to make you feel like there's something wrong with knowing who you are. He'll cop an attitude with you like a bully on the playground, saying things that pretty much equate to "What gives you the right to think you're so special?"
But you know what? YOU've got to stick with the truth. And the truth is:
That you ARE special.
That God has good plans for your life: plans to prosper you, and not to harm you; plans to give you HOPE and a future.
That God wants to do for you exceedingly abundantly above and beyond all you could ever DARE to ask, hope, or think. That means that if you can dream it up, your dream isn't big enough yet.
That God wants to prosper you and help you to walk in divine health.
That God's Word commands us to work out our own salvation with fear and trembling.
That you and I are to forget those things that lie behind and press forward toward the THING–the dream or ministry–for which Christ Jesus has personally laid hold of YOU.
I could go on and on with these truths from God's Word, but you need to dig out the truth from God's Word for yourself, as it relates to your own situation.
Suffice it to say this: The enemy hates it when you know who you are, what you're called to do, and even what you're NOT called to do. And you can tell very clearly whose influence a person is operating in when THEY also hate it that you know who you are, who you're not, and what you're called to do.
Selah.
Beloved, there's a reason Jesus told us that we would know the truth, and the TRUTH would make us free.
The enemy wants to lie to you in all kinds of ways, but you can beat his psyops every time if you know the truth. That truth is clearly written in God's Word, and even things that can sometimes seem vague in your life (like what your calling is) are clearly discernible if you'll study God's Word and apply it practically. If you'll do that …
… And if you'll set your face like flint and refuse to give in to the enemy's tactics …
… Keeping your eyes on JESUS, the Author and the Finisher of your faith …
… And holding fast to the word of truth as written in God's Word, the Bible …
Then you will be impervious and immune to the enemy's attacks.
Darts and arrows may fly like rain, but every single one of them will fall off you without hurting you at all. YOU will remain hidden in the secret place of the Most High, hidden under His overshadowing Holy Spirit; and no evil can befall you there.
Does this message about how to defeat the attacks and lies of the Pharisee spirit speak to your heart today? If so, leave a comment below. I'd love to hear about it if this word helps you!