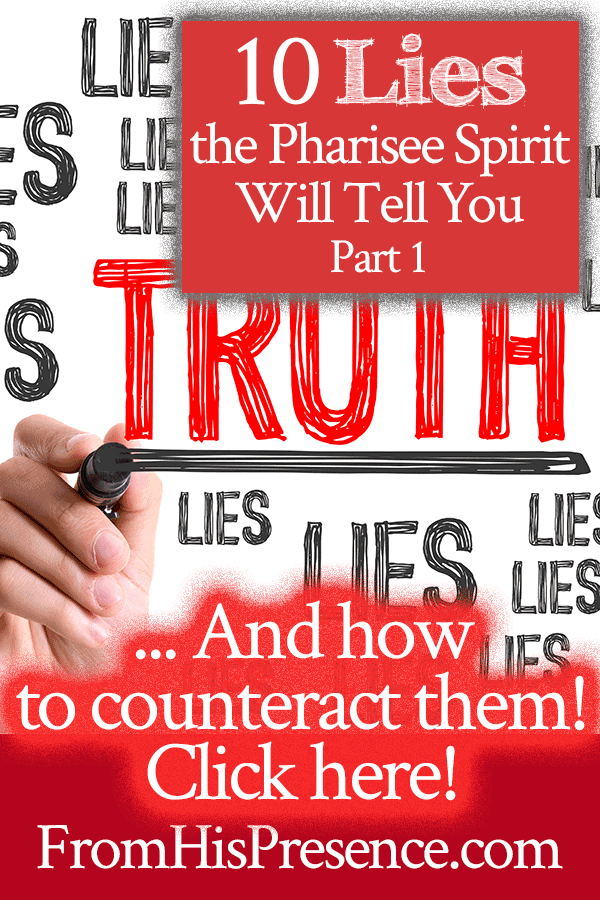 Is the enemy coming against you right now, lying to you and accusing you? Are Pharisees sitting in their seat of judgment against you, self-righteous and accusing you without even knowing you? If so, you're dealing with the Pharisee spirit.
Today, I want to show you from Jesus' example how to handle the lies of the Pharisees.
It's all based on John chapter 8, a chapter which clearly reveals 10 lies the Pharisee spirit will tell you … and how you can beat those lies like Jesus did.
First, what is the Pharisee spirit?
I don't believe that the Pharisees were possessed by a whole new kind of demon that isn't seen elsewhere in the Bible. You could probably call the spirit they operated in a lot of different things:
a religious spirit;
a Jezebel spirit (because the Jezebel spirit is a principality that opposes the work of Holy Spirit, and the Pharisees certainly did that);
the spirit of anti-Christ (since, well, being anti-Christ was their modus operandi); or a number of other things.
Frankly, I believe that the Pharisee spirit is simply another word for a Jezebel spirit–the principality that tries to oppose and annihilate the work of Holy Spirit on the earth. However, it's nothing worth arguing about if you disagree–either way, the spirit is evil.
So, whether you think the Pharisee spirit is its own thing or is a Jezebel spirit, I don't think it's profitable to try to put an extremely specific name on the evil in which the Pharisees walked. So, I'm just going to refer to it as the "Pharisee spirit" for the purposes of this article. However, I do think it's absolutely essential that we examine how the demonic force in which they operated still speaks today.
One of the enemy's biggest ploys is to attack your identity.
If the enemy can derail your understanding of your identity, then it can steal major territory from you and the Lord. So one of the biggest things the Pharisee spirit does is lie to you ABOUT you. In other words:
It will tell you that you are things you're actually not.
It will tell you that you're not things you actually are.
It will try to get you to agree with its lies; and if it succeeds, then it can not only control you, but also steal your destiny.
So we need to recognize when this Pharisee spirit is talking versus when the Holy Spirit of Christ is talking.
You can expose the enemy's tricks by studying how Jesus handled the Pharisee spirit during His time here on earth.
Jesus had plenty of confrontations with the Pharisees. Every time, though, He came out on top–until, finally, the Pharisees stopped arguing with Him.
The Pharisees never bested Him in any conversation. They never would have been able to kill Him on Calvary unless Jesus had willingly laid down His life that day. Jesus was and will always be continually victorious over the Pharisaical religious establishment.
So what did Jesus do to beat the Pharisee spirit?
In John chapter 8, we read 10 lies that the Pharisees told Jesus. They stood there and lied to Jesus ABOUT Jesus–in other words, they told Him things about Himself that weren't true, hoping they could:
trap Him;
get Him to stop believing in His true identity; and
get Him to agree with their lies about who He was.
How did He handle the Pharisees and their lying manipulations?
He came against every lie with great discernment, confessing truth and rejecting each of the 10 different types of lies. And if you're going to beat the Pharisee spirit like Jesus did, you need to be on guard against these 10 types of lies as well. You need to be alert and prepared, so that you'll know how to respond AND WIN whenever you hear the enemy come against you with untruth.
So let's look at the 10 lies the Pharisee spirit will tell you–and how to defeat each one.
Please also be sure to read Part 2 and Part 3 of this series if you haven't already! They are vitally important!
Also related: Listen to my short podcast about 3 Ways Ungodly Naysayers Manifest (and What to Do About Them) using the player below. It will encourage you!

These lies from the demonic Pharisee spirit are found in the conversation between Jesus and the Pharisees in John chapter 8. Note that some Scripture passages contain two lies, so in some cases I'll explain several of these lies together.
In John 8:13-18, we see the Pharisees' first two lies and Jesus response. The Pharisees said:
"The Pharisees therefore said to Him, 'You bear witness of Yourself; Your witness is not true.'

Jesus answered and said to them, 'Even if I bear witness of Myself, My witness is true, for I know where I came from and where I am going; but you do not know where I come from and where I am going.

You judge according to the flesh; I judge no one. And yet if I do judge, My judgment is true; for I am not alone, but I am with the Father who sent Me.

It is also written in your law that the testimony of two men is true. I am One who bears witness of Myself, and the Father who sent Me bears witness of Me.'" (John 8:13-18).
With this passage, the Pharisees begin an attack against Jesus' psyche.
In modern terms, this type of warfare is called a "psyop": a psychological military operation. The Pharisees' psyop is intended to bring Jesus down. And even though their psyop doesn't succeed, they sure give it their all–and the enemy continues attacking people this way today.
The Pharisees' first two lies that they told to Jesus were:
Lie #1: "You can't be trusted."
Lie #2. "You don't know yourself."
The Pharisees wanted to make Jesus question His most basic worldview: that of who He is, how sane He was, and whether He was pure in heart or a liar like them.
However, Jesus didn't fall for it. Jesus responded by saying:
that He did know Himself, and that He knew where He came from and where He was going.
Then, He pointed out that the Pharisees did not know Him at all. They didn't know where He came from OR where He was going! (How can you presume to even say you know anything about someone when you don't know basic information like where they come from?)
Finally, Jesus pointed out that Father God was on His side.
And in the modern day, when someone with a Pharisee spirit attacks you, they will often start their attack the same way.
Demons now operate the same way they did then. If someone is controlled or even under the influence of a Pharisee/Jezebel spirit now, and you get in their way, they will often start attacking you by launching a psyop against you. And the first steps in this evil psyop are to tell you:
That you can't be trusted; and
That you don't know yourself.
When Pharisees accuse you of these things, however, you need to respond the same way Jesus did. What does that look like?
Jesus refused to accept their accusations, so YOU need to refuse the accusations as well. Verbally. (I mean it: say it out loud that those things are not from the Lord, and that you reject them.)
Jesus refused to allow their demonic insinuations (that He couldn't be trusted and didn't know Himself) to enter His mind. So, you need to recognize immediately when accusations like this come that they are from the devil–not from the Lord–and do not allow them to enter your mind. As Bill Johnson often teaches, "You can't afford to have a thought in your head about yourself that Jesus doesn't have about you."
Jesus pointed out that they didn't know Him. When people who don't know us presume to accuse us, Jesus shows us by His own example that it's perfectly appropriate to point out that they don't know us. If the accuser has a pure heart/motive, they should stop right there. If they presume to continue, that's a huge indicator of what you're dealing with.
Respond with the Word. Jesus responded with the truths He got from the Word, for He knew who the Word (the Torah, Law, Prophets, etc) said that He Himself was. (Of course, we know He also had memory of Heaven; but His defense of Himself was completely in line with the Word, and we have access to the same tools He did in that matter.)
When a Pharisee/Jezebel spirit comes against you with a psyop and tells you that you can't be trusted and don't know yourself, follow the steps above to counter those accusations.
The last step is particularly important because you know God is on your side if your actions have lined up with His Word. You can ALWAYS know this, for sure, if you examine yourself in light of the Word. 🙂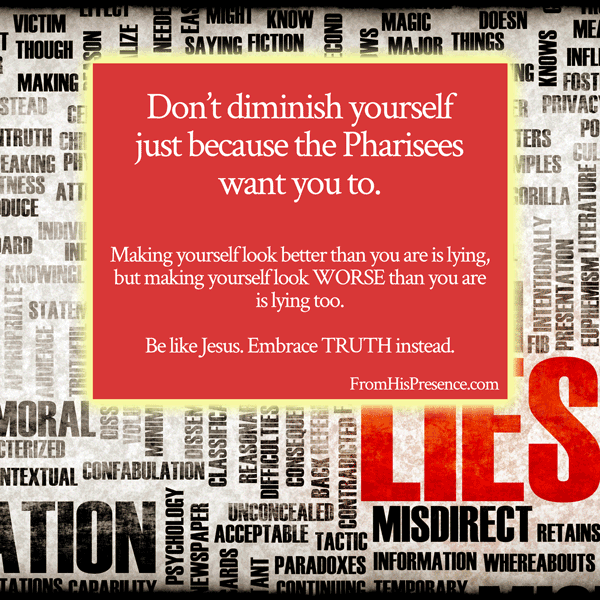 However, the lies may still continue, so let's look at the next lie the Pharisees told Jesus:
3. The Pharisee spirit will infer that you're mentally unstable.
We see the Pharisees attacking Jesus–and His reputation–with this lie in John 8:21-24.
This passage says:
"Then Jesus said to them again, 'I am going away, and you will seek Me, and will die in your sin. Where I go you cannot come.' So the Jews said, "Will He kill Himself, because He says, 'Where I go you cannot come'?"

And He said to them, 'You are from beneath; I am from above. You are of this world; I am not of this world. Therefore I said to you that you will die in your sins; for if you do not believe that I am He, you will die in your sins" (John 8:21-24).
When the Pharisees said, "Will He kill Himself, because He says, 'Where I go you cannot come,'" they were trying to cast doubt on Jesus' mental health.
"Is He crazy?" they were saying. "Is He a lunatic?" Even though they had zero evidence that Jesus had any mental instability at all, they used the accusation of mental illness as part of the psyop against Jesus.
We know from history that Jesus wasn't a lunatic.
Not only did God affirm Jesus by performing signs, wonders, and miracles at His hand, but also everything He said happened. The people at the time who were not demonized knew perfectly well that Jesus was the real thing.
Indeed, the Bible records that even the people who were sent to arrest Him couldn't bring themselves to do it–because they were so impressed by His TRUTH and STRENGTH. They actually refused to obey their orders and went back to the Pharisees empty-handed, saying, "No man ever spoke like this man" (John 7:45-49).
No, Jesus wasn't crazy. But, the Pharisees wanted Him to think He was–and they wanted to sow seeds of doubt about His mental health into everyone who was listening to the conversation.
People operating in the Pharisee spirit will often tell you, WITHOUT ANY EVIDENCE (and that's key), that you need mental help.
They will tell you that you're unstable; that you need inner healing; that you need deliverance.
As with any feedback, if someone tells you something like this, examine it.
It's always possible that we need inner healing; people are like onions. Holy Spirit is always working on the next layer, making us more and more like Jesus!
Years ago, someone said something to me about my emotions. I was up and down a lot at that time, and they pointed out how wildly my emotions fluctuated.
You know what? Their statement hurt.
It hurt really bad. And that person didn't like me, was attacking me, and was definitely not my friend.
BUT …
They were right.
They were right, and I knew it. I took that accusation to the Lord, and I asked Him to help me.
I began praying every day for the Lord to help me stabilize my emotions. The Lord and I began working on it together, and we started making progress. However, it took years and a major furnace of affliction to burn that instability off of me.
Now, even when I am going through a hard time, I'm pretty stable. I may get frustrated sometimes or even a bit discouraged, but those symptoms of difficulty are nothing like the wild emotional instability I used to experience every single day. And honestly, I might not ever have realized back then that I needed to work on that unless someone had pointed it out to me …
… even though they did it while trying to accuse me and tear me down.
So always take any feedback that could possibly be true to the Lord.
Ask Him if there is any shred of truth in it. If there is, ask Him to help you with it. That's one of the many ways He'll turn an enemy attack around for your good. If you examine yourself and find any shred of truth when someone tells you that you need healing, seek the Lord and obtain the healing you need.
But if there is no truth to the Pharisees' accusations …
Because, I repeat:
People operating in the Pharisee spirit will often tell you, WITHOUT ANY EVIDENCE, that you need mental help. They will tell you that you're unstable; that you need inner healing; that you need deliverance.
And people operating in this Jezebelish, Pharisee spirit will do this even if your actions line up with the Word of God … and even if you have done NOTHING wrong. (Sometimes they will even admit to your face that you have done nothing wrong, but will make these accusations anyway.)
So when that happens:
If the Lord doesn't show you any truth to the accusation, then reject it.
To reject an accusation, do this:
Speak out verbally, "I reject that curse in Jesus' name. I am _____ …" and speak out the truth of God's Word about what you actually are. Then, pray for your enemies but REFUSE to agree with them about any of the lies they've launched against you.
No matter who they are.
It will also help you to have these Scripture passages hidden in your heart:
"Then Jesus said to those Jews who believed Him, 'If you abide in My word, you are My disciples indeed. And you shall know the truth, and the truth shall make you free'" (John 8:31-32).

and

"Beware of false prophets, who come to you in sheep's clothing, but inwardly they are ravenous wolves. You will know them by their fruits.

Do men gather grapes from thornbushes or figs from thistles? Even so, every good tree bears good fruit, but a bad tree bears bad fruit. A good tree cannot bear bad fruit, nor can a bad tree bear good fruit. Every tree that does not bear good fruit is cut down and thrown into the fire. Therefore by their fruits you will know them'" (Matthew 7:15-20).

and

"To the law and to the testimony! If they do not speak according to this word, it is because there is no light in them" (Isaiah 8:20).
Having these Scriptures hidden in your heart will help you weed out the lies and accusations the enemy sends against you.
Lie #4 that the Pharisee spirit will tell you is this: "What you're saying doesn't apply to us."
We see the Pharisees launching this one at Jesus in John 8:31-33:
"Then Jesus said to those Jews who believed Him, 'If you abide in My word, you are My disciples indeed. And you shall know the truth, and the truth shall make you free.'

They answered Him, 'We are Abraham's descendants, and have never been in bondage to anyone. How can You say, 'You will be made free'?" (John 8:31-33).
In this passage, we see Jesus give an amazing gem of truth. He's telling the Jews who believed Him that they have a clear path to freedom! He's telling them that they don't have to be in bondage anymore!
But you know what? The Pharisee spirit, or Jezebel spirit, told those religious rulers that they didn't need this nugget of truth.
They didn't believe they needed to be free. So their response basically was, "We aren't in bondage, so why would you say we will be made free? What you are saying doesn't apply to us."
The Pharisee's response is NOT a confused or innocent question, born out of confusion. The Pharisees were blatantly REJECTING Jesus' teaching.
And when Pharisees attack you, they will reject Jesus' teaching too.
When someone operating in a Pharisee/Jezebel spirit lies to you and tells you, as they did Jesus, that the truth of God's Word doesn't apply to them, it will tend to leave you reeling. You ask yourself, "Do they even hear themselves?" The lie is so ridiculous and obvious that it leaves you shaking your head!
When someone tells you that God's command to ___ doesn't apply to them–and they use that as an excuse to lie to you and accuse you–it's SO demonic. And you can tell it right away, as long as you have the Word in your heart and you KNOW what God's Word says to do.
In a situation like that, you tend to ask yourself in amazement, "What planet are they from?"
When these lies are launched against you, it seriously seems like the accuser has lost their grip on reality. And you know what? They have–because they are being influenced by the devil, and the devil is the father of lies. As it says in John 8:44:
"You are of your father the devil, and the desires of your father you want to do. He was a murderer from the beginning, and does not stand in the truth, because there is no truth in him. When he speaks a lie, he speaks from his own resources, for he is a liar and the father of it" (John 8:44).
Always remember that our battle is against the devil and his forces–not against the person who is accusing you and seems to be living in an alternate universe. The Bible says:
"For we do not wrestle against flesh and blood, but against principalities, against powers, against the rulers of the darkness of this age, against spiritual hosts of wickedness in the heavenly places" (Ephesians 6:12).
When it seems like someone must be living in an alternate reality because of the sheer stupidity of their accusations and/or excuses …
… like, "That very obvious and universal Scriptural command doesn't apply to us" …
… Then remember that, well, they are living in an alternate reality.
They are being influenced by darkness, and the demonic powers that are influencing them really do hinder their grasp on reality. Those powers convince them that light is dark and dark is light … and the person doesn't seem to have any problem with it.
These are all the works of the devil.
So what do you do when a Pharisee spirit lies to you and tells you that the Word doesn't apply to them?
Two things:
Um, reject what they're telling you. And
Discern well. Discern based on the Word what spirit these people are operating under.
If I were in your shoes (and I have been), I'd begin separating myself from these people at least by this point (if not earlier).
Because the Word of God does apply. It's the Word universal; the inerrant, infallible Word of God. And each of us–every single one–have to submit to it if we call ourselves by the name of Christ.
Will we obey that Word perfectly, each and every time?
No; but when we don't, it's called sin. We do have to allow ourselves to be cut by that Word, however, for God's Word is alive and powerful, sharper than a two-edged sword. We should never say the Word doesn't apply to us.
Period.
In the next post, I'll discuss more of the 10 lies the Pharisee spirit will tell you. But for today, please let me know in the comments:
Does this message hit home with you? Do you see the psyop the Pharisees launched against Jesus–and how He refused to let it get in His head? Are you willing to do the same, defending yourself with the Word of God?
Leave a comment below!