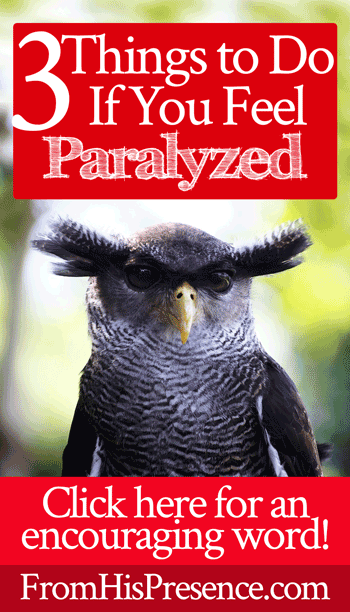 Do you feel paralyzed by life circumstances, drowning in a sea of things pressing in on you? If so, I have an encouraging word for you today!
First, I know what it is to feel paralyzed by life circumstances.
I've been feeling that way myself. Like you, I have a lot going on. A baby who is very demanding, clingy, and fights sleep. A husband who likes to talk to me now and again. A very messy house. (Just being real. The house is a huge mess. There's baby stuff and ministry stuff everywhere.)
And did I mention a job that is 24/7? Yes, I love my job. I love this ministry. It's my life's work. But it presses on me 24 hours a day, seven days a week.
On top of that, we just finished a big event. 60 people got delivered and set free. It was amazing, and worth every sacrifice. But it was hard work. And now we're headed into another event–our Ireland mission trip–and also my husband and I are going to a blogging conference this coming week to learn as much as we can about how to reach more people for Jesus.
To be perfectly honest, I've been feeling paralyzed by these things.
But you know what? Over the last few days, Holy Spirit has been discipling me through–and I want to share the nuggets He has given me with you today.
First nugget:
Stuff infringing on your physical space infringes on your emotions too.
Our baby sleeps in our room, so that requires baby stuff to be in our room too. This equals A LOT OF STUFF. Stuff in addition to the standard adult stuff.
His stuff takes up a lot of floor space. I also have my study materials, some quilting tools, etc all in our room. (And that's only on my side of the bed; say nothing about my husband's side.)
As I have been praying about how to get rid of this paralyzed feeling, Holy Spirit showed me that the stuff in our physical space really takes a toll on my emotions and on my peace. And when I refer to my emotions, it's not like I'm upset or anything. It's just that I can feel All The Stuff pressing on me.
So Father told me to purposefully take five minutes and clear out some stuff.
I sat down to do this, and suddenly five minutes felt so good that I kept going. My mother (who lives with us now) played with our son for a few minutes and I ended up taking about 15 minutes to clear out stuff.
After about 15 minutes, it wasn't done–but it sure looked and felt better.
I don't have Scripture for this, but I'm asking the Lord if it's in the Bible somewhere. I don't know yet; I'll let you know if/when I find it. But somehow it seems to be true (in my experience, anyway) that physical stuff taking up physical space infringes on your thought life.
Maybe it's just that every time you look at it, your brain has to process the images–and therefore it DOES require mental energy to have the stuff there. That would certainly be a basic scientific truth. Other than that, I don't know–but I know I feel more at peace WITHOUT stuff to look at than I do WITH stuff that requires me to look at it.
Do you feel paralyzed right now?
If so, take five minutes and clear out some stuff. Open up some floor space at home or some desk space at your office. Do what you need to do to reduce the images you have to process in your thoughts. It will help!
Next nugget: The enemy has been trying to derail you. Get mad.
If a brother or sister in Christ hurt you, obey Matthew 18 and confront them about it. You won't be able to get back on track if someone else knocked you off-track by their hurtful actions UNTIL you obey God's Word, forgive them, and also confront them so that:
they won't do it again;
you maintain appropriate boundaries and you police what truths you receive into your life; and
your relationship with that person can be preserved.
If some other situation derailed you, confront the enemy about it by submitting to God and resisting the devil. Draw near to God, and tell Him what you need help with. Ask Him to help you get it done!
I have had several projects lately that were just HUGE and big and intimidating. I just wasn't able to find the gumption to get them done, but deadlines were looming.
So, for the biggest one, just a few days ago I just told the Lord helplessly, "Father, I can't do it. Please do it through me and help me to get this done now."
And you know what? I felt Holy Spirit's hand on my back, guiding me into my office to sit down at my computer and open up the project. Then He showed me each step to take. His guidance and help were so clear and tangible. I felt helpless and intimidated by the thought of finishing the project, but I didn't feel helpless or intimidated at the thought of obeying Him as He prompted me.
So I obeyed. One step at a time, I let Him create through me. And you know what? A few hours later … finished project!
Beloved, the enemy has been trying to derail you. Get mad at the enemy and decide to bring even more glory for God. Ask Father God for His help and DECIDE to follow Him as He helps you press through. And He will!
Nugget 3: It's time to go back to the list.
Y'all, I am a huge goal fiend. I love goals. I have them written out and I keep them in front of me on vision boards. Goals make things happen!
But, it has been awhile since I functioned on a daily basis from a list. I have longer-term goals, but I haven't been working from a list of daily goals. And when I did, it made all the difference in the world.
So this morning, the Lord is telling me to get out my planner again. (It has been in the pile of study materials on the floor. You know, the pile I mentioned above that takes so much mental energy to look at.) 🙁 And before I finished this article, the Lord made me and helped me make a list of what I need to do today and over the next few days.
Beloved, lists are Biblical. They are both practical and full of Biblical truth. You've got to write that vision (Habbakuk 2), that they may run who read it! You will run when you read it. Angels will run when they read it. Other people will run if you have a list for your family.
But we've got to write that vision!
Beloved, you don't have to stay paralyzed. Pray this with me:
"Father God, in Jesus' name, thank You for hearing my prayer right now.
Father, I feel paralyzed. I feel like all the things are pressing in on me, and I can't seem to overcome it on my own.
Father God, I need help. I hand these things over to You. I hand myself to You once again, and I ask that You would pour out Your strength and grace on me right now.
Father, please help me to confront the issues I need to confront. Help me to get rid of stuff I need to get rid of. Help me to forgive like Jesus forgives, like You forgive. Help me to clear out the clutter, even if it takes me days to do it. Help me to start. Help me to take small steps.
Father God, please work through me. You see what I need to get done. Please fill me with Your Spirit. Take my hands and feet and use them as Your hands and feet to do Your will. Help me to receive Your truth that I can do all things through Christ who strengthens me.
Father, please lead me. Guide me. Work through me. Help me to make a list of all the tasks I have to do, and to write down daily, weekly, and monthly goals. Help me to carry out Your purpose and to be single-minded in focus on what You have ordained for me. Help me to seek You first and seek Your Kingdom and Your righteousness, and all these things You will add to me.
Thank You, Father. I love You. Thank You for making me free, healthy, and whole. In Jesus' name, amen."
Beloved, now go after it.
I understand the urge to give up. I understand the urge to sit down and do something fun that blocks out the stress. I understand the urge to go to bed early and zone out.
But you know what? What you do is important. Your call is important. Your place in the Kingdom is important, and you're going to have to push through if you want to live out the fullness of blessings God has for you.
So kick the paralysis down. Get mad at the enemy. Get back on track, and take small steps forward. Do these things TODAY.
Have you been feeling paralyzed? If so, will you take the situation by the horns and overcome it today? Please leave a comment below–and I am praying for you!