Confessions of an Unlikely Worship Leader: He Loves It Anyway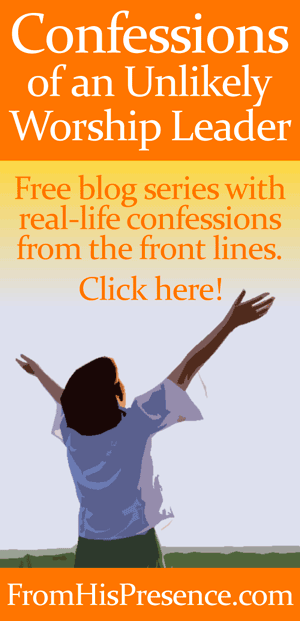 If you want to know how it all got started, you can click here to read "How I Became an Unlikely Worship Leader."
I led worship last night again at the healing rooms. Parts of it went well, and other parts of it didn't go so well.
I was able to get there and set up on time. I was able to walk away by myself and be with the Lord for a couple of minutes, and also to warm up my voice. All of those things helped.
During my time with the Lord, He told me to start off with 1 John 3:1-3: "Behold, what manner of love the Father has given unto us…." However, when I got back in the worship area, between greeting people and sitting down and getting out my music, I somehow managed to disregard the Lord's instruction. I shouldn't have.
I started us off with "There is a River" (by Jessie Rogers) instead. It's a great song and everybody seemed to love it, and they sang along. I was so tickled that they were singing with me that I didn't go back to 1 John 3… when I KNEW that God has been sitting down on His expressions of love for us, and that that's where He wanted to go!
People were in and out a lot, talking a lot, greeting each other, etc. The first two hours went ok, but it wasn't flowing really well, like it had the week before. I did feel a lot of joy in the presence of the Lord. I had asked Him to pour out His joy, and He was. But I didn't sense that incredible manifestation until the last hour or so. Then there were tears… you know how He is.
I woke up this morning and felt like I didn't do a very good job last night. I was beating myself up for not starting with 1 John 3. I was thinking I should have tried harder to ignore the distractions and press in to the Lord. I shouldn't have played a couple of songs in tough keys that I hadn't practiced.
But then I looked at the Lord, and asked Him how He felt about last night. You know what He said? He said "I loved it."
Isn't that wonderful? I just want to be with my Daddy God. He is so much easier on me than I am on myself. I should remember that I wasn't there to perform. I wasn't there to lead worship. I was there to worship, personally: to be a lead worshipper. Sometimes it's hard for me to keep that in perspective. But my Daddy loves me just the same, and loved our time together last night, anyway.
Thank You, Papa, for loving me.