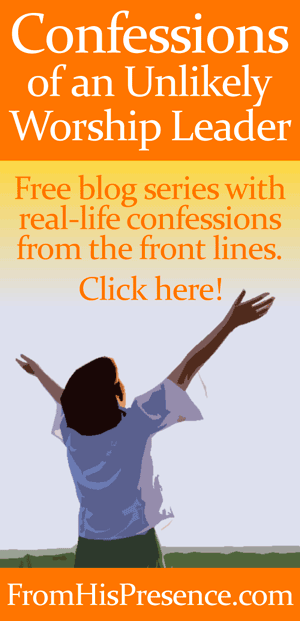 If you want to know how it all got started, you can click here to read "How I Became an Unlikely Worship Leader."
I led worship last night at the healing rooms, and God rocked my world. He sat down on us like I can't even describe.
There was a huge outpouring of joy, laughter, and glory, and our pastor even had us do a fire tunnel. The place was packed out; two friends came to help play (one on flute and one on clarinet); and the songs just flowed.
Related: The Day Jesus Rocked the 12-Bar Blues
You know what made the difference, for me at least? Two things:
1. I got before the Lord beforehand and told Him, again, that I can't do this.
I know that He can, and He can do it through me. But I am crucified with Christ, therefore I no longer live; Jesus Christ now lives in me, and the life I now live I live in Christ (Galatians 2:20).
So I went in with no expectation that I could lead worship, but with every expectation that Jesus, who lives in me and is the life flowing through me, could and would do it.
Doesn't it seem a little funny to ask the Lord to lead His own worship? But He didn't seem to mind; in fact, that seems to be exactly what He wanted to do!
2. Having my fellow musicians (the flautist and the clarinet player) there helped so much.
Musicians really are a real-life picture of the Body of Christ. We need each other.
When I'm by myself, it's me and God and He does it, and it's nice. I'm grateful for what He does when I'm by myself with Him. But oh, the difference I feel when my fellow musicians are with me! I can't even describe the joy and "rightness." It's just a feeling of "God's in His Heaven; all's right with the world."
It worked out so wonderfully because God did it, and He used His Body to do the work.
Do you ever get that same sense of inadequacy when you go to lead something, then surprise when God does it? If so, please leave a comment and tell me about it!
Related: Click here to read all the posts in my "Confessions of an Unlikely Worship Leader" series!
You'll get an email when new content is posted. You'll also receive my free, printable blessing cards and my ebook–The Presence Seeker's Creed–for free when you confirm!