Worship Art: "One New Man"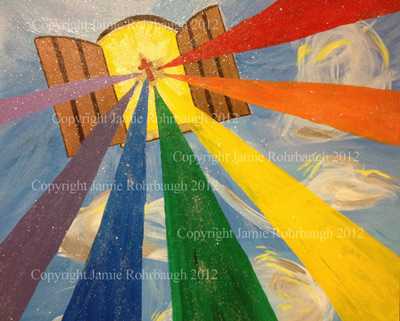 Exodus 31:3 (NKJV): "And I have filled him with the Spirit of God, in wisdom, in understanding, in knowledge, and in all manner of workmanship, to design artistic works, to work in gold, in silver, in bronze, in cutting jewels for setting, in carving wood, and to work in all manner of workmanship."
I enjoy doing what I call "smearing paint on canvas." I paint from love of Jesus and love of color. I call this style an "imagist" style: its' all about the symbolism in the image, and the power of the image. The colors and the boldness contain the message. When I paint prophetically like this, I always ask the Lord to paint through me, and He does. I can see the image in my mind's eye, and I actually hear the Lord telling me  to make this line wider, or put more color over here, or change that color, etc. It's very cool to know I am in His presence, and to co-create with God!
I completed this painting in 2012. This is only a detail of it. I painted it based on the messages that our pastors and speakers were preaching that week, which contained many awesome nuggets of truth about how we, as Christians, actually are entitled to the blessing God gave Abraham. We have been grafted in to God's covenant people, the Jews. Now Jew and Gentile together form one new man in Christ Jesus.
I'd love to hear your comments. What message does this painting speak to you?
Also, have you ever asked the Lord to create something through you? What did you create and how did it go?
If you would like to order a photographic print of "One New Man (Detail)," please contact me!

Note: This is my original art. Please don't copy it, post it to your Facebook (other than by "liking" or "sharing" this post), or otherwise use it without my permission. To do so would be stealing. Thanks for understanding.