Worship Art: "Under the Shadow"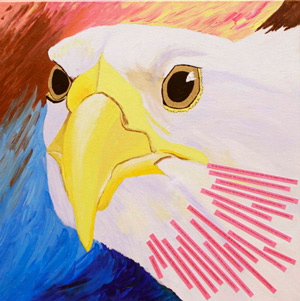 Exodus 31:3 (NKJV): "And I have filled him with the Spirit of God, in wisdom, in understanding, in knowledge, and in all manner of workmanship, to design artistic works, to work in gold, in silver, in bronze, in cutting jewels for setting, in carving wood, and to work in all manner of workmanship."
Several years ago, I was praying in the morning about my day. I had been feeling overwhelmed and discouraged, and I didn't feel like I had it in me to leave my home and face the world another day.
Suddenly, I saw a picture in my mind of me snuggled up under God's wing, as if He were an eagle! I could see the feathers. It was warm and quiet there, and I was hidden from the world. Peace flooded my soul! I actually felt myself being hidden there with Him, and I saw His eyes, like an eagle, sharp and discerning, watching over everything that concerns me while I just hid under His wing.
What a difference that mental picture made. I have gone back to it in my imagination many times, and every time it has had the same effect. Imagining myself hidden under my Daddy God's wing gives me comfort, peace, calm, and strength. That "hidden in His presence" feeling continues to this day.
Psalm 91:1 reads: "He who dwells in the secret place of the Most High shall abide under the shadow of the Almighty." That is exactly what this painting shows. The pink paper feathers contain all of Psalm 91.
Can you imagine yourself hidden under the wing of your Daddy God? Try it! Can you feel the same comfort and "hidden-from-the-world" feeling that I feel?
If you would like to order a photographic print of "Under the Shadow," please contact me!

Note: This is my original art. Please don't copy it, post it to your Facebook (other than by "liking" or "sharing" this post), or otherwise use it without my permission. To do so would be stealing. Thanks for understanding.