Created to Create Bible Journaling Goodies from Illustrated Faith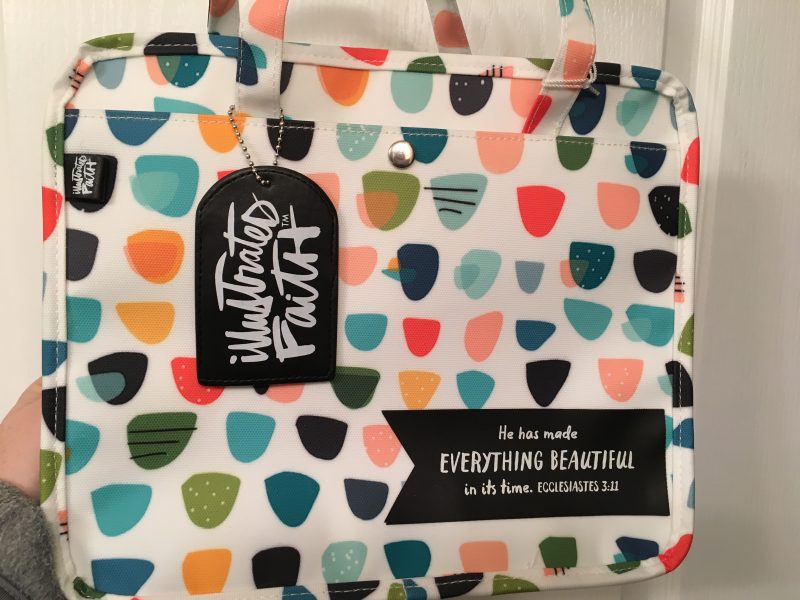 Hey Presence seekers,
The wonderful, Spirit-inspired folks at DaySpring just created huge new batches of Illustrated Faith goodies that I can't wait to order myself and show you! But I already have two of them (pre-sale samples! Yay God!) and I wanted to tell you about them!
Because I am a total geek, I recorded a short video to show you how I am going to use them–and yes, my very messy Bible journaling desk. 🙂 (Don't mock about the messiness. I'm, uh, a, uh, creative type. Yeah, that's it.) 😉
You can see what the Created to Create Bible journaling tote looks like in the image above. Isn't it purrrrrrtyy? I love it! And I started packing it up already. So, beloveds, here's the video. This is just me being very informal and having some fun with it.
(And again, ignore my messy desk. I know it's bad, but, uh, having everything at my fingertips, um, inspires me …. yeah, that's what it does.) <3 😉
(By the way, the video says the items will be available shortly, but they are available now here.)
And in case you would rather read than watch the video, here's the skinny on this gorgeous tote bag:
First, it's as cute as it can be. I love it, and it's SO usable!
The Created to Create bag is about the size of a medium, manageable purse. It's 12″ wide x 10″ high x 4″ deep.
Then, it opens FLAT, so you can put your Bible in the middle and all your supplies laid out like a workstation. Like this:
And in addition to its main, interior compartment, it has 5 additional pockets/compartments where you can put your stickers, stamps, etc.
The interior compartment is plenty big enough for your Bible to nestle inside and be safe; PLUS it will hold several pencil pouches or sticker pouches (like the vinyl pouches that came with the January and February Illustrated Faith devotional kits). Watch the video above to see how I'm putting my own goodies in different compartments.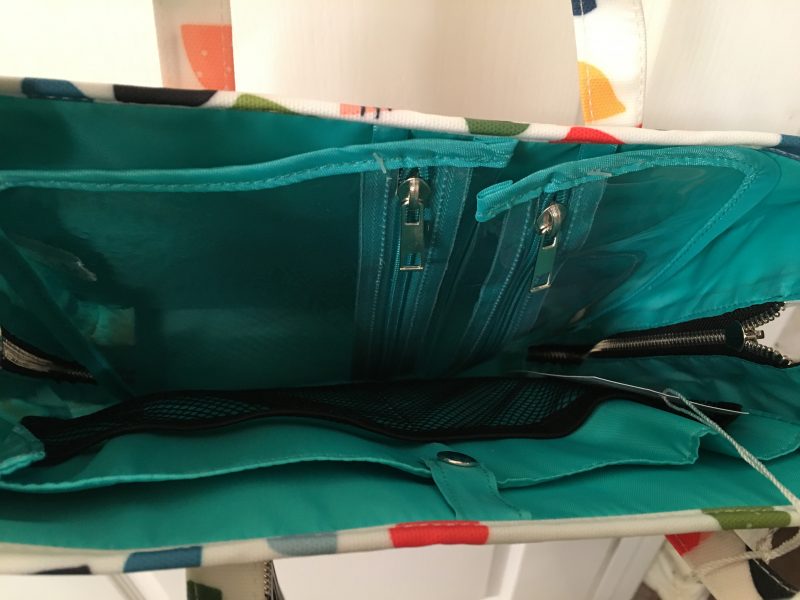 It also comes with two pouches attached (but you can detach them). These are in addition to the 5 secondary pockets/compartments and in addition to the center compartment. I put stamps in the bigger vinyl pouch, and will probably put washi tape in the smaller one.
DaySpring's website says you can slide the kangaroo pouch over your Bible, because it has a wide elastic band on the back that will wrap around your Bible.
My personal opinion is: I guess you could slide it over your Bible, but I prefer to put the kangaroo pouch inside the tote so everything stays nice and clean. I loaded the pouch up with pens and paintbrushes, because I had run out of space in my other (small) pencil pouch. And the tote is big enough that I can place the kangaroo pouch, plus art supplies, plus a couple of vinyl pouches with devotional kits, PLUS my Bible inside. So that's how I'm using it.
Here's the Created to Create kangaroo pouch: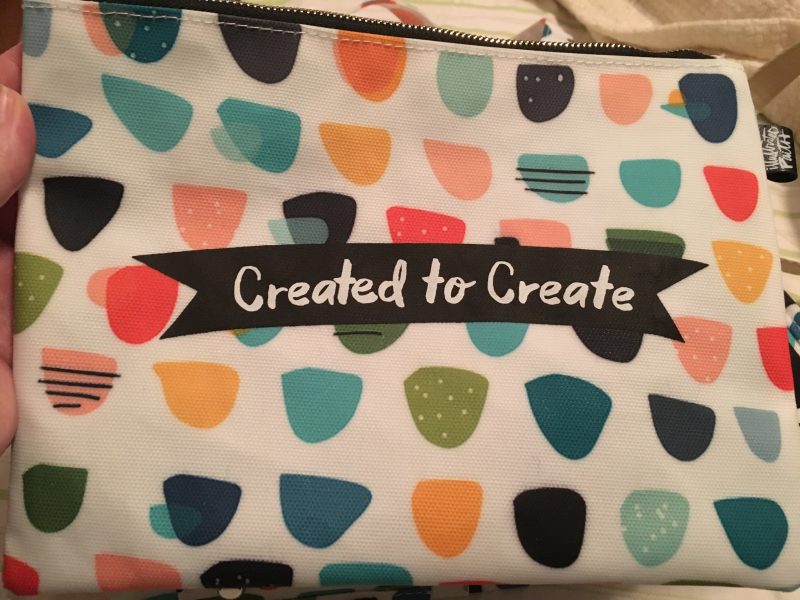 I love, love, love this tote bag and I think I will start taking it to church and maybe doing some coloring sometimes during worship. The bag is gorgeous, cute, and so handy. It looks great to carry, and it has space for everything you need for a day outing. 🙂
Have you been looking for a tote like this for your own Bible journaling supplies? Or, do you need a gift for someone?
If so, click here to check out the new Illustrated Faith goodies, and grab yourself or someone else a beautiful treat!
The links above are my affiliate links. Also, I received a free sample of these items from DaySpring in exchange for an honest product review. The free sample didn't influence my opinion. 🙂