Day 2: Jesus' Commissioning Ceremony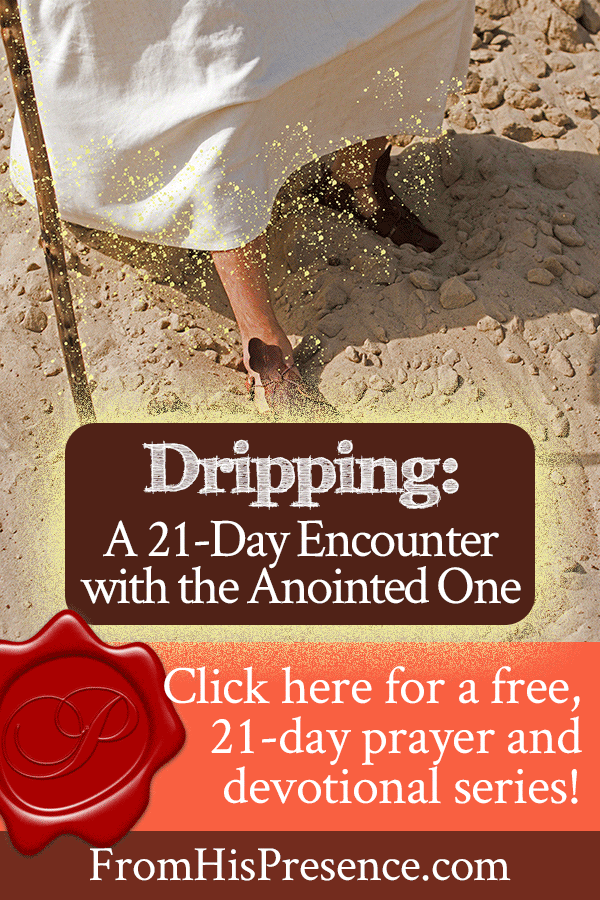 Welcome to Dripping: A 21-Day Encounter with the Anointed One!
The purpose of this devotional series is to help you encounter Jesus Christ face-to-face by invoking your holy imagination. Each day of this series, we will walk through three short exercises–see, read, and pray–that will help us draw closer to the Man, Jesus Christ Himself.
Here's Day 2:
Read: Hebrews 1:8-9:
"But to the Son He says:

'Your throne, O God, is forever and ever; a scepter of righteousness is the scepter of Your kingdom. You have loved righteousness and hated lawlessness; therefore God, Your God, has anointed You with the oil of gladness more than Your companions'" (Hebrews 1:8-9).
See:
Enter into this scene with me using your imagination. Give yourself a front-row seat:
It's Jesus' commissioning ceremony in Heaven.
Jesus, the spotless Son of God, is about to leave Heaven and enter the womb of a young, teenage girl–then to be birthed on earth as a human, a man. All of Heaven is gathered together to watch as the Father commissions Him into His destiny.
You're standing right on the front row with the angels–billions of angels, in fact. There are so many, and they press together so tightly, that you're rubbing elbows with angels on both sides of you. No one is irritated, though. You feel like you're standing there with a billion of your best friends; you're in total unity with them, and they are in total unity with each other.
You turn around and look behind you, and as far as your eye can see, there are angels. None of them are looking directly at you, however; everyone is focused, breathless, and staring straight at the scene between the Father and the Son unfolding before you.
You turn back toward the main event.
Suddenly, Father gets off His throne and stands before His Son, who also had been standing before Him. Father and Son gaze into one another's eyes for a moment, but then the emotion overcomes them both. Simultaneously, they reach for one another, engulfing one another in the biggest, most heart-filled bear hug you've ever seen.
Lightning flashes around them–but it's red lightning, and it's coming off their bodies. Lightning and sparks are actually flashing straight out of their hearts as they embrace one another. No one dares to draw near. The four living creatures continue crying, "Holy!"–but even they are choked with tears as they cry.
Tears fill your eyes as well as you watch Jesus cling to the Father, and the Father cling to Jesus.
The love that these two have for one another is unparalleled and unprecedented. You cannot fathom it, but you know you are seeing something more special than you have ever witnessed before–something the likes of which you will never see again.
Finally, after what seems like an eternity of watching the Father cling to Jesus and Jesus to Him, they step back a little bit. You're not sure what to expect, but suddenly Father places His hands on both sides of Jesus' face.
Then He speaks, and He says:
"It will not be all pain, My Son. You will have joy in this journey too. As You endure the cross, You will see the joy that is set before You–the joy of My other children, Your brothers and sisters, who will join Us here in Heaven one day."
Then He continues, saying:
"You are God and Your throne endures forever and ever. Your Kingdom in Heaven and on earth is ruled by righteousness. You have done well to love righteousness and hate lawlessness. You have rejected everything sinful.
And, Son, because You have loved righteousness and hated lawlessness, therefore I, God, Your God, have anointed You with the oil of gladness more than Your companions. You will have joy and gladness as You carry out Your mission on the earth, and Your joy will endure forevermore."
The promise of joy seems to take away some of the pain of Their upcoming separation.
The lightning around them fades, but a powerful light replaces it and surrounds them. The atmosphere remains charged with energy, but things have calmed down. The Father and Son continue to gaze at one another, eyes locked together, communing with one another as only They, in their one-ness, can do.
You turn to the angel on your right and ask, "What will happen next?"
The angel turns to you, startled out of his own concentration. He doesn't mind your question, though. He smiles–a smile filled with love, hope, sorrow, and joy all at the same time.
And the angel softly replies, "The Lamb slain from the foundation of the world is going down to lay Himself upon the altar."

Pray:
"Abba Father, I come to You in Jesus' name.
Father, thank You for allowing me to see this scene with You. Thank You for giving up Your Son Jesus, slain from the foundation of the world, for ME. I don't deserve Him, but I receive Him as my Lord and Savior by grace, and I thank You for giving Him to me and for saving my life with His life, death, and resurrection.
Abba Father, Jesus was willing to give up His glory and status in Heaven for me. You were willing to give up Your only begotten Son; Your most precious Possession. But what have I been willing to give up for You? In comparison, not much.
Abba Father, I want to love righteousness and hate lawlessness. I desire to serve, love, and honor You and Jesus the way You deserve to be served, loved, and honored.
I desire to have a sold-out spirit to You, Father, like Jesus does. So now today, Lord, I choose to lay myself before You again as a living sacrifice. Help me to submit and yield to You in all things, Father.
Abba Father, in Jesus' name, please help ME to love righteousness and hate lawlessness like Jesus does. Help me to utterly reject, abandon, and forsake everything that Your Word says is not holy and righteous, and help me to love holiness, purity, and everything else that Your Word says IS righteous.
Make me humble before You today like Jesus is, Abba. Please help me to do anything You ask, go anywhere You lead, and say anything You ask me to say. Keep me from lawlessness, Father; keep me from ever operating outside the bounds of where I am supposed to be.
Thank You, Father. In Jesus' name I pray, amen."
Related: Read this short series about how much God loves you, and how to give your life to Jesus and receive forgiveness for all of your sins and a new life in Christ.
Did you enter into this scene with me using your own holy imagination? What did you see? How is Holy Spirit speaking into your heart right now? Leave a comment below!