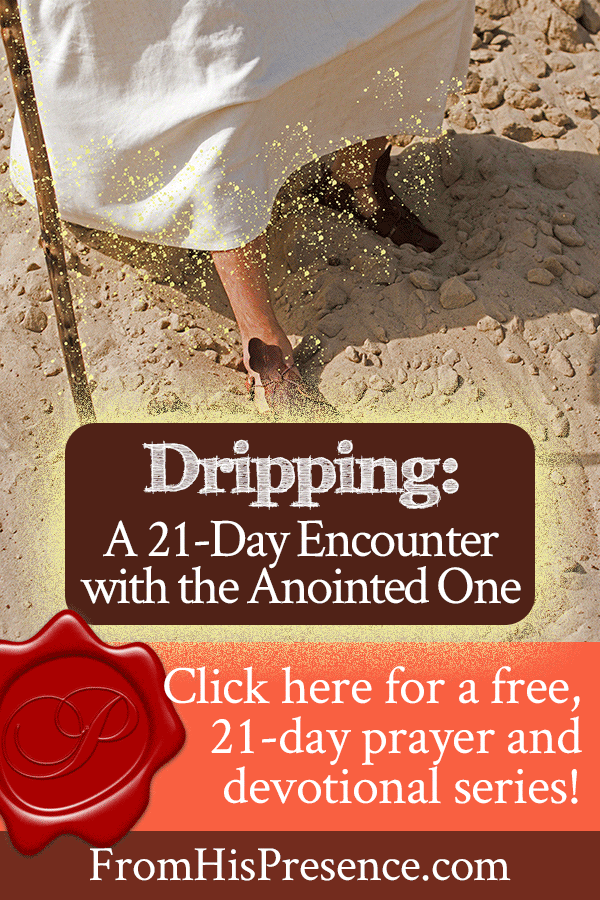 Welcome to Dripping: A 21-Day Encounter with the Anointed One!
The purpose of this devotional series is to help you encounter Jesus Christ face-to-face by invoking your holy imagination. Each day of this series, we will walk through three short exercises–see, read, and pray–that will help us draw closer to the Man, Jesus Christ Himself.
In the "See" section, we will imagine Jesus as He is described in a Bible passage.
In this section, enter into the scene with the writer of the passage! Let Holy Spirit take you into the scene as if you were actually there. Watch the scene play in your mind:
Imagine feeling the weather, the sounds, and the ground under your feet.
Hear the voices being described in the passage.
See the scene as if it were the sharpest, clearest movie being played in your head.
Imagine yourself touching Jesus Himself, right there with Him at the very hem of His garment!
In the "Read" section, we will read a short verse or passage from the Scriptures together.
This passage or verse will set the scene for your holy imagination.
And in the "Pray" passage, we will pray a short but powerful prayer together.
Each day's prayer will be focused on the person of Christ, and on how we can become like Him. The overwhelming cry of our heart throughout this prayer series will be, "Father, that Christ would be formed in me!"
If you are hungry for God, this free devotional series is for you. Are you ready to begin? Please tell me in the comments–and here we go!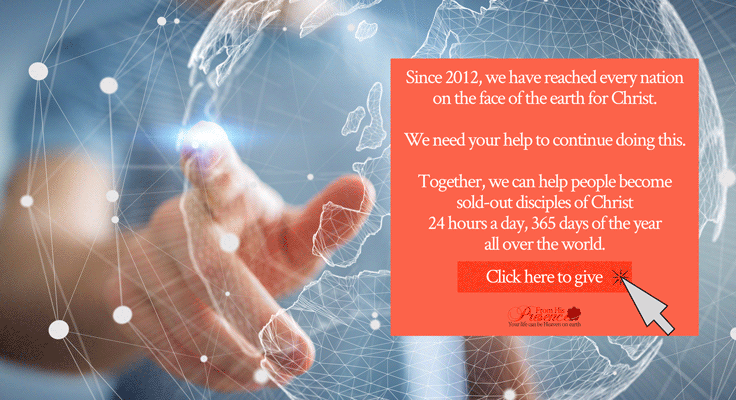 Day 1 of Dripping: A 21-Day Encounter with the Anointed One:
Read: John 6:10-14:
"Then Jesus said, 'Make the people sit down.' Now there was much grass in the place. So the men sat down, in number about five thousand. And Jesus took the loaves, and when He had given thanks He distributed them to the disciples, and the disciples to those sitting down; and likewise of the fish, as much as they wanted.

So when they were filled, He said to His disciples, 'Gather up the fragments that remain, so that nothing is lost.' Therefore they gathered them up, and filled twelve baskets with the fragments of the five barley loaves which were left over by those who had eaten.

Then those men, when they had seen the sign that Jesus did, said, 'This is truly the Prophet who is to come into the world'" (John 6:10-14).
See:
Enter into this scene with me using your imagination. Give yourself a front-row seat.
Imagine standing only six feet away from Jesus on a grassy Galilean hillside. The sun is hot, the grass is dry, and your sandals are dusty. Your body feels hungry, but your heart sees only Jesus. Your most pressing hunger is for the words of life He speaks.
Suddenly, Jesus begins talking about food. He and His disciples speak quietly among themselves. They come up with a plan and ask everyone to sit down.
Then, suddenly, Jesus speaks.
His words are not a grand announcement about the miracle He is about to do. His words don't give any scientific formula that explains how He will provide food for the thousands of people gathered around you.
His words stun you in their simplicity:
"Father, thank You."
Jesus speaks but a moment, but His words are directed straight to Someone He clearly knows very well. He doesn't beg, plead, implore, or cajole. He simply lifts His eyes to Heaven and, very simply, thanks His Father.
"Thank You."
Then the bread begins to multiply. The meat begins to multiply. Suddenly Simon Peter is handing you a fish filet and a nice, warm bread roll to eat it with, too.
Wait a minute. How did the bread get warm?
It smells like it just came out of the oven, actually. How did that happen? You know you've been here with Jesus all day, and no one has brought in any fresh food. You would have seen it–you're trailing as close to Jesus as you can possibly stay.
And then Jesus' words thunder through your heart like your heart was an echo chamber: "Thank You."
Thank You thank You thank You thank You thank You.
You sink your teeth into the tasty fish filet–again, tasting as if it had just been cooked. You follow it up with warm, rich, fluffy bread. And you gaze in awe at your Savior, Jesus Christ, who simply offered up the thanksgiving in His heart to the Father and had everything He needed–and everything you needed–multiply around Him.
Pray:
"Abba Father, I come to You in Jesus' name.
Thank You for Jesus, Abba Father. Thank You for sending Your Son, Jesus, the Anointed One, to earth for me. Thank You for teaching me how to live through Jesus' example, and thank You for revealing Yourself to me through the perfect representation of You in Your Son Jesus.
Abba Father, Jesus had all the power in the world, but He simply thanked You and You provided.
He was grateful and thankful, despite His exalted status as Your Son.
Abba Father, I confess that, even though You have also made me Your child through the blood of Your Son Jesus, I have not often been grateful or thankful. I have not trusted You like Jesus did, simply looking to You and thanking You for providing for all of my needs.
Forgive me, Father. I'm so sorry.
I confess my sin of ungratefulness and unthankfulness to You today. Please, Abba Father, I ask in Jesus' name that You would form the grateful and thankful heart of Christ in me. Help me to rejoice always and be thankful. Teach me the way of looking to You in thanksgiving, Lord, being grateful that You supply all my needs according to Your riches in glory by Christ Jesus.
Thank You, Abba Father. Form Christ in me today more than ever before, and I begin right now by saying thank You.
In Jesus' name I pray, amen."
Did you enter into this scene with me using your own holy imagination? What did you see? How is Holy Spirit speaking into your heart right now? Leave a comment below!