An Encouraging Word To Forerunners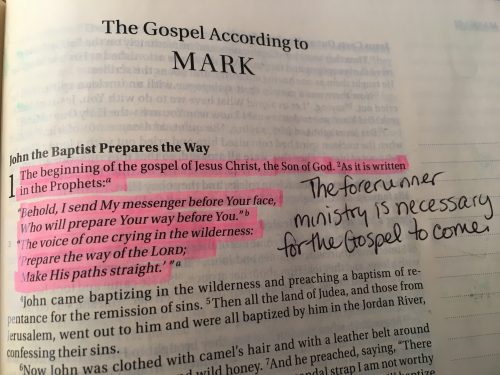 Are you a forerunner, a pioneer? Are you always out ahead of the pack, even if you don't want to be? If so, I have an encouraging word for you today.
This morning, in my study time, the Lord had me open to the book of Mark, where He showed me this passage in Mark 1:1-3:
"The beginning of the gospel of Jesus Christ, the Son of God. As it is written in the Prophets:

'Behold, I send My messenger before Your face, who will prepare Your way before You.'

'The voice of one crying in the wilderness: 'Prepare the way of the Lord; make His paths straight."
And this is the encouraging word the Lord gave me for you:
"You're always out ahead of the pack. Sometimes you get discouraged. As a matter of fact, many of My forerunners are discouraged right now.
But beloved, I need you to understand that I always send someone to make a way. I always send someone to prepare MY way. And that is what you are doing.
Beloved, I know it's hard. But I give you grace to be everything I have made you to be, and to do everything I have created you to do.
This is the decision that will keep you: DECIDE to stay in the forerunner position as an act of love toward Me.
I need you where I've placed you. It is My desire for My kingdom to come and My will to be done on earth as it is in Heaven. And the first part of that is that I must send messengers to prepare My way.
That is why I have sent you: to prepare My way. This is the beginning of the Gospel. Your ministry of the forerunner is necessary for My kingdom invasion to take place.
So stay where you are. I need you there, beloved. I know it's hard. I sense your tears deeper than you do. But rely on Me. Depend on Me. Draw closer to Me than you ever have before. For it is in doing so that you will have joy, strength, and a keeping motivation to stay the course–and it will be all as an act of love for Me."
Thank You, Lord Jesus!
Friend, does this word encourage your heart today? If so, please leave a comment below!
Would you help me with my work of reaching people for Jesus as a domestic missionary? I need you! This blog, and all of my mission work in person, are made possible through your partnerships, donations, and product purchases.
If you'd like to help me, please check out the partnership details and products available for sale here. And, thank you in advance for helping make this blog and everything we do together for the Kingdom possible!