My Testimony: Spiritual Road Map to Your Financial Rebirth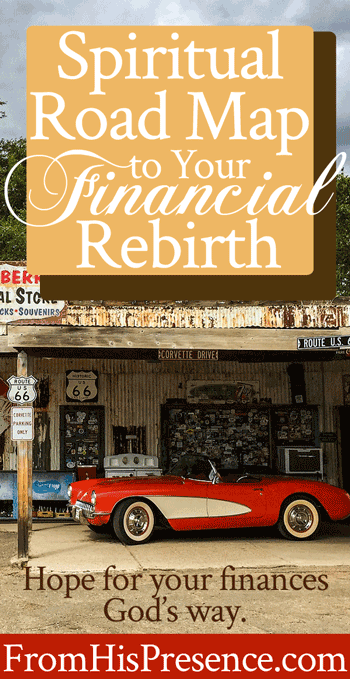 I was 25 years old, and I was tired.
Tired of being poor. Tired of not knowing where the rent would come from. Tired of having to count how many days I would have to stretch a box of spaghetti in order to eat every day.
Oh, yes. I've been there:
When my last $2 went in the offering plate. I was the one that put it in–knowing that $2 wouldn't get me through 'til payday anyway, so I might as well put it in the offering plate as the gas tank.
When I've had to pray for an extra job to come along, because I didn't have the money to make the car payment.
When I've been in debt up to my ears–credit card debt, student loans, mortgages, you name it.
I'm not there anymore, thank God; but it's only because I obeyed God in the ways we'll talk about below that I got out of that place.
It's not that I wasn't working hard. I've always been a hard worker.
Always. My parents raised me to have a great work ethic. I was the one, in college, taking 24 credit hours in one semester. I've had a job for another employer since I was 14 years old, and I worked on my dad's construction crew–sweeping sawdust, stripping roofs, shoveling construction trash, pushing wheelbarrows, nailing down roofing–since I was strong enough to carry a concrete block.
Seriously. I'm not making that up. My dad put me to work, for pay (not much–like $4 an hour), when I was about 10 or 11 years old. Maybe younger. And before that, we worked around the house. HARD. My whole family are really hard workers. (I've always appreciated that a lot about my parents, actually.)
So it's not that I was broke because I was sitting around. I was trying; really trying. I know you probably are too.
But something was wrong, because it wasn't working for me.
I was working, but it wasn't working. I still didn't have enough money.
Can you identify?
I dreamed about the life I had heard was possible.
I wasn't saved at the time, so my dreams weren't particularly spiritual. I wanted a big house and a hot Corvette and loads of money. (And there's nothing wrong with any of those things; I'm just saying that I wanted these things because my life was all about me, me, me, me, me.)
Then God actually gave me that hot Corvette (the black one in this photo), and He saved me in the process. (Did you know that's how I got saved? True story!) I began to learn about His Word.
And in His Word, I saw a lot more than the meager existence I was barely carving out. I saw that God promises to BLESS His people.
For example:
AVAILABLE IN EBOOK OR PAPERBACK FORMAT!
Over Not Under: Financial Prosperity God's Way
Do you want God to empower you to get wealth, as He promised in Deuteronomy 8:18? Then this book is for you!
Over Not Under will help you gain deep insight about God's financial principles—and about how to activate His provision, blessing, and abundance in your life!
And I began to get hungry: not for selfish purposes, but because God said.
I wanted to do whatever He said I should do. I wanted to have whatever He said I could have. For example:
He said He would bless us, and He always does what He says–IF we do what He says, because the promises of God are conditional.
He said we were supposed to do things that are only possible if we have money. Even though money isn't mentioned in the Great Commission, money is required in order to go ye into all the world and make disciples of every nation.
Then, even more recently, I've learned that Father actually and DIRECTLY commands us to prosper. It's not like He just says, "Hey, I'd love it if you'd prosper. I really want to bless you." He does of course want to bless us; but He actually COMMANDS us to prosper financially!
He commands us to prosper. Commands. It's His direct order. (We'll talk more about that later on this month, probably via webinar or vlog of some sort. Hang on, because THAT is a WORD.) #Worrrrrd 🙂
I was just sold out, and if it's written in that book, I wanted it. I still do. But at the time …
I began to press in and learn how to execute God's commandments about personal finances.
And the first thing I learned as I started down this road is that PERSONAL FINANCE REALLY IS A SPIRITUAL ISSUE.
Yes, I wrote that all caps on purpose; I hear Holy Spirit shouting it.
I learned that personal finance is a spiritual issue. Whether you are blessed–or not–is very much a spiritual issue.
It's spiritual because everything belongs to God. First Chronicles 29:10-14 says:
Therefore David blessed the Lord before all the assembly; and David said:

'Blessed are You, Lord God of Israel, our Father, forever and ever. Yours, O Lord, is the greatness, the power and the glory, the victory and the majesty; for all that is in heaven and in earth is Yours; Yours is the kingdom, O Lord, and You are exalted as head over all.

Both riches and honor come from You, and You reign over all. In Your hand is power and might; in Your hand it is to make great and to give strength to all. Now therefore, our God, we thank You and praise Your glorious name.

But who am I, and who are my people, that we should be able to offer so willingly as this? For all things come from You, and of Your own we have given You" (1 Chronicles 29:10-14).
Everything belongs to God. It's all His.
Everything on heaven and earth–your car, house, bicycle, hut, tent, food, clothing, washing machine, dog, husband, wife, child–everything belongs to God.
You and I own NOTHING. Therefore, personal finance is a lordship issue.
Here's the thing:
God is the Owner, and He's got the Owner's manual to money (and everything else).
He wrote the Manufacturer's specs, and He knows how things work! He even took the time, ever so sweetly, to tell us all about how things work in His message to us, the Bible.
When we read that message and do what it says, everything works the way He said it would! Blessing and favor and abundance and provision fall out of Heaven–directly from His hand–into our lives.
But when we disobey–even if we do so out of ignorance, when we truly don't know we're disobeying–things don't work well. We aren't blessed. We don't have enough. Poverty ensues.
This is what I learned when I was so poor. I had been truly poor in both money and spirit and attitude, because I didn't realize what the Manufactuer's specs said. So I was utterly without tools, and felt utterly without hope, too.
So how do we start to bring change into our financial situation? It starts with a road map.
It starts by digging out God's Manufacturer's specs from His Word, the Bible. That's what I did, and I'm going to walk you through the same process I went through–just in a more orderly way.
Here's what financial transformation takes:
It requires us to take a realistic look at the state of your financial affairs.
It requires us to break at least three specific curses off our finances if they're afflicting you (maybe more, depending on your situation).
It requires us to obey the conditions God put forth in order for us to be blessed.
It requires us to extricate ourselves from the financial snares the enemy tries to tempt us into.
It requires us to come out of agreement with demonic lies and snares regarding our–or other people's–finances.
And it requires us to take practical steps to submit to God when it comes to your finances.
I am living proof that God's Word about finances works.
The road map I outlined above works. When I first started to try to get my finances in order, I was in a mess. I was broke. I was poor. I was in debt. I had never seen a thousand dollars in my life.
But within a few weeks, when I started to obey God, I suddenly had a $1,000 emergency fund in the bank. (First time I had ever had savings!) I started paying my credit cards off. From that day to this, God has blessed me (and then my husband, after we married) increasingly.
It took us time, but we now have zero credit card debt. Our student loans have been paid off. The only real estate debt we have is on a rental property (which we are working on selling, Lord willing) plus the mortgage on the house we live in (which we are working on paying off). We are only a few hundred dollars away from having my car totally paid for; and my husband's car has been paid for for many years.
We're not where we want to be yet.
We still have things to work on, like getting rid of our mortgages and replacing my husband's car. We also still need to increase our income in order to be able to travel and preach like the Lord is calling us to do.
But I'm not trying to tell you a story about perfection. I'm trying to tell you a story about provision and help. GOD'S provision. I'm being transparent with you because He's brought me out of so much lack and poverty. Literally giving my last $2, and another time giving up my only $2–a different $2 that I had saved and kept back when I was younger–to buy groceries for the family.
He's helped us. And He accelerated His help when I started down the spiritual road map to financial rebirth that I listed above.
I'm going to talk with you about that road map over the next few weeks. Will you join me?
Crossing over from poverty into blessing is going to take action on your part, but you can do it. Father will help you. You CAN cross over into blessing, and you can see the abundance promised in His Word manifest in YOUR life.
Does this word speak to your heart? If so, please leave a comment below. I'd love to hear from you!