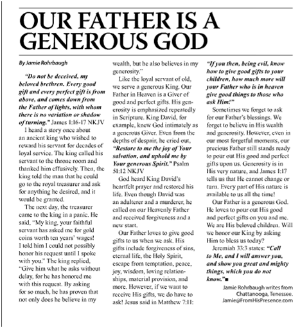 I'm very excited today to announce that I had an article published yesterday in the March issue of The Christian Journal! This is one of my favorite articles ever. It's about how God loves to give you good and perfect gifts if you will only ask.
The article is called "Our Father Is a Generous God," and you can read it on page 12 in the lower left corner by clicking HERE.
Thank you to Mr. Chad McComas, editor of the Journal, for publishing the article, and THANK YOU Papa God for using it!